Actor Andrew McCarthy Shares His Top Travel Picks
The former Brat Pack actor known for classics like Pretty in Pink, St. Elmo's Fire and Weekend at Bernie's is now an accomplished travel writer who shares some of his insights into crafting a memorable trip.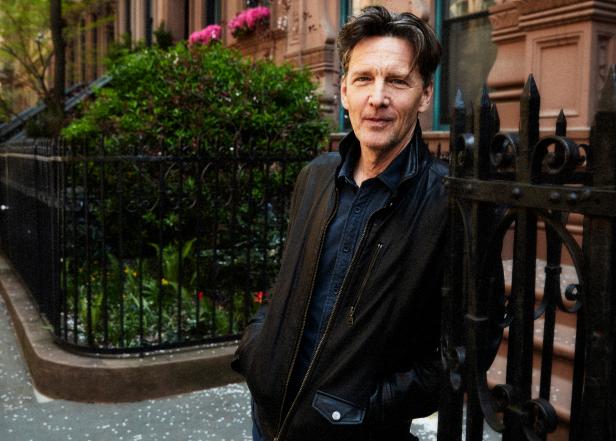 sa-mccarthy
NEW YORK, NY - APRIL, 20: American actor, television director and author Andrew McCarthy, is captured in his home neighborhood of Greenwich Village New York, NY on April 20, 2021. McCarthy's new memoir "BRAT: An 80's Story" is due out soon. (Photo by Jesse Dittmar for The Washington Post)
A Gen X hearthrob who often played the tender-hearted nice guy to John Hughes bad guys like James Spader in Pretty in Pink, Andrew McCarthy, 60, has lived a great deal of his life in the public eye in zeitgeist-defining films like St. Elmo's Fire and Less Than Zero. As his time in front of the camera has waned, Andrew has kept his creative irons in the fire with a second career as a television director and also as an in-demand travel writer for publications including The New York Times, Coastal Living, The Atlantic, Time and Bon Appetit.
And now Andrew has published a heartfelt father-and-son story, Walking with Sam: A Father, a Son, and Five Hundred Miles Across Spain, a wry, observant story about a 500-mile trek across Spain's Camino de Santiago Andrew made with his 19-year-old son, Sam in 2021. The trip chronicles the generational friction that comes when you pair a lacksadasical teen with his taskmaster father and the deep bonding that can come with travel — combined with the therapeutic potential of a very long walk. Andrew captures the particular idiosyncracies of two life stages with humor and poignance in a very entertaining read.
The Camino de Santiago is a centuries old religious pilgrimage for many, and a symbolic walk for Andrew that has signaled major life changes. Andrew first made the trip in his 30s after ending his battle with addiction in the 1990s, and he hoped his most recent Camino de Santiago amble would help him connect with his son as he prepared to leave home for college.
Andrew has been traveling around the country talking about his book and spoke to an enthusiastic, packed house at the Atlanta Travel and Adventure Show. During his Atlanta stop he shared with HGTV some of his travel favorites and some hilarious anecdotes about life on the road. His most cogent and meaningful piece of advice: Don't let fear keep you from getting out there and — once you are out there — keep you from being an adventurous traveler. "Ask yourself; 'Am I being afraid because I'm uncomfortable or is my life really in peril?'" says Andrew.
Q: You said that travel changed your life. In what way?
A: Well, the short answer is travel helped me dismantle the power fear had over my life. And it helped connect me to the world in a way. I felt very isolated, at home and in my life.
Q: Your book Traveling With Sam is about a trip you took with your son. But what would you say is the value of solo travel?
A: Travel is the best gift you could give yourself for sure.
Q: Do you feel like that's an essential part of travel: allowing your children to see something beyond their own reality?
A: Well, I think a gift we can give our kids is to make them citizens of the world, for sure. And that doesn't have to be going to China. You can go 100 miles from your house.
Q: Do you have a key piece of travel etiquette advice?
A: Treat people and places the way we want to be treated.
Q: I think people maybe associate you with Los Angeles because of your acting career. But you're a longtime New Yorker. What are some essential New York things people should do?
A: They should just walk: get lost, ask for help. I follow my nose and walk into places.
Q: Light packer or over packer?
A: Carry on. You need the same for four days as you do for a month. I do not want to be waiting for bags or pulling wheelies through the streets. I can do without most things, and what I can't do without I can get or MacGyver.
Q: Is there one thing you always take when you travel that's either sentimental or practical?
A: I tend to travel with almond butter and rice crackers ... If I'm in a bad mood, I either need a snack or a nap.
Q: What was your last really memorable trip?
A: Well, last weekend we went to Paris. We didn't go to any museums. I thought it was fantastic. We just walked around.
Q: What's your favorite hotel in the world?
A: I had a very memorable stay 30 years ago at the Villa d'Este on Lake Como; I was there for a weekend. And I had a memorable stay at the Splendido Hotel in Portofino a million years ago. I used to travel much more luxuriously. But now I don't. I've found you can't have experiences in hotels, so I try to stay in small family pensions and stuff because it's much more interesting.
Q: Do you have a favorite dish that you really look forward to when you're going someplace?
A: I'm not a foodie. So I do eat a lot of pizza everywhere I go. I tend to default to comfort food all the time.
Q: Do you find when you travel that people outside of America relate to one of your films much more than others?
A: In Ireland a movie I did, Heaven Help Us [originally Catholic Boys], which did nothing here, was a big success. And Weekend at Bernie's needs no translation. It's stupid in any language.
Q: So what's your favorite way while you're traveling to pass time on a plane or in a car or on a bus?
Q: So you seem to take this Camino de Santiago walk at pivotal parts in your life, you know, in your young adulthood, and then when you're getting ready to see your oldest go away and become an adult on his own. Do you anticipate ever taking that walk again because of some other change in your life?
A: I'm getting very old for that! I thought about that while we were walking, I said 'I'll never do this again.' Even though it's extraordinary. But then you know, if one of my other kids want to do it, I would go in a second.
Q: I love this quote of yours from a New Yorker interview you did where you said, 'When you travel, the better part of yourself is usually at play.'
A: Yeah, I'm more open because you have to be. I'm more curious. I'm more interested. I'm more easily excitable. There's quicker access to joy and wonder than I have in my daily life and anytime you access joy and wonder — particularly wonder — it takes away all our cynicism.
Q: It sounds like you use travel to recharge?
A; Yeah, I do. I often come home from the trip and need a vacation. But I'm a big believer that a change is better than a rest. I don't vacation well, but I do use travel to recharge and reinvigorate.
Q: What's the difference between traveling and vacationing?
Vacationing is about being pampered, being swaddled, being humored and being indulged. And I find none of those things are very good for me. Whereas traveling is a gift you give yourself, or to your loved ones. And I think you get much more bang for your buck, traveling than on vacation.
Q: Have you ever been able to use your fame to parlay your way out of a difficult situation when you're traveling?
A: Way back in 1989 I was in Berlin when the Berlin Wall fell. And I was there the night when it was all happening. I was definitely wrong: it was crazy wonderful and scary and exciting. And I grabbed a piece of the wall as a souvenir. And someone grabbed me — a Berlin cop, who dragged me away. And he took me to a table where all the other cops were and pointed at me and goes: 'Catholic Boy.' And I shook everyone's hand and then they sent me on my way.
Q: What's the best place you've ever traveled to?
A: What's the good travel writer answer? 'The next one.' I don't know, I was pretty taken with Patagonia. There was a place called Estancia Cristina that was only reachable by like a four-hour boat ride. It was extraordinary. I stayed there for a couple of days. The silence there was so impressive and amazing. I'd like to go back there some day.
Q: You've described discovering acting in the same way you've described discovering travel writing. Is there some through line between the two?
A: I just felt like myself when I did them. There's an Irish saying — my wife is Irish — she says, 'I feel like myself from the toes up.'
Q: Are you the kind of traveler who has an umbrella or a poncho?
A: Neither. Getting caught in the rain is one of the best travel experiences. You have to ask for help; you end up in the weirdest places; you end up stuck in doorways with strangers. I don't plan for bad weather.
Q: Do you have a favorite brand of walking shoe?
A: No. I walked across Spain last time in Columbia shoes. And I've had Merrell shoes that I like.
Q: Any travel innovations you've discovered?
A: I do travel with a Tide stick. They are amazingly effective.
Our travel expert offers advice for how to stay at top hotels for less. Sometimes much less.
Visiting Europe with your significant other and looking for something a little more creative to do? From painting-worthy landscapes to architecture-rich vineyards, explore these under-the-radar sites.
California's coastal route along the pounding Pacific is perhaps America's best-loved drive. Get our recommendations for the best sites and stops.