The Lowdown on Eco-Friendly Financing
Get a green loan for energy-efficient updates.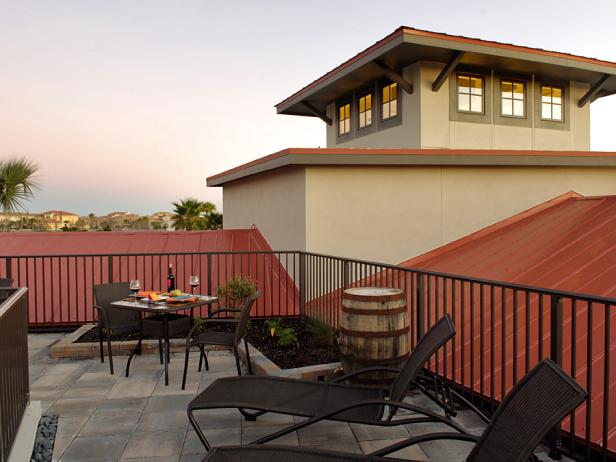 Charming Spanish Style Rooftop Deck
The rooftop deck from HGTV Green Home 2009 — surrounded by aluminum railing and paved with eco-friendly pavers — offers the ideal spot for those who enjoy stunning neighborhood views and watching the sunset. Complete with an outdoor dining table and lounge chairs, one can enjoy a cozy evening solo or opt for some company.
As the eco-friendly housing trend continues to grow, mortgage lenders are jumping on the green bandwagon. Many lenders are starting to offer bigger loans or discounts to buyers who choose to make energy-efficient improvements to their home.
The idea of an Energy Efficient Mortgage is not new. In 1979, Jimmy Carter signed an executive order that directed the secondary mortgage companies, like Fannie Mae and Freddie Mac, to offer incentives to green buyers. But few buyers took advantage of the programs until the recent trends towards energy-efficiency.
The concept is simple: Homes that use less energy will have lower utility bills. The money saved can be counted as income, thus allowing the homebuyer to qualify for a bigger loan to increase his home's efficiency.
These loans don't cover any old green update; the updates need to lower the home's energy costs. That means environmentally friendly products like bamboo flooring and recycled glass tiles don't qualify. If in doubt, ask yourself: Will this update save on my energy bill? If not, it's probably not eligible.
To apply for an energy-efficient mortgage, you'll need to get a Home Energy Rating System (HERS) report to measure your home's efficiency. The evaluation rating is on a scale from 0 to 100. A "0" means the home uses an infinite amount of energy (not a good thing) and a "100" means it uses almost no energy (a great thing). The average home built to code minimum typically has a rating of about 80.
Once the inspector looks through the house and gives a rating, you'll get a list of suggested updates. You'll show your report to prospective lenders.
The simplest energy-efficient programs offer discounts to buyers who are purchasing an eco-friendly home. Bank of America has a Green Mortgage Program which offers buyers a $1,000 credit or an interest rate deduction if their future home meets Energy Star requirements.
Other companies offer discounts for a green lifestyle. Bluegreen Financial, which is based in Orlando, Fla., gives discounts on its broker fee for buyers who buy Energy Star homes and appliances. The company also awards discounts if the buyer works at a green company, drives a biodiesel, electric or hybrid car, or has no vehicle at all. In addition, the company donates 5 percent of its profits to the Rainforest Alliance or the environmental charity of your choice.
The more complex programs offered by Fannie Mae and the Federal Housing Administration incorporate the cost of energy improvements into the cost of the loan. Find an FHA lender, to get started.
To qualify for the FHA's energy-efficient mortgage, the buyer must:
Make a 3-percent down payment
Spend more than 5 percent of the purchase price for energy-efficient improvements, not to exceed $8,000
Make improvements that are cost-effective
Determine the cost of the improvements and estimate of energy savings from a HERS report. The cost of the report can be financed into the loan
The Fannie Mae program has similar requirements, though the rules vary by lender. Once you're approved, your lender will put the money for the improvements in an escrow account. You'll have to pay for the improvements upfront, and you'll be reimbursed after an inspection verifies that the improvements were installed.
There are also several state programs that help homebuyers go green, so be sure to research your area's options.