What's the Difference Between a Condo, Co-op and Loft?
Find out the advantages and disadvantages of these urban abodes. Plus, learn about HOAs, and get advice on buying property and hiring a real estate agent.
If you're looking for amenities and a low-maintenance lifestyle in the city, a condo, co-op or loft may be right for you. Unlike single-family homes, condo, co-op and loft buildings often offer amenities such as gyms, doormen and roof decks, as well as management companies that handle building repairs.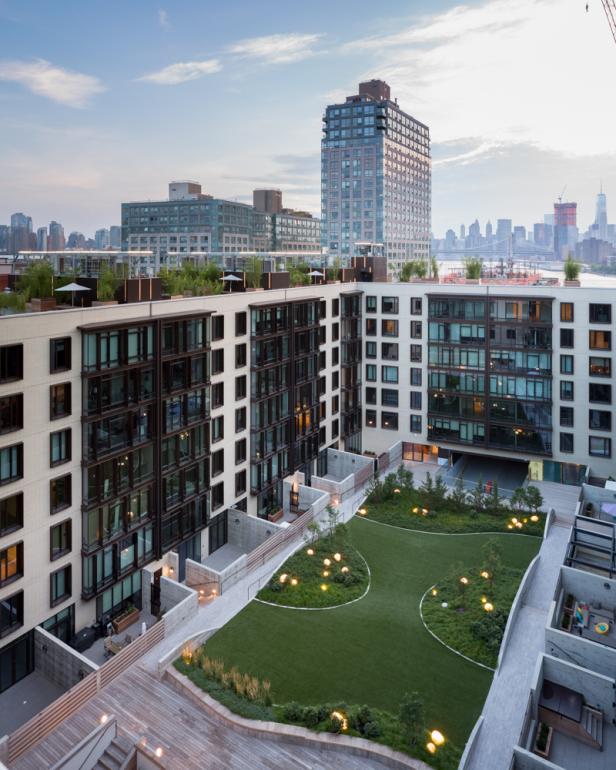 Apartment Building Exterior and Courtyard
The building wraps around this large courtyard. Residents get private green space and incredible Brooklyn and Manhattan views.
Halstead Real Estate, a member of Luxury Portfolio International
What's the Difference Between a Condo and a Co-op?
A condo is generally an individual unit in a larger building or structure that was built as housing. A typical condo complex may look like an apartment building, but each unit is owned, not rented. A homeowner's association (HOA) governs the condo community, collects dues and maintains the common areas.
Similar to a condo, a co-op is an individual unit within a larger multi-unit building. Unlike condos, however, co-op buildings are a corporation. Co-op buyers own shares of the corporation but do not own or hold deeds to their individual units. "The number of shares a person owns depends on the size and desirability of that unit," says New York City real estate broker Kelly Robinson, head of the Robinson Team at Compass. "Unlike a condo, which is considered real property, you get what's called a stock and lease instead of a deed." Another major difference between co-ops and condos is that a co-op's board of directors has the right to approve or deny a buyer for any reason. Condo boards do not have this power.
A loft is a living space carved out of a building that wasn't originally built as a living unit. Many lofts are built out of converted warehouses or old factory buildings in a city's urban center, making them an appealing alternative for professionals who work downtown. Lofts typically do not have interior walls, have more open space and higher ceilings than other homes, and require minimal maintenance. Loft developers will sell them as move-in-ready units or as empty "shells" for buyers interested in designing the space themselves. As with condos, loft buildings are governed by HOAs.
Due to the COVID-19 pandemic, the market for condos, co-ops and lofts has slowed down in some cities, with buyers preferring single-family homes over buildings with shared common spaces. In the long-term, though, the enduring appeal of apartment living will likely bounce back. "I think we will start to see people coming back," says Robinson. "We've already seen quite a few investors come out of the woodwork for condos, to take advantage of the soft market and prices. However, the rental market is pretty bad. So, the investor has to be confident that it will bounce back."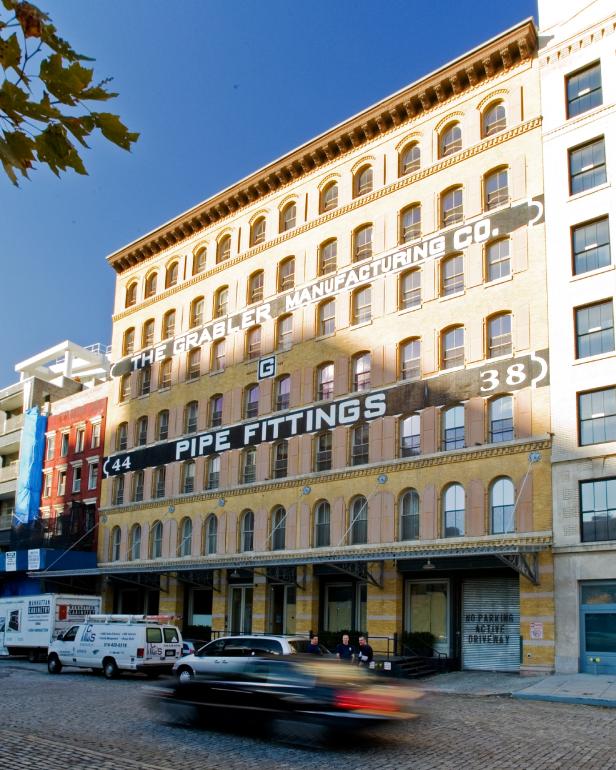 Loft Apartment Building Exterior
This loft building in New York City's Tribeca neighborhood was originally built in 1896. It was first a bonded warehouse and later used by the Grabler Manufacturing Company who made pipe fittings. Today, its seven stories house chic loft-style apartments.
Halstead Real Estate, a member of Luxury Portfolio International
How to Decide What's Right for You
If you're considering buying a condo, co-op or loft, follow these six steps to guide you through the process.
Step 1: Weigh the Pros and Cons
The condo, co-op and loft lifestyle can be an attractive choice for a variety of buyers, such as families who like to be within walking distance of parks and schools or empty nesters looking to downsize. Bernadette Pittroff, a real estate agent with Compass in Pasadena, California, says that condos are also appealing to first-time buyers living in highly competitive markets. "Generally, condos are sold at a lower price compared to single-family homes, and multifamily buildings have become a good option for beginners in real estate," says Pittroff.
Advantages of living in a condo, co-op or loft building include:
Sense of safety: "Most condos have locked or gated entries and security personnel for residents," says Pittroff. "In case there is an emergency, owners will have many people around to call on for help — which has made condos very attractive to retirees."
Easier maintenance: Since the HOA maintains the building's common areas, owners have less home maintenance.
Walkability: "Most condos are centered in the heart of the city, where owners are able to walk and take public transportation," says Pittroff. "You can enjoy going to the theater, restaurants, cafes, museums and more without stepping foot in the car."
Amenities: Buildings often offer amenities such as concierge service, gyms, pools, roof deck with views and valet service.
Sense of community: Buildings provide ample opportunities to get to know your neighbors in the shared common spaces.
Disadvantages of living in a condo, co-op or loft building include:
Lack of privacy: Sharing walls with your neighbors means you get less privacy. "You will have neighbors above, below and to the side of you, and you may hear them," says Pittroff.
HOA or maintenance fees: HOA and maintenance fees cover anything from building utilities and repairs to amenities such as concierge service — which can add up, especially in luxury buildings. "Homeowners association fees vary greatly based on the quality, size and location of your investment property," says Pittroff, who has sold condos with HOA fees well over $1,000 per month.
HOA rules: HOAs may have rules that seem excessive to some owners, such as requiring approval for renovations or limiting the breed or number of pets. Some HOAs may also prohibit or regulate long-term rentals or short-term rentals.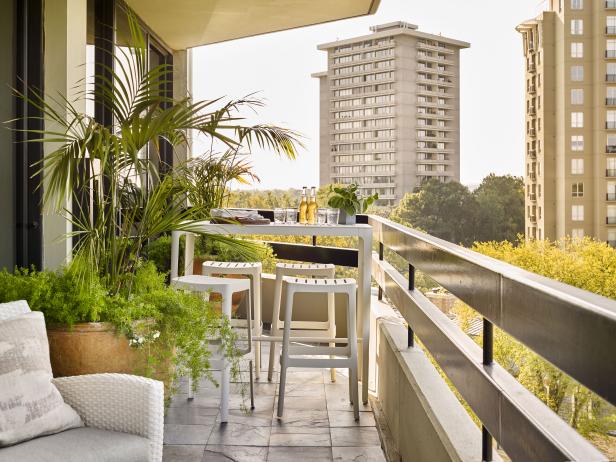 Condo Balcony With Furniture and Plants
The owners of this two-bedroom, two-bath in Atlanta's desirable Park Place Condominiums actually spend most of their time in Idaho. Yet they also wanted a home close to their children and grandchildren in Atlanta, so this 2,403-square-foot serves as that second home. Since the condo building dates to the '80s, the unit needed some major updating. This is where designer Carter Kay came in. The owners wanted to keep it light, both in color and feel, as though the condo could be in Miami. To achieve this, Kay and her team decided to freshen it up and create new spaces so that it would no longer channel the "Park Place of yesteryear."
Step 2: Find a Real Estate Agent Who Knows the Market
Purchasing a condo, co-op or loft is different from buying a single-family home, so it's important to work with an agent who knows the ins and outs of purchasing units in buildings. "Your agent will help guide you through the HOA's documents, the community rules and the financial stability of the community," says Pittroff. "All of these things can affect your equity in the future." A knowledgeable real estate agent is especially helpful if you're a first-time buyer.
Tips for finding an agent:
Interview at least three agents and pick an agent you can trust and will enjoy doing business with. "Always look for testimonials and reviews to get a sense of other people's experience with that agent," says Robinson.
Pick an agent who responds quickly to your inquiries and answers questions in a detailed manner, says Robinson. You may also want to find an agent who has a dedicated assistant to take care of administrative duties — freeing up time for the agent to spend with you.
Though it may be tempting to pick an agent based on personality, it's important to look at an agent's experience and track record. "An experienced agent will know what to ask for when negotiating on your behalf," says Robinson. "Someone who has been through the ups and downs of good and bad markets understands the current environment and how to best leverage that for you."
Get agent recommendations from friends and family, as well as people in the community. "If you found a building you just love and they have a doorman or, even better, a concierge, they will know who the successful agent is," says Pittroff. "The concierge and doorman are the eyes and ears of the community."
Step 3: Know What Questions to Ask

Be a smart shopper and know what questions to ask once you've narrowed your search. Here are some questions to keep in mind.
How many units are owner-occupied?
The percentage of owner-occupied units versus investor-owned units may affect your ability to secure financing. "Many banks won't lend if a building has too many investor- or sponsor-owned apartments," says Robinson. "Even if you are not financing, this is important information to know because eventually, if and when you sell the property, a building with a high number of investor- or sponsor-owned units can leave you with a smaller pool of buyers."
Are there any defects or current litigations against the building?
Don't be afraid to ask if the building has any defects or is involved in litigation. "All of these could affect being able to get a mortgage or loan on the condo," says Pittroff.
What is the history of assessments and common charge increases?
Find out how often the building has increased common charges and whether it has charged any special assessments in recent history. This will help gauge the potential for cost increases in the future. "A buyer should find out if there have been recent capital improvements to the building and if there were assessments for those capital improvements," says Robinson. "They should also find out the maintenance or common charge increase history to get a good idea of how often and at what average percentage their monthly fees are likely to go up."
How healthy are the building's reserve funds?
Inquire about the building's financial stability to get a sense for whether your monthly common charges may increase. "Your real estate agent or broker should request the building financial statements for the past two to four years," says Robinson. "It's important that the building have healthy reserves in case repairs or renovations are needed. The healthier the reserves are, the less likely it is that the building will assess or significantly raise maintenance and common charges."
Who is the developer?
If the building is new, get the name of the developer and look into the developer's track record. It's better to find out now rather than later if the developer has a reputation for shoddy work.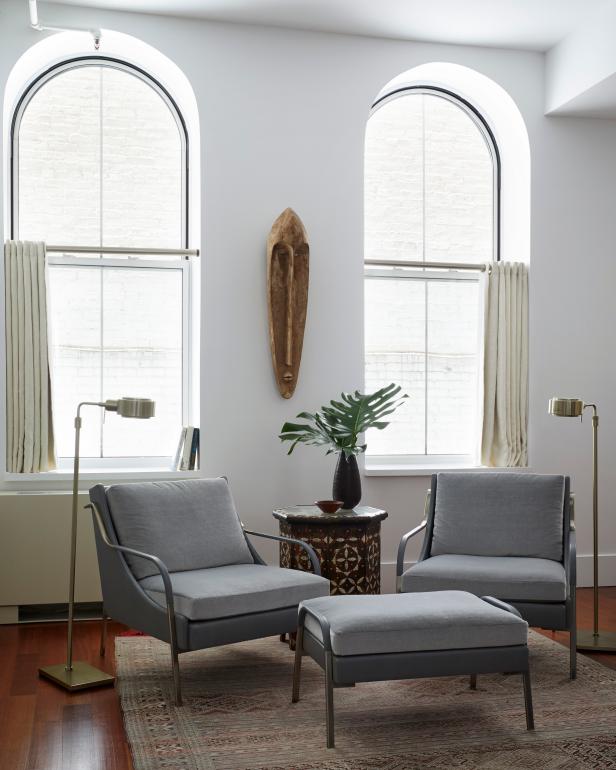 Modern Master Bedroom Seating Area
This master bedroom seating area provides a beautiful and relaxing space with comfortable seating and ample light to sit and read. A Moroccan-inspired rug covers the hardwood floors and is paired with two modern armchairs and an ottoman with floor lamps.
Step 4: Get to Know the HOA and Building Bylaws
The homeowners' association, or HOA, is the biggest difference between a single-family home and a condo or loft home. An HOA is responsible for maintaining the common areas in a building, collecting dues from homeowners and establishing HOA rules that govern the building. Similarly, co-op buildings have bylaws that dictate many aspects of living within the co-op units. It's important to familiarize yourself with these bylaws and HOA rules before committing to a purchase.
Before you buy a condo, co-op or loft:
Find out what the monthly dues are.
What is covered by monthly fees? Are all building amenities included, or are amenities covered by separate fees?
Ask for a copy of the HOA's covenants, conditions and restrictions (CC&Rs) or the co-op's bylaws, as these rules can limit decisions such as home renovations or types of pets owned. They may also restrict or outright ban short-term rentals such as AirBnB.
Ask for a copy of the latest budget and meeting minutes. Review them to see how dues are being spent.
Is storage included?
Are utilities included?
Meet the HOA president and ask any questions you may have about the community.
Step 5: Consider Insurance
With a single-family property, a homeowner must insure the building, its contents and even the land and landscaping. With condos, co-ops and lofts, the HOA or board of directors collects monthly dues from members that cover the cost of insuring the building.
Even though the building is insured, condo, co-op and loft owners should still buy homeowner's insurance to cover the interior of their unit as well as their personal belongings. Many buildings also require proof of homeowner's insurance. "I always suggest getting it," says Robinson. "Especially because leaks [and other problems] happen all the time. You may be responsible for paying for a leak or damage to a neighbor's apartment — or your own, for that matter."
Before you sign on the dotted line, make sure you find out the nitty-gritty on the community you're considering. Dig into the HOA's books, ask neighbors about their experiences and talk to the real estate agent on-site to see if it's a good fit for you. Peruse neighborhood online forums to learn more about the community and possibly even the building.
Don't forget to research the community's management company. Is it managed by a small, local firm? Or is it a large company that manages several properties in the city or region? What is the grievance procedure? Who is the on-site manager and how well does he or she respond to day-to-day issues? Don't be afraid to ask a lot of questions and do a lot of digging. You're making a big investment, so do your homework!
Designer Alexander Keith Powell defines conversation and task areas within an open loft by using custom furnishings and coastal details.