Designer Alexander Keith Powell defines conversation and task areas within an open loft by using custom furnishings and coastal details.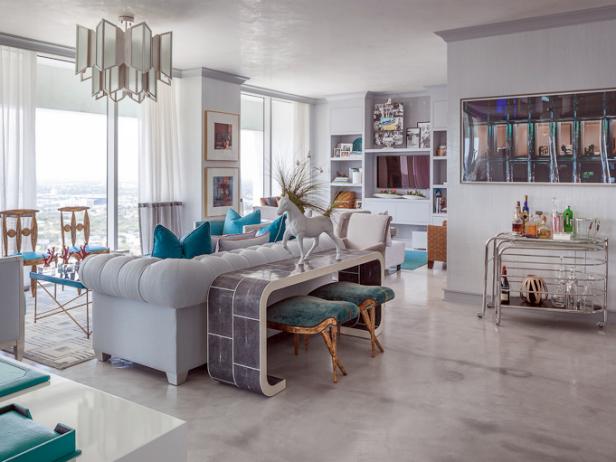 Contemporary Gray Living Room With Turquoise Accents
Hints of turquoise and coral compliment well-chosen design details in this sleek open concept condo.
Hints of turquoise and coral compliment well-chosen design details in this sleek open concept condo.
When designer Alexander Keith Powell's client purchased a condo in South Beach, she requested that it be distinctly different from her Munich country house. Besides incorporating a few of the homeowner's treasured items, Powell mixed custom details with sleek finishes and textures.
With inspiration from a mesmerizing chunk of turquoise Czech glass, Powell designs a livable multi-purpose room bathed in brilliant coastal colors.
What was on the homeowner's wish list?
My client wanted me to recreate a vibe similar to the Soho Beach House, of which she is a member, in a kind of Miami-meets-Europe, modern-meets-opulent kind of way.
What issue did the design address?
We wanted to keep an open, loft-like feeling while defining social and private spaces. While designing the space, I kept thinking of elements that would be separate and unique versus compatible and consistent. The linen curtains, fabricated from 198 yards of linen, wrap the entire space and marry the various areas without feeling heavy or obscuring the view.
How did you overcome obstacles?
I hated the travertine floors, so I found a company that pours an epoxy polymer over the existing floor and mixes a color into it as it settles — the resulting effect is exactly like polished concrete. By doing it this way, no doors had to be shaved down and we didn't have the mess of ripping up the existing floor.
What lesson did you learn?
I have always believed that texture loves company, and in this project, I took that philosophy to the limit. I pushed even my own boundaries with the amount of combined surfaces and textures. Since the project is largely comprised of shades of white, I think the combination of finishes blended seamlessly into the overall design. Waxed linen, velvet, iridescent crimped silk and raffia all work really well together and make for a stimulating visual show!
What are the hidden gems of the design?
I think the crown moldings I designed around the room really give the space a powerful dimension. And again, all the amazing surfaces really set it apart – such as the ceilings skimmed with six-layer shimmer finish Venetian plaster in ivory, white and alabaster.