The Downlow on Construction Loans
Looking for a bargain? Consider turning a fixer-upper into your dream home with a construction loan.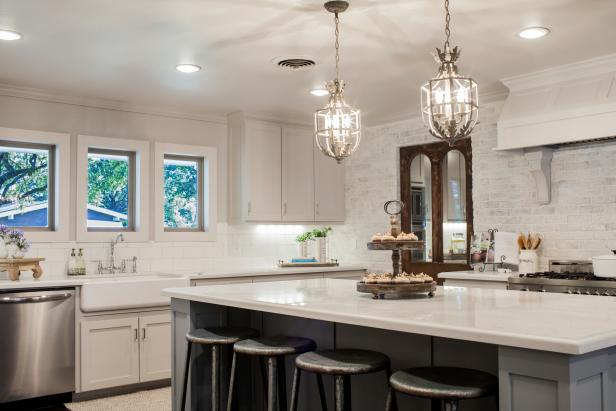 Fixer Upper: Elegant French Country Style Kitchen
As seen on Fixer Upper, the newly remodeled kitchen gives the Reed family more storage as well as an island where they can entertain family and friends. Twin chandeliers and a white brick accent wall add a touch of charming elegance.
Your dream may be to find a great deal on an old house and fix it up just for your family. But while opportunities abound in today's buyer's market, there's still a big hurdle to overcome. The home loans of today require hefty down payments, which leaves many buyers with little money left in savings to even buy a hammer and a few nails.
In the past, home equity lines were readily available for property owners to tap into, but falling real estate prices have zapped any available equity into oblivion. So is it still possible to buy and fix up a choice property?
You can if you qualify for a construction loan. These are loans that combine your mortgage with the cost of upgrade work to improve the home's value, or they can be used to build a new house from the ground up.
"The landscape for construction loans has changed drastically over the past two years, just as they have for regular mortgages," says Tim Jarvis of e-constructionloans.com in San Jose, Calif. "But with the right conditions, it's an option if you're considering a house that needs some major work."
Here are some expert tips on getting a construction loan for your handyman special:
Use it for owner-occupied property. Construction loan lenders have become sticklers about making sure the people they're loaning money to aren't trying to build or rehab a house that they're trying to sell for a quick profit. They'll even scrutinize the source of your income during the real estate boom of a few years ago. If you were making money flipping houses then and you're looking for a construction loan now, even if it really is to build your own dream home, you may be out of luck.
Try Fannie Mae. The Fannie Mae HomeStyle Loan is designed to help borrowers with good credit (over 660 FICO) and solid documentation to fix up their homes.

"You're able to borrow up to 95 percent for the mortgage and construction work combined," says Christine Bell, president of Allegiance Mortgage Services in Pottstown, Pa.

Loan limits for these products depend on local real estate values and can vary based on your location.

Buy and wait. If the fixer-upper you're looking at is livable for a while, you could consider buying it and waiting a year or more before applying for a construction loan. The wait time could give you more specific ideas on how you want to renovate and although there are no guarantees, real estate values could be more favorable in the short term. The deal could be based on what the value of the home will be after the improvements.

"Lenders are also easier about loaning to people who've been in the house for a while," says Jarvis. "They know they're not trying to flip it."

Make sure your income is stable. Credit scores are like the SATs in college. They are critical to getting a construction loan, but they're not the final say.

"If someone comes to us with a 640 score but they've got a solid work history and seem to be on the way up, there's a good chance they'll get the loan," says Dawn Rudie, a vice president with The Construction Loan Company based in Howell, Mich. "Another person with a 670 score who might be on the edge of their credit limits and with a shakier work history, we'll take a closer look."