Useful Tips for Installing Holiday Lighting
A lighting expert offers practical—and safety conscious—tips for putting up your holiday light display.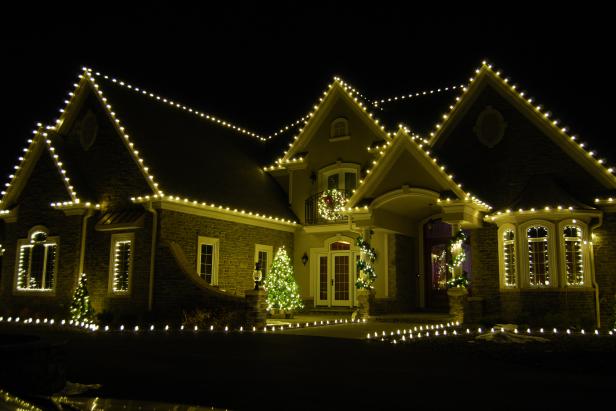 The Outline Effect
Sometimes less is more when you are lighting the exterior of a house. Instead of blanketing the entire rooftop with an excess of colored lights, why not try a more subtle approach that highlights the shape and outline of your home through a simple but elegant all-white light design?
Image courtesy of Utopian Landscapes/Christmas Décor, a member of PLANET
Decorating the outside of your home for the holidays is always a creative challenge, particularly if you favor a unique lighting design. It's doesn't have to be complicated and sometimes a simple approach is best in accenting key features of your house and yard for maximum curb appeal.

Nikos Phelps, president of Utopian Landscapes and Christmas Décor of Harrisburg, is a member of PLANET (The National Landscape Industry Association) and has some helpful decorating tips for homeowners who want to create memorable lighting designs.

From his own experience as a holiday lighting specialist, Phelps recommends using LED lights because they are more energy efficient and require less wattage than incandescent bulbs. "Make sure the lights that you use are rated for indoor and outdoor use or specifically outdoor," he cautions. "With most homes you can get away with one exterior outlet and most outlets are typically a 15 amp service. We try to keep our load at half of that (seven and a half or eight amps). Danger occurs when you start overloading the circuit. People think 'Oh, they're LEDS. I can plug a hundred thousand into this outlet' so having respect for electricity is going to be your number one concern."

Some design considerations for your holiday decorating:

Architectural Highlights: The best approach to lighting the front exterior of your home is to start at the center and work your way out to the sides. You may have distinctive architectural details you want to showcase such as gables, arches, chimneys or other rooftop features. Achieving the perfect balance is important. "If we're doing a house," Phelps states, "we're trying to tie the roof in with the ground so we have different layers of lighting. We'll focus specifically on the fascia, which would be everything that is forward facing, because you get the depth, you get the height, you get the horizontal features." Often a simple approach such as creating an outline along the gutter line or across the peak of the roof with the front door as the focal point is more effective than trying to cover your entire house or yard in lights.

Landscape Features: If you are more interested in showcasing your yard, then shrubs and trees make good focal points, especially if they help guide the eye to the main entrance of the house. Phelps recommends a canopy wrap of lights for shrubs and a branch wrap for ornamental trees. Lighting walkways and the borders of garden beds also adds visual interest to the design. You may even have an outdoor sculpture or water feature such as a fountain that could become a showstopper if your lighting configuration is well executed.
Color Considerations: A classic all-white lighting scheme is still a perennial favorite. But Phelps also says, "Color is coming back in style. One of the biggest trends we're seeing is a red, white and green combination. We had someone who went all green last year and one of the most unique combinations is green and blue – you stop in your tracks when you see that."

Decorative Enhancements: Some people may opt to light more than just their house or yard. This can be accomplished with a specific attraction such as a manger scene or populating an area of your yard with Yuletide-themed characters. Be creative. For example, you could create a tunnel of lights that spans your entire driveway and illuminates your cars underneath.

In addition to lighting, greenery—either natural or artificial—provides additional color and adds a festive touch to your exterior decorating. Evergreen wreaths decorated with colorful ribbons, ornaments or lights can provide wonderful accents for doors or windows. Garlands of greenery with red bows wrapped around lampposts or stair railings are also effective eye candy. Other color accents can be added with vegetable wreaths or poinsettia arrangements or seasonal décor for front doors or other exterior or interior focal points.

If you really don't have the time or creative inspiration to do it yourself, you can always hire a lighting expert like Phelps. Be sure to research them thoroughly before signing any contracts. Are they properly insured? Do they offer references and visual examples of their work? Do they provide a detailed breakdown of their charges and charges? Of course, the advantage of hiring a professional decorator means less risk for you to have an accident while decorating or having to deal with electrical problems or light replacement.

If you are a confirmed DIY type, be sure to follow the below safety precautions to ensure that your Christmas decorating will be a huge success.

Phelps warns that "Wires become brittle. They might be bending in the cold so you could have exposed copper or broken sockets. If you have frayed wires, throw the lights away. It's not worth trying to save yourself five dollars on a string of lights and then burn down your house by accident."

If you are plugging strings of lights together, try to avoid connecting more than five or six strands end to end and overloading the circuit. You should also avoid pulling the strands too tight in order to reach an outlet. Rips and tears in the wiring surface caused by severe winter winds could result in electrocution. If you are creating a lighting configuration on your lawn, make sure to keep your connections out of any possible ground water.

3. Practice Caution on Rooftops or Elevated Areas
Inspect your ladder and make sure it is stable and in good condition. Make sure you ground the ladder on a solid, flat surface. Don't work alone. Have someone assist you with the decorating who can provide any needed support or stabilization that you need. If the roof is too steep or high, don't risk having an accident. Hire a professional instead.

4. Take Your Lights Down at the End of the Season
Don't be lazy and leave your lights up after the holiday is over. Your neighbors won't appreciate it but, more importantly, the daily exposure to the weather over a period of time can cause damage to the wires, lights and sockets.

For more information about exterior holiday lighting or decorations, visit Utopian Landscapes and PLANET.