How to Make a Snowy Sunburst Winter Wreath
Frosty is fabulous with this DIY winter wreath that you can craft for Christmas, then leave up till spring's arrival.
grapevine sunburst wreath
faux lamb's ear
faux flocked evergreen branches with white berries
golden faux greenery picks
wire cutters or heavy-duty shears
2 foam spheres
chunky white yarn
jumbo brass jingle bells
hot glue gun and glue sticks
blue wired ribbon or readymade bow
fabric scissors
fine-gauge wire (or electrical ties)
Using wire cutters or heavy-duty shears, cut faux flocked branches into 10"-12" sections. Add a dab of hot glue to each branch's end (Image 1), then following the wreath's sunburst shape, slide the greenery's end between twists in the grapevine (Image 2). Continue adding greenery to the wreath till it's covered, leaving a bit of grapevine visible between each faux evergreen section.
Create textural contrast with faux lamb's ear. Cut the faux greenery stems into small sections, add hot glue to the end of each section, then add to wreath, sliding the stem's end into the grapevine (Image 1). Work your way around the wreath, tucking the lamb's ear stems into the areas between the flocked greenery (Image 2).
For added sparkle, hot-glue a golden greenery pick between each bunch of lamb's ear.
Add a drop of hot glue to the foam sphere, then press and hold the yarn's end into the glue to secure it. Wrap yarn around foam in a crisscross fashion (Image 2). Continue wrapping till foam is completely covered with yarn. Cut off excess, then secure the yarn's end with hot glue (Image 3).
Slide a section of wire (or electrical tie) through the tabbed end of the brass bell and twist to secure it. Repeat for the remaining bells. We added three bells but you can add as many or few as you'd like. Tip: Wiring the bells, instead of gluing them on, allows them to jingle when the door is opened and closed.
Attach Snowballs and Bells
First, determine placement for the bells and snowballs. Using hot glue, attach the two snowballs to the center bottom of the wreath (Image 1). Then, attach the bells by looping the wire around the wreath form (Image 2), twisting to secure it in the back (Image 3).
Using wired ribbon, tie into a standard bow. Add a designer touch by swallow-tailing the ends — just fold the ribbon's ends in half, then cut at an angle, toward the center (Image 1). Attach the bow to the wreath with hot glue (Image 2), then fold the ribbon's ends to create a pretty, flowing shape (Image 3).
Use a wreath hanger or nail to display your completed wreath either indoors or out (Image 1). The wreath's cool color palette (Image 2) and bit of sparkle (Image 3) will freshen up your holiday decor while the snowy details give it a wintry look that you can leave up all season long (Image 4).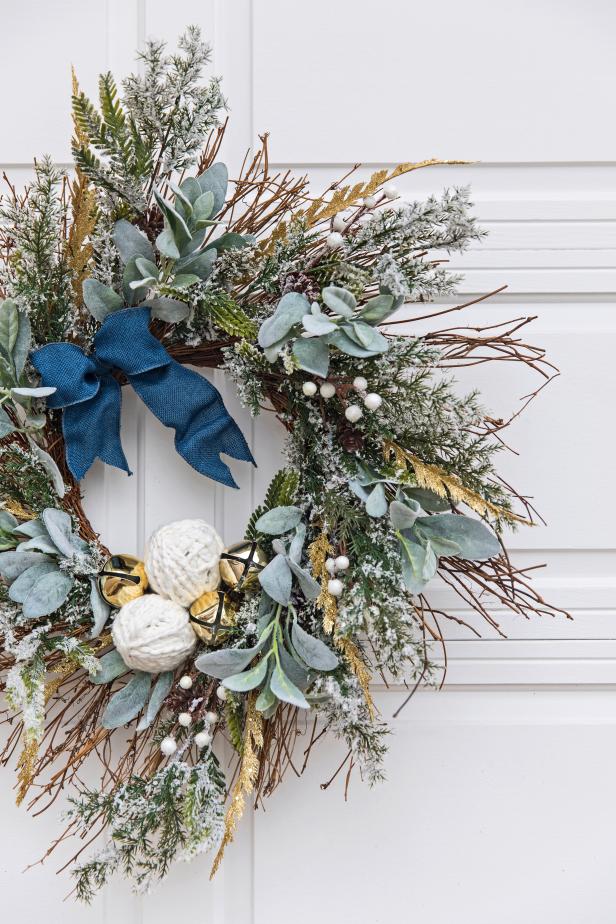 Brittney Gazaway; Styling by H. Camille Smith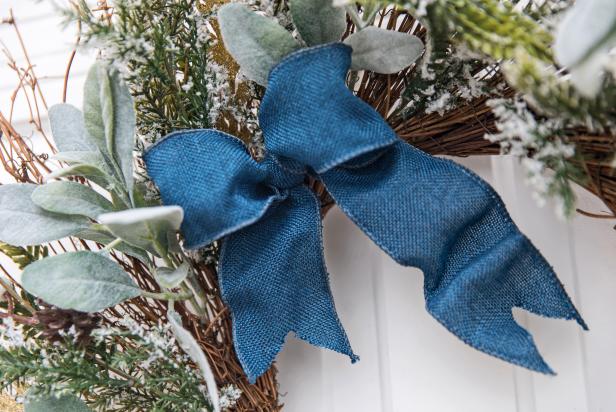 Brittney Gazaway; Styling by H. Camille Smith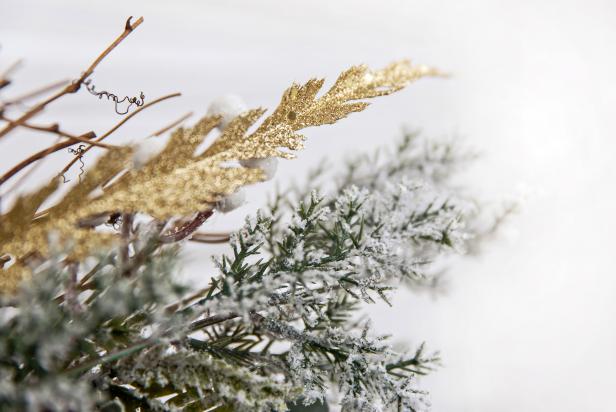 Brittney Gazaway; Styling by H. Camille Smith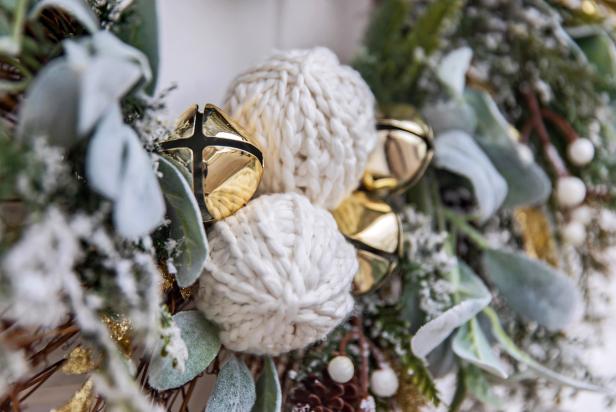 Brittney Gazaway; Styling by H. Camille Smith