Edible Thanksgiving Centerpiece: Make a Bread Cornucopia
Make an edible centerpiece for your Thanksgiving table using refrigerated bread dough, aluminum foil and a single egg. Fill with sweet and savory nibbles for an impressive centerpiece that'll keep your guests happily munching while they wait for dinner to begin.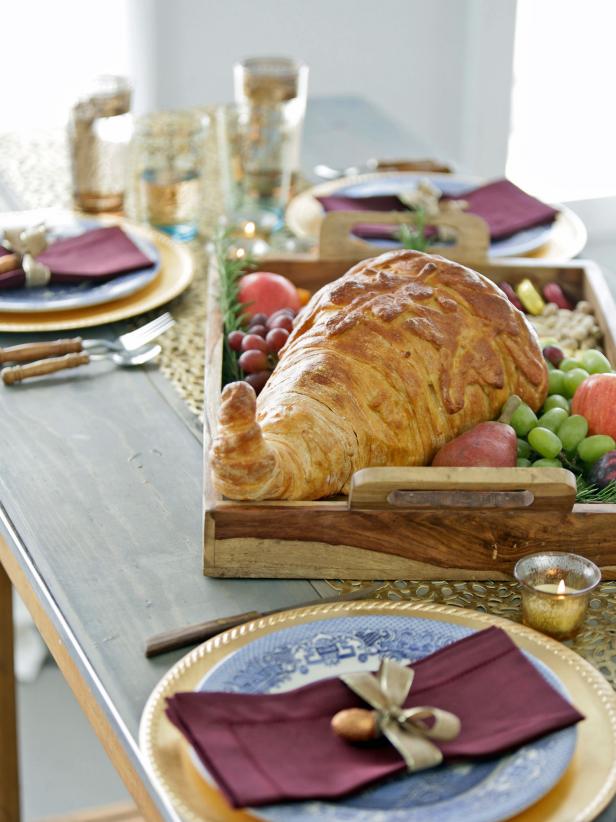 Bread Cornucopia
Use strips of bread dough and aluminum foil to create an edible centerpiece for your Thanksgiving or fall table.
18" wide heavy-duty aluminum foil
3 cans of refrigerated French bread dough
1 egg
cookie sheet
parchment paper
pizza cutter
cooking spray
pastry brush
metal rack for cooling
cheeses, fruits, nuts and foil-wrapped chocolates for filling
optional: fall leaf cookie cutters
Cut a section of aluminum foil that's approximately 18" wide by 36" long. Fold foil in half lengthwise to create a piece that's 18" x 18" square. Starting with one corner, begin rolling foil to create a loose cone shape with an opening that's roughly 6" to 8" wide (Image 1). Fold the pointed flap in to create a smooth opening to the cone (Image 2). To ensure the foil shape can support the weight of the dough, fill with crumpled balls of aluminum foil (Image 3).
Cover cookie sheet with parchment paper. Place foil cone on parchment and curl up the end to more accurately resemble a cornucopia. Generously coat the foil's exterior with cooking spray to prevent the bread from sticking.
Flour surface. Open the first can of bread dough and carefully unroll to create a flat sheet of dough (Image 1). Note: Keep cans of bread in the fridge till you're ready for this step; cold dough unrolls more easily and uniformly preventing stretching the dough and causing tears. Using a pizza cutter, cut the dough into 6 evenly spaced strips (Image 2). Beginning at the turned-up end of the cone, wrap the strip of dough around the cone overlapping each strip (Image 3). Tip: Stand the cone on its flat end or get someone to lift it up to make wrapping the dough all the way around the cone easier. Continuing with the second and third can of dough, add dough slices till the entire cornucopia form is covered, reserving a bit of dough for embellishments (Image 4).
In a small bowl, beat together 1 tablespoon water and an egg.
Create Braid and Add Egg Wash
Place 3 bread strips side by side, pinch the end to seal it, then begin braiding. Brush the cornucopia's opening with egg wash, then top with braided dough (Image 1), cutting off any excess where the braids' ends meet the pan. Next, brush the entire bread cornucopia with egg wash which will give the bread a nice shiny finish (Image 2).
Using cookie cutters or a knife, cut fall leaf shapes from dough, then place below the cornucopia's braid. Brush with egg wash. Place pan on the center rack in a preheated 350-degree oven and bake till a rich, golden brown (approximately 35-45 minutes). Remove from the oven and carefully move the hot bread cornucopia onto a wire rack; allow it to cool for 10-15 minutes.
Remove Foil and Fill Cornucopia
Place cornucopia on a large platter, tray or serving paddle. First, remove crumpled foil balls, then carefully remove the outer foil cone shape by sliding your hand between the bread and foil to loosen it. Allow cornucopia to continue cooling for an additional 10-15 minutes or until it no longer feels warm when you place your hand inside. Finally, fill with savory items like cheeses and nuts or sweets like fruit and foil-wrapped chocolates (Image 1). Place filled cornucopia in the center of your Thanksgiving table (Image 2) so guests can help themselves (Image 3).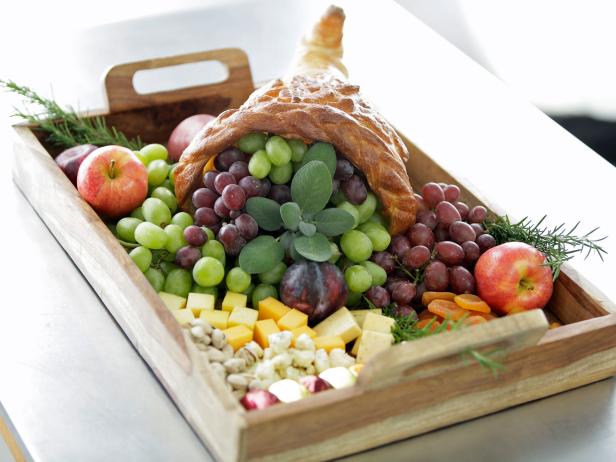 Clara MacLellan; Styling by H. Camille Smith
Use strips of bread dough and aluminum foil to create an edible centerpiece for your Thanksgiving or fall table.