Homemade cake adds a personal touch to the celebration. Learn how to bake and assemble your cake.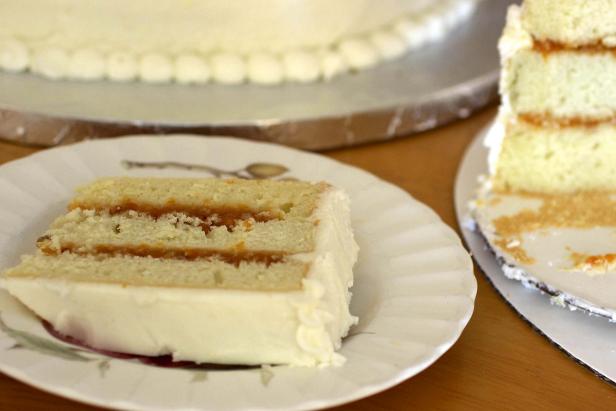 Serving Wedding Cake
Disassemble the tiers and remove dowels and any decorations before preparing to serve. Disassembling a wedding cake isn't always a pretty process and is usually done "behind the scenes". Don't forget to save that top tier to be enjoyed on the first anniversary. Freeze uncovered for about an hour before wrapping in plastic to make sure your beautiful piping remains intact.
Cake has been an important part of celebrating weddings since the time of the Roman Empire. In those days, icing wasn't even invented and the cake of choice was a simple loaf of wheat and barley. How times have changed. The modern wedding cake is usually a bit more ornate: multi-tiered, decorated with spectacular feats of icing, flowers or spun sugar, and with flavors to dazzle any palate. Wedding cakes are works of art and they don't come cheap.
The most expensive wedding cake ever, created in 2013, was adorned with more than 4,000 diamonds by the British bakery Cake, at a price of $52.7 million dollars. Although that astronomical price tag is atypical, the average cost of a wedding cake is still nearly $500 and can easily rise over a thousand, depending on the size and style.
What's the frugal wedding planner to do?
Making your own wedding cake is a daunting proposition. Not only is it a feat of construction, it will be the centerpiece of the most important party you'll ever throw, forever immortalized in the memories and photos of those who attend. The same things that give pause are great reasons to give it a shot. A homemade wedding cake elevates the value of this nuptial icon. Made with your own two hands, it becomes personal, special and not soon forgotten. And, not to take away from the heartwarming picture, it's a dynamite way to make a dent in the high price of the most expensive party most of us will ever throw.
All majesty aside, cake is cake. Even when stacked into three tiers of three layer cake. Although it's a lot of cake, you can finish baking in just a few hours and freeze the layers to prepare in advance. Construction of a multi-layered cake has its challenges, but knowing the process and planning ahead make assembly a—forgive me—piece of cake.
Our cake is a simple yellow cake with peach filling, but pick your favorites. Buttercream icing is a reliable choice because it is smooth and easy to spread evenly. Once you've decided on the cake of your dreams, take a look at the gallery below to learn how to put it all together. Congratulations on your wedding and that beautiful DIY cake!
Quadruple this recipe to bake three 6", three 9" and three 12" cake layers per directions.
5 cups cake flour
4 teaspoons baking powder
1 teaspoon salt
1 1/2 cups butter, softened
2 cups sugar
6 eggs
6 teaspoons vanilla extract
2 cups milk
Combine flour, baking powder and salt in a bowl and set aside.
In a stand mixer, cream together butter and sugar until smooth and fluffy.
Add vanilla extract and beat until fully combined.
Alternating in small amounts, slowly add flour mix and milk until well-combined and smooth.
Fill prepared 6" and 12" pans a little less than halfway and pour remaining into 9" pan.
In a 350 degree oven, bake 6" cake for 28 minutes and 12" cake for 40 minutes, rotating each halfway through respective baking times.
Allow cake to cool 10 minutes in pans, then transfer to wire racks to cool.
Repeat steps twice more to complete three 12" and three 6" layers.
For final batch, divide batter between two prepared 9" pans (third 9" layer should be ready to bake from batter added in previous steps.
Bake 9" cakes for 34 minutes.
Allow to cool 10 minutes and transfer to wire racks to finish cooling.
Once cool, use a serrated knife to horizontally cup tops of layers to level.
Wrap in plastic wrap and freeze until ready to build cake.
3 cups dried peaches
3 pints peach jam
Place dried peaches in a bowl.
Boil 3 cups of water and pour over dried peaches.
Allow to rest 10 minutes, then drain.
Combine peaches and jam in food processor and process until smooth.
Refrigerate until ready to use.
Triple recipe, prepare when ready to use.
1 cup butter, softened
1 cup shortening
½ cup milk
8 cups powdered sugar
In a stand mixer with whisk attachment, cream together butter and shortening until smooth.
Slowly add milk and powdered sugar and whisk until smooth.
See the gallery below for cake assembly instructions: