Homemade German Seeded Bread Recipe
Germany is known for dense, whole grain, multi-seeded bread called dreikernebrot. It's a nutrition-packed dietary staple that can be found at every corner bakery and is a favorite of locals and tourists, alike. Now you can bring the hearty flavor home and make an authentic loaf in your kitchen using this recipe. Dreikernebrot is a tasty seeded loaf that will fortify you through the festive days of Oktoberfest and beyond.
Note: Begin the starters for this dough the night before you plan to bake it. Overnight fermentation gives the base of this bread an incomparably rich flavor.
Starter Dough 1 Ingredients
1-1/4 cups whole wheat flour
1/2 cup dark rye flour
2 tablespoons ground flaxseed
1/4 + 1/8 teaspoon salt
1/2 cup + 2 tablespoons water
Starter dough 2 Ingredients
1-1/2 cups +2 tablespoons whole wheat flour
1/4 teaspoon instant yeast
Combine Doughs and Finish
1 tablespoon whole wheat flour, plus more for dusting
6 tablespoons sesame seeds
6 tablespoons pumpkin seeds
1/2 teaspoon salt
2 teaspoons instant yeast
1 tablespoon honey
1 egg, beaten
2 tablespoons sesame seeds
2 tablespoons pumpkin seeds
In the bowl of an electric mixer fitted with the paddle attachment, mix all of the ingredients together until a ball of dough forms. Wrap in plastic wrap and set on a work surface at room temperature overnight.
Mix the ingredients together in the bowl of an electric mixer. Mix with the bread attachment for 2 minutes. Scrape down the sides of the bowl and mix again. The dough will be slightly loose and sticky. Transfer to a buttered bowl and cover with plastic wrap. Refrigerate overnight.
The next day, remove dough 2 from the refrigerator and allow it to stand at room temperature for 1 hour.
Cut dough 1 into large cubes. Place in the bowl of an electric mixer fitted with the bread hook attachment. Pinch off pieces of dough 2 off and place in the bowl with dough 1.
Add 1 tablespoon of whole wheat flour. Add the sesame seeds and pumpkin seeds, along with the salt, yeast and honey. Knead on medium-low speed for 5 minutes.
Turn out the dough on a lightly floured board and knead together 2-3 times and shape into a ball.
Place the dough on a parchment-lined baking sheet and cover with a tea towel. Let rise in a warm place for 2 hours, or until doubled in size.
Preheat the oven to 500°F.
Using a bread lame or a new (unused) razor blade, cut the surface of the bread in a curved line about 1/4 inch deep.
Place an aluminum pan on the bottom rack of the oven. Fill with 2 cups of water. Place the bread inside the oven and bake for 10 minutes; reduce oven temperature to 450°F. Bake 30-40 more minutes, or until the internal temperature of the bread reaches 200°F.
Remove the loaf from the oven and brush with egg; sprinkle on sesame seeds and pumpkin seeds (Image 1). Return to the oven and bake 5-7 minutes longer, or until the seeds are set (Image 2).
Cool the loaf completely on a wire rack before slicing (Image 1), then use a serrated knife to slice thick slices of this chewy, hearty bread (Image 2). Bake up a loaf or two to accompany a charcuterie board as part of an Oktoberfest spread (Image 3). Also delicious: Serve slices of this bread smeared with salted butter and drizzled with wildflower honey (Image 4).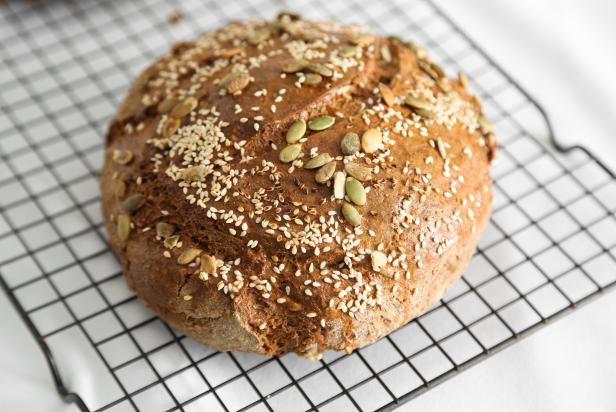 Heather Baird SprinkleBakes.com
Heather Baird SprinkleBakes.com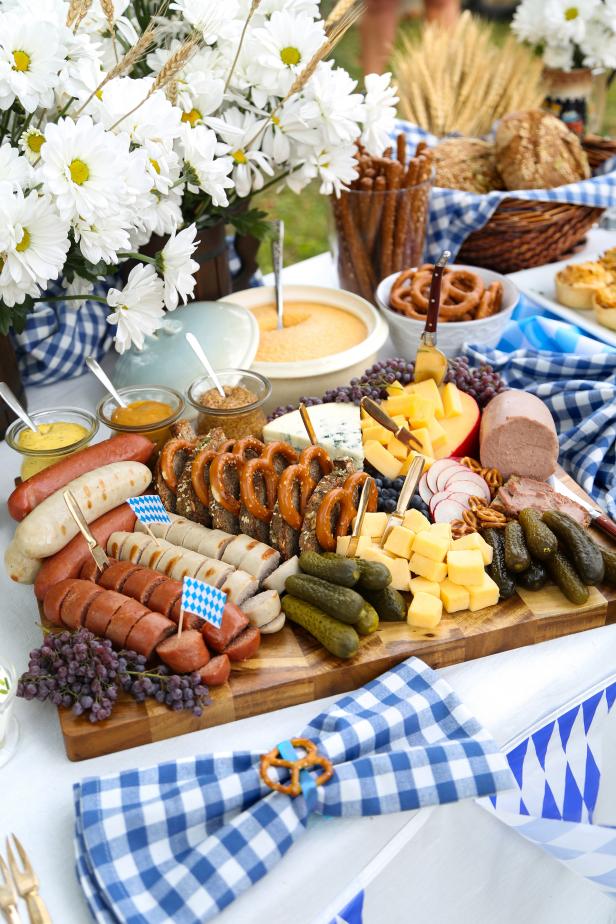 Heather Baird SprinkleBakes.com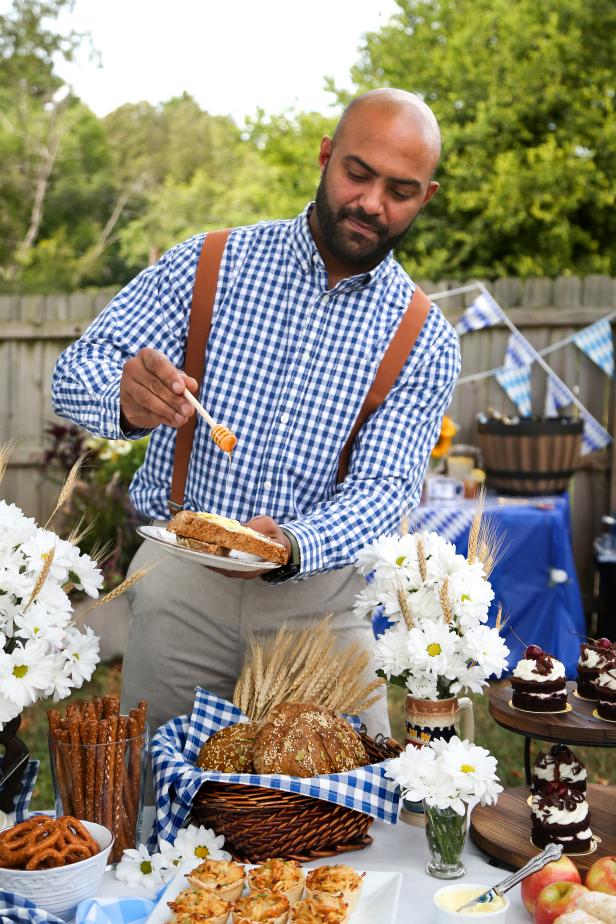 Heather Baird SprinkleBakes.com