White Chocolate Truffles Recipe
These easy-to-make white chocolate truffles will rival those from your favorite sweets shop.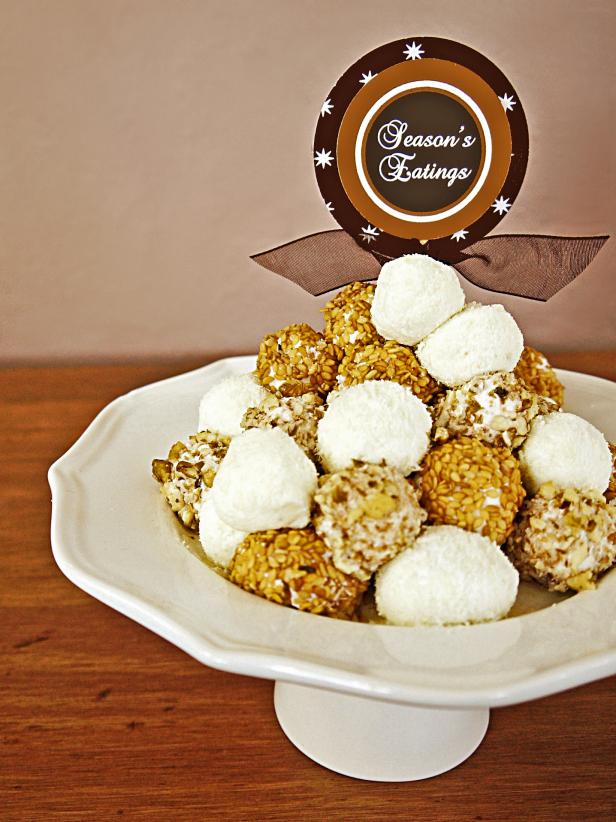 White Chocolate Truffles
Next time you make truffles, include a mixture of plain white chocolate and truffles covered with hazelnuts, sesame seeds and dried coconut. Stack them in a tower on a cake stand to create an edible centerpiece. Get the recipe.
2 tablespoons heavy cream
7 ounces good white chocolate, chopped
1/2 teaspoon vanilla extract
1/4 cup chopped, toasted hazelnuts
1/4 cup sesame seeds
1/4 cup dried coconut
In a medium saucepan or bottom of a double boiler, bring 2 cups of water to a simmer. Place the cream in a heat-proof bowl or the top portion of a double-boiler. Set the bowl atop the pan of simmering water.

Heat the cream until warm, stirring frequenty. Do not boil. Using a whisk, stir the chocolate into the warm cream until completely melted. Mix in vanilla. Cover and chill until set.
Scoop out little balls with 2 teaspoons or a small mellon baller. Place on a baking sheet lined with parchment paper. Chill for about 15 minutes, or until firm enough to handle.
Place the nuts, coconut and sesame seeds in three separate, shallow dishes. Roll a third of the truffles in each topping. Chill until ready to serve.