Caring for Leather Furniture
Get the most out of your leather furniture with these 5 maintenance tips.
By:
Rosemary Sadez Friedmann
Leather furniture is an investment, so good maintenance is important. Here are some do's and don'ts for getting your leather to age well.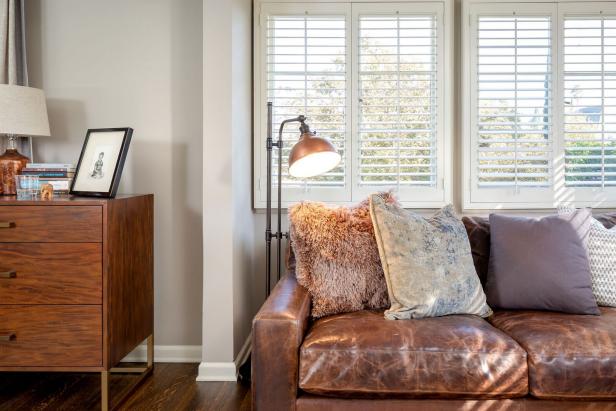 Living Room with Leather Sofa
A leather couch topped with pastel pillows adds a splash of color to a living area, matched with rustic lighting and upholstery.
1. Avoid seemingly harmless cleaners such as oil soap; it will stain and darken the leather. And mild soap, though gentle on dishwashing hands, not only will remove the dirt but just might remove the color on the leather as well. Saddle soap may be good for that catcher's mitt, but keep it away from leather furniture.
2. Don't use soap or detergent, no matter how mild. We can use mild soap on our skin because our skin is still alive and will replace the oils that soap washes off, but a leather sofa doesn't have that ability. It will eventually become brittle, dry and damaged. Why not wash with soap and then apply oil? Because the oil will stain the leather
3. Avoid placing leather furniture in direct sunlight. Virtually nothing is safe for long in the light and heat of the sun. Avoid extreme temperatures that would cause leather to dry and crack. If you're too cold or too hot in a room, so is the leather. Don't place leather next to air conditioners or radiators.
4. Blot spills quickly using clean terry cloth towels or paper towels. If you spill grease or oil, use talcum powder or baking powder to help absorb it. There are also leather-furniture cleaners that would work, available from upper-end furniture stores and from some manufacturers of leather furniture.
5. If leather furniture is brand new, protect it right off the bat with a professionally applied leather protector. There are also products available for do-it-yourselfers on the after-market. If the furniture is older, have it cleaned professionally and apply the leather protector. Keep the furniture free of dust and occasionally wipe it with a barely damp cloth.
(Rosemary Sadez Friedmann is author of Mystery of Color.)
Use these tips to keep your leather furniture and clothing in top shape.
Keep your suede shoes, clothing and accessories looking like new with these simple steps.
Avoid these common cleaning blunders, and help your fabric furnishings look their very best.