Foolproof Bathroom Color Combos
Four bathroom makeovers teach you how to combine colors that create a fresh look.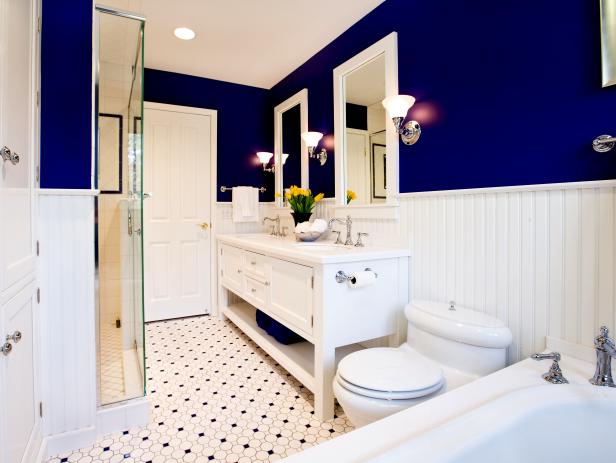 Master Bath Comes Alive with Marine Blue Walls
Pair white fixtures with colors that make them look fresh. Design by Gail Drury.
Pair white fixtures with colors that make them look fresh. Design by Gail Drury.
White sinks, tubs and toilets are classic bathroom fixtures. Learn how to pair them with colors that make them look fresh.
From warm and earthy to cool and modern, these hip color palettes will transform your bathroom from boring to brilliant.
Although there are some absolutely gorgeous boutique lines producing sinks and toilets in rich, deep colors, white is still by far the most popular choice for toilets, tubs and sinks, says Bob Garder, Certified Master Kitchen and Bath Designer, and president of the National Kitchen & Bath Association.
For clean but comfortable look, Los Angeles-based interior designer Nicole Sassaman loves Restoration Hardware's Silver Sage with white bathroom fixtures. "Or," says Nicole, "try some of the metallic blue paints in the Ralph Lauren line." Choosing a darker paint color also gives you an artistic backdrop against which you can install colorful hooks or hang vibrant towels.
If you will be putting on makeup in the bathroom, says Marcia Walter, ASID, an accredited member of the International Association of Color Consultants, colors flattering to your skin tone can be very important. "That would include peach, terra cotta and pink tones," says Marcia. "But steer clear of gray and deeper yellow-greens."
Other deep colors can work very well in bathrooms, however, even if your bathroom is tiny, says Catherine B. Stein, founder and president of THE COLOR COUNCIL. "Don't try to hide the fact that it's a small space," says Catherine. "Instead, treat the room like a little jewel box, painting the walls and the ceiling the same color, and make it really special."
Whether it's Jerusalem limestone or Pennsylvania slate, stone is the most popular flooring today, says Jennifer E. Wilson, a spokesperson for Lowe's. And because the flooring material is often more dramatic than a white toilet or tub, it is important to consider the hues underfoot when choosing paint for the walls.
But that doesn't mean matching the color exactly, says Margaret Walch, director of The Color Association of the United States. "If you try to match a natural material like wood or stone exactly," says Margaret, "it always comes off as lesser." Instead, she says to use the natural color as an inspiration for a second shade that will create a harmonious, but multi-colored look.
"Many people put plants in their bathrooms," notes Margaret. "This paint color allows you to have a mix of natural green and manmade green."
But remember that natural colors needn't just be green and tan, says Joan Osburn, of Osburn Design in San Francisco. "Earthy colors really include not only the greens of grass and trees," says Joan, "but also flower colors in every hue."
Marble tub surrounds make any bath elegant. Learn how to spotlight them with paint color to enhance their natural beauty.
Marble, known for its elegance and classic good looks, is the chameleon of the bathroom, able to span the range of styles from cool and contemporary to warmly traditional. National Kitchen & Bath Association's Bob Garner says it's particularly popular when used as a tub surround.
Many bathrooms have a marble tub surround with gray veining. To bring out the beauty of the stone, Becky Spak, senior designer with Sherwin-Williams, recommends choosing a deep violet paint. "Like the gray in the marble," Becky says, "purple is a cool color, but the deep shade creates some visual interest that plays nicely off the cool tones."
If you prefer to balance the coolness of the marble with some warmth, try a blue or green with a yellow undertone. "These are colors that are between cool and warm," says Donna Schroeder, Color Design Specialist with Dutch Boy paints, "and they can bridge the cool/warm gap."
Get expert advice on pairing your antique (or antique-style) vanity with colors that bring out its unique beauty.
The most popular vanities today are antique cabinets and dressers retrofitted for sinks — or new pieces designed to recreate that "furniture" look in the bathroom. These furniture-style vanities have great presence, and if you've chosen one for your bathroom, it will be a big factor in choosing a wall color.
"If you have a period piece," says Sara Ann Busby, Certified Kitchen Designer, 2007 president-elect of the National Kitchen & Bath Association, "do some research into the period: what colors were used, what sorts of finishes. If you have a Victorian piece, for example, stay away from colors that scream 21st century, like a trendy blue or a sherbet color. Instead," says Sara, "choose a color that was popular in the Victorian era, such as raspberry or sage green."
We're sorry, there seems to be an issue playing this video. Please refresh the page or try again in a moment. If you continue to have issues, please contact us here.