This Warm and Woodsy Kitchen Has Lots of Holiday Flair
Wood you? Could you? These Tennessee homeowners did, and HGTV Magazine has all the details!
Keep in mind: Price and stock could change after publish date, and we may make money from these affiliate links.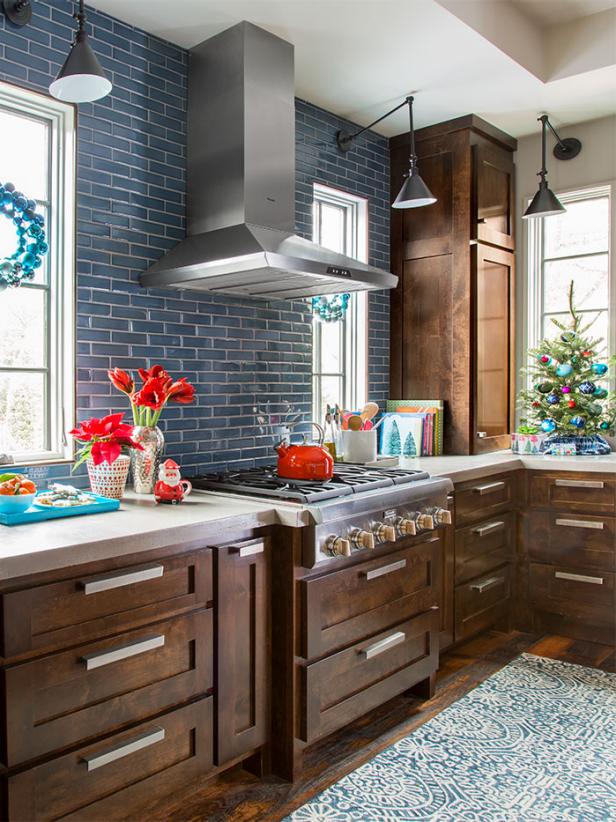 Warm and woody kitchen tour from HGTV Magazine December 2018
The stove in the LaRoche's warm and woodsy kitchen.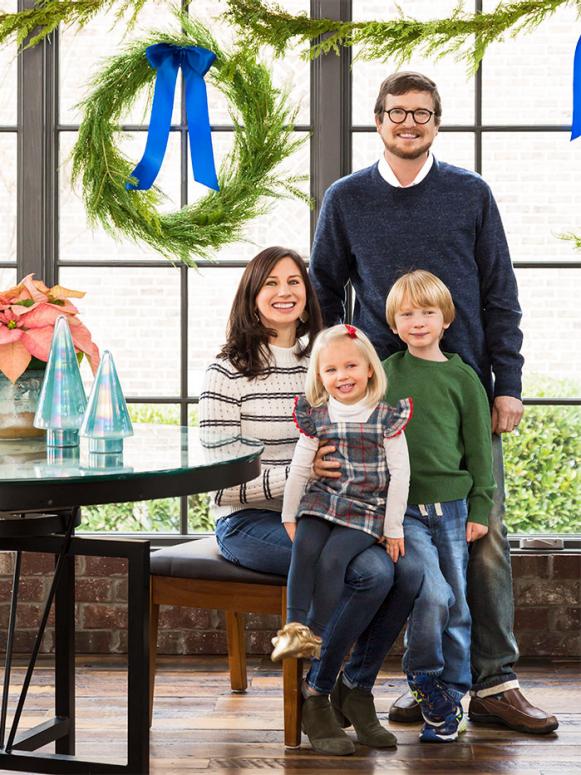 Warm and woody kitchen tour from HGTV Magazine December 2018
Brook and David with Ayla, 5, and Anderson, 8.
Lisa Romerein
Brook and David with Ayla, 5, and Anderson, 8.
Brook and David LaRoche of Murfreesboro, Tennessee, love their kitchen all year long, but it really melts their hearts come winter. The rich wood tones and exposed brick in the breakfast room exude a get-comfy vibe, even more so when snow's falling outside. Since Brook likes natural elements and David leans modern, when they built the home in 2015, they went for a rustic-industrial look with help from the designers at Pillar & Peacock. Their starting point: reclaimed-wood floors. "We wanted to bring in something old for character and warmth, and oak floors with history were a great way to do it," says Brook. Adds David, "Once we decided on that, the rest of our choices were easy." Enter walnut-stained cabinets (white might have looked harsh against worn-in floorboards), concrete countertops (industrial but subtle), and metal light fixtures (ditto). Their masterful mix couldn't be any cozier…unless you add hot cocoa.
The oak planks—3, 5, and 7 inches wide—came from a barn in nearby Manchester and were purchased through a local company, Eagle Reclaimed Lumber. "We love the variations in the wood and how forgiving it is," says Brook. "We had a water leak, and nobody would ever notice except us!"
Made from the same barnwood as the floors, the island has an X design on each end that resembles the ones on barn doors. For contrast, the couple picked a white marble countertop with gray veining. The metal barstools are from Restoration Hardware.
An open-wire chandelier by Arteriors Home above the island and dark metal sconces by Visual Comfort on the walls boost the industrial style the LaRoches were after.
Brook and David chose new alderwood cabinets stained dark walnut. The tone doesn't match the floors exactly, but it doesn't compete with them, either. With all that wood going on, the LaRoches kept the hardware simple: sturdy white-bronze pulls by Ashley Norton.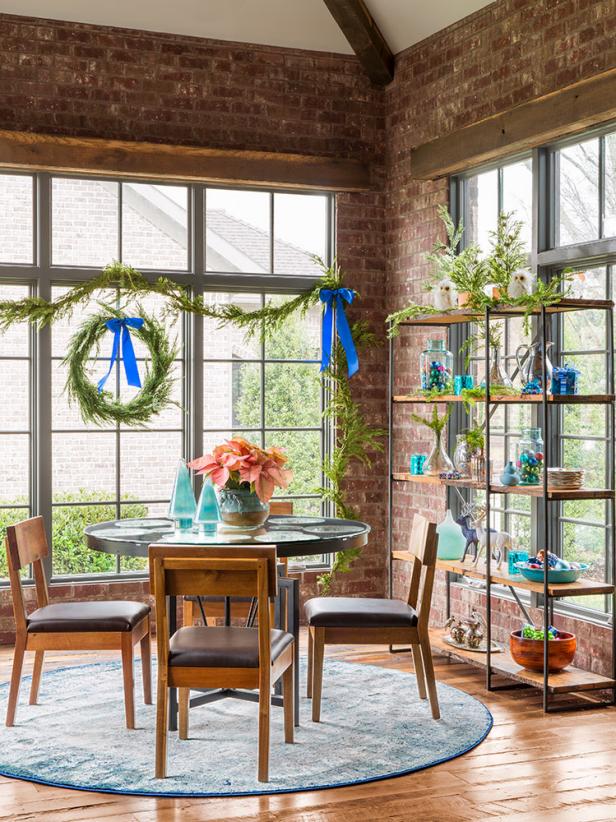 Warm and woody kitchen tour from HGTV Magazine December 2018
The breakfast nook in the LaRoche's warm and woody kitchen.
"When I was growing up, our house had exposed brick in the dining room and kitchen, and I've always wanted that in my own home," says Brook. The breakfast room was the perfect spot: With 5 -1/2-foot-tall windows on three sides, it doesn't look the least bit dark. Shelving from Vivaterra holds year-round and seasonal accessories.
Brook never gets tired of eating here—that's her grandma's china displayed beneath the glass top on the table, custom-made by Andersen Built in Nashville. Yet more wood-tone charm: the chairs, brought from their old home, with faux-leather seats. The rug is by Loloi.