Decorating With Sunny Yellow Paint Colors
Pick the right paint color and yellow can be dramatic, daring and surprisingly debonair. Here are some of the ways color-savvy designers prove that yellow isn't always mellow in their room design.
Though not a common choice for public spaces, this fabulous orangey-yellow was just right for the room — and for the folks who spend their time in it. Photo by Matthew Millman
Soft and subdued, yellow is often used in babies' rooms and kitchens to create a calm, quiet place to begin a new life or to start the morning. But this versatile color is not just for the duck-and-bunny set or for old-fashioned spaces. Pick the right shade and yellow can be dramatic, daring and surprisingly debonair. Here are some of the ways color-savvy designers prove that yellow isn't always mellow.
Bold, bright and luscious, these mango walls were colored specifically for this space by San Francisco-based designer Martha Angus. The room is the living room in a pool house/guest house in Portola Valley, Calif., where the homeowners work in venture capital.
"The wife of the house is of Greek heritage," Angus says, "and she wanted a powerful, sunny color in the pool house." The room would also host large slumber parties for the clients' children, so it had to be fun, yet sophisticated.
That's where the mahogany floor and ceiling come in; the mango color was selected to work with the wood's tones. Selecting the right yellow to work with various woods can be tricky, Angus says. "I think an ash-blond wood should work with just about any color," she says, "but if the wood is warm toned (honey gold), then the wall color should be warm, too."
And of course, if you fall in love with yellow, a natural wood floor is not your only option. "My mother-in-law has a citron yellow living room and dining room," says Angus. "And she has black floors. It looks fabulous."
To create a similarly vibrant effect in a New York City powder room, designer Barclay Fryery chose a bright shade that's as welcome as a cab as it is on a rainy day. Photo by Chi Chi Ubina

Think "New York" and you're apt to think taxicabs: the bright yellow fleet that dominates the landscape and lends the city much of its high-energy look.
"This apartment belongs to a modern-day 'it girl' and stockbroker to the stars," designer Barclay Fryery says. "And the rest of the rooms are camel, black, cream and white, just like her delicious clothes. But for the powder room, I wanted something lively and fresh and unexpectedly modern." Because there are no moldings to separate one plane from another, Fryery painted the ceiling the same color as the walls: Farrow and Ball's Dayroom Yellow #233.
"Surrounding the room in a single color adds a finished look," he says. "In a small powder room you always need to have a wow factor, so be bold, and be dramatic."
The room is decorated with painted furniture and antiques, and a variety of fabrics in yellow, peach and coral. Photo by Durston Saylor
Although this yellow bedroom, designed by Sherrill Canet, belongs to a young girl, there is nothing bland or babyish about the space. The walls were glazed, then handpainted, and the ceiling is a soft peach (Benjamin Moore OC78).
"This is a sophisticated use of yellow because it is offset by a stronger color," Canet says. "The beautiful coral red of the fabrics gives the pale yellow the charge it needs to keep it from looking too sweet or too much like an infant's room. It's definitely feminine, but it doesn't scream little girl."
Explaining how she selected just the right yellow and accent colors for this room, Canet says, "All colors tend to mix if they have similar undertones. This red has a more orange-raspberry base, which blends beautifully with the warm yellow. Also, the values of the colors should be in the same range in order to stand up to each other."
But while Canet is a great fan of yellow, she cautions that it needs to be livened up and used judiciously. "Yellow is a great color if you can come up with interesting combinations with other colors," she says, "but on its own it can be tiring.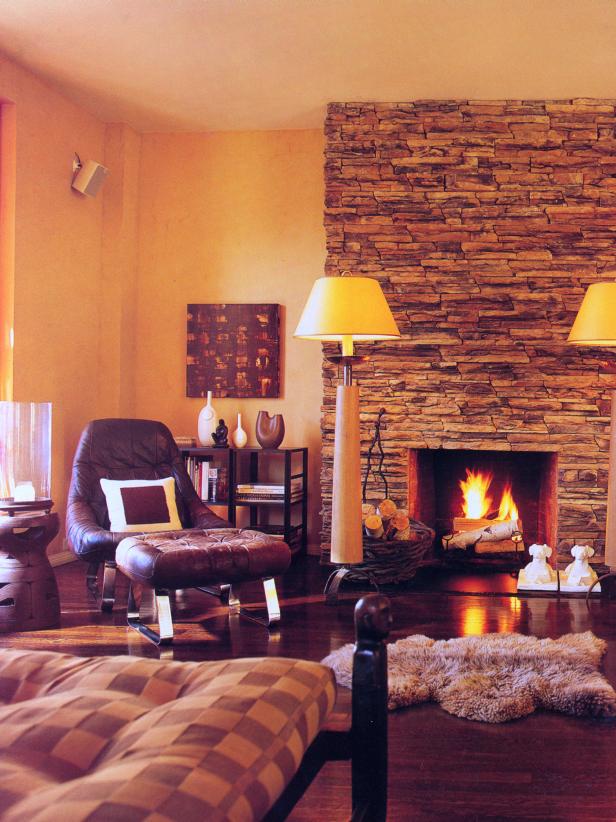 Yellow Rustic Living Room With Stone Fireplace
While yellow may come and go, stylistically the challenges of using the color transcend all trends and time. Photo by Francois Dischinger
While yellow may come and go, stylistically the challenges of using the color transcend all trends and time. Photo by Francois Dischinger
The rich, ochre yellow in this New York City apartment, designed by Alan Tanksley, was achieved with a layered Venetian Plaster finish. The color was developed on-site by an artisan and the plaster applied layer after layer, all by hand. The result is a depth and sheen that paint alone could never offer — the perfect backdrop for this apartment's mix of modern and marvelous, with elements new and natural.
"I think yellow got overplayed in the '80s and, therefore, often has an association with old-fashioned decoration," Tanksley says. "However, it still works in many situations and looks fresh again."
"The biggest issue with choosing yellow, which is thought to be the most difficult of all colors to get right," Tanksley says, "is whether it is a cool or a warm tone, and whether the chosen color is in harmony with the other room elements. For instance, a cool yellow, one with a blue or green hue as opposed to the brown hue found in the ochre, would have been very jarring in this apartment. In general, I avoid using cool-toned yellows in south-facing rooms, as these shades tend to look and feel very cold. In those situations I choose yellows that have a rich brown or slight reddish undertone.
"Yellow is on its way back in," says Catherine B. Stein, president of THE COLOR COUNCIL, with bright, chrome yellow or soft bamboo looking especially fresh. "Blues are a natural partner for yellow, reminiscent of classic country," Stein says. "Green will soothe and give an outdoorsy feel, while purple will offer the highest contrast, yet be the most nostalgic."
Another fan of yellow paired with purple, designer Martha Angus loves egg yolk yellow accented with pale violet. She also adores yellow with what she calls Marie Antoinette-saturated French Blue. "If you go with any powerful yellow," she says, "then the other colors in the room need to be a bit quieter."
On the other hand, a softer yellow lends itself quite nicely to a jazzy new shade. "Mixing yellow with an apple green or aubergine, for instance, can make it lively and new," says designer Sherrill Canet. Designer Steven Miller's green and yellow combo in the living room pictured above is a great example of this refreshing effect.
Whatever color combination you choose, remember to try the paint on the walls to see how it looks at different times of the day. Once you've found a color that appeals to you, go ahead and try it, even if it's bolder or brighter than the shades you normally select. "You need a little luck when you try something unusual," says designer Barclay Fryery, "but the most important ingredient for pulling it together is confidence."