Surprise! You Can Rent Jasmine Roth's Home Right Now on Airbnb
Feelin' a SoCal vacation? The Help! I Wrecked My House star is renting out her Huntington Beach, California, home on Airbnb.
Keep in mind: Price and stock could change after publish date, and we may make money from these links.
Ever wanted to live like Jasmine Roth? Now you can! The Help! I Wrecked My House star announced today on her blog that she's renting out her and her husband's (stunning) Huntington Beach, California, home on Airbnb.
Dubbed "The 11th Street Retreat," the 2,875-square-foot house is the first the couple built from the ground up and blends luxury and Jasmine's "California casual" style.
"It's the only house we've lived in for the past seven years and it holds so many of our important family memories," Jasmine writes.
Now, for $507 a night, you and eight of your closest friends can make your own memories, whether you're relaxing in the enclosed front patio or binge-watching Hidden Potential while curled up on the sectional. (You may even spot one of Jasmine's DIY projects from season one in the living room.)
And forget takeout, the kitchen demands to be used: stainless steel appliances, marble countertops, a double oven. This space is truly *chef's kiss*. When you're ready to serve, the dining table seats eight, which is the perfect amount for the feast you'll be preparing.
In cool California style, the second outdoor space off the kitchen — the interior courtyard — is the ideal spot for chilling and grilling. And, after a long day at the beach, you can rinse off in the outdoor shower before chowing down on some barbecue. (Anyone else California dreamin' right now?)
The home is definitely dog-friendly, with a custom dog cave under the stairs that any furry pal would love. (Yes, pets are welcome!)
Take the stairs to the second and third floors where there are four bedrooms, including the primary bedroom which has an en-suite bathroom complete with a jacuzzi tub. One of the bathrooms also features a vintage yellow mirror noted as one of Jasmine's "most loved images on social media."
Fans of Jasmine will recognize her custom design everywhere: the bright yellow front door, the decorative staircase, the number of creative storage solutions (of which Jasmine is truly the queen). In the listing, Jasmine says those who "love good design, want a luxury kitchen, smart home technology, and a comfy and unique vibe" will be quite happy here, and we agree.
Check out this photo gallery featuring some of Jasmine's innovative designs from Hidden Potential.
"Renting our home is so exciting, but we're also a little nervous since we've never done anything like this before," Jasmine tells HGTV. "We know where we live is special, not just because it's by the beach, but because of the whole 'California casual' vibe. You can't help but feel relaxed here! I can't wait to share this piece of our life with my friends and fans."
For those of you keeping up with the Rock the Block host, she's officially living in her new home — known as the Roth Homestead — with husband Brett and their new baby, Hazel. We've loved seeing the house come together via Jasmine's Instagram updates, especially the gorgeous pool area where the entire family has been spending time this summer. Congrats to Jasmine, Brett and Hazel on this next big adventure! Head to the Airbnb listing to see all the delightfully designed spaces for yourself.
See Jasmine turn unwelcoming front yards into beautiful, functional spaces her homeowners can actually use in this photo gallery.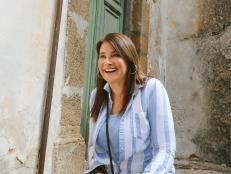 She bought the 200-year-old home for only one euro.