Elegant + Eclectic Modern Home
Located in Huntington Beach, Calif., this gorgeous home features indoor/outdoor spaces, high-end finishes and sparkle to spare.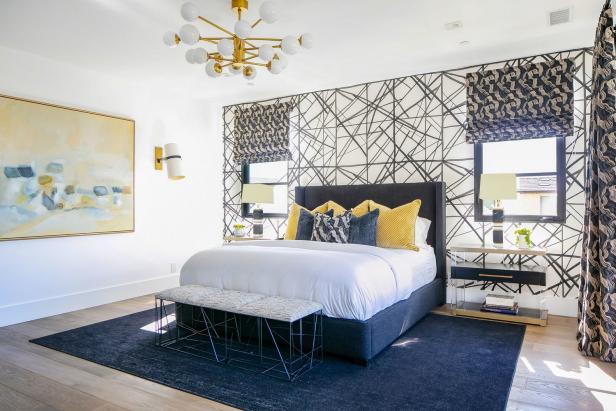 Modern Master Bedroom with Bold Accent Wall
This fun, funky and modern master bedroom features a black-and-white accent wall with a bold geometric design. Draperies and Roman shades offer up a contrast pattern and hue that sets the tone for a space that takes style - but not itself - seriously. Yellow accents come in the form of throw pillows and modern art.
Warm, inviting and ready to party, this California home lives up to the West Coast's laidback lifestyle and cool cred while delivering sophisticated style nods and luxury touches throughout. Designer Erica Bryen answers our Q's on what makes this custom-built home a standout, plus gives her tips for working in pops of color.
What was the inspiration for the style of this home?
Erica: "I wanted to make this space unique to reflect my client's cool taste, but I also wanted it to feel comfortable for the family to use on an everyday basis. Our client wanted their home to embody all of their worldly travels and urban lifestyle that they live when they aren't at the beach, so we went with a darker color scheme throughout."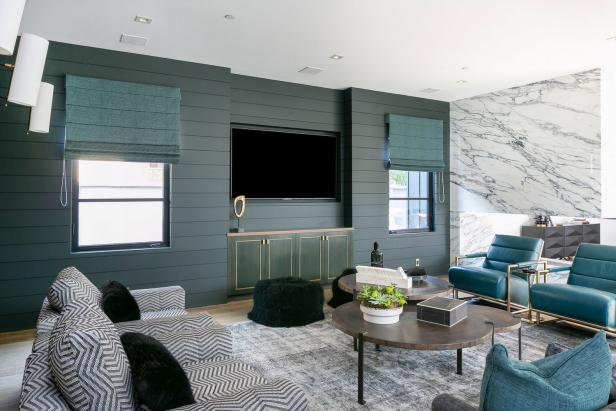 Modern Living Room with Teal Color Palette
The monochromatic teal color scheme of this modern living room pops against background elements in neutral tones of gray and white. Gold accents bring a modern-retro vibe to the polished space. Roman shades have a similar hue to the paneled accent wall, allowing them to "disappear" visually while still adding privacy and filtering light for TV viewing.
What was your favorite room/space to design in this home?
Erica: "The layout of this home is awesome for entertaining and for that indoor/outdoor lifestyle so that was fun to work with. I love the powder room but the kitchen was my favorite to design because of all of the different colors and finishes were unique. I had yet to design something like that so seeing the kitchen come together so amazing in the end was great."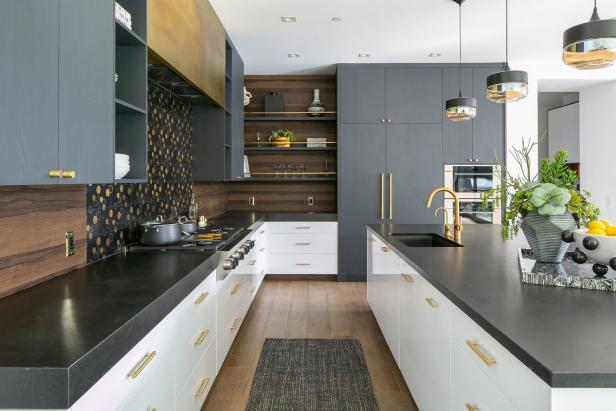 Gray Modern Kitchen with Brass Accents
Open shelving mixes with sleek, modern cabinetry in this open concept kitchen. A trio of modern pendant lights hangs above a sleek island, while brass hardware brings a retro-modern vibe. Pattern on the backsplash creates a fun focal point.
What's your favorite element?
Erica: "I loved the fun and funky wallpaper that we got to use in this home. Also, the slab for the fireplace was a great find and turned out to be an awesome statement piece."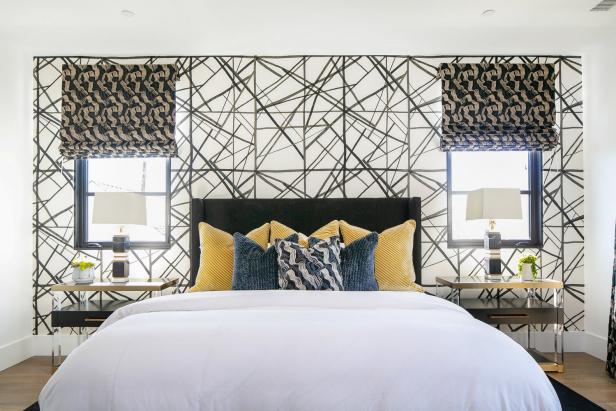 Modern Master Bedroom with Black-and-White Accent Wall
An accent wall in this modern master bedroom is a feast for the eyes, with its striking, geometric black-and-white design. The bed, by contrast, features solid white bedding to avoid competing with the room's strong elements. Roman shades, however, bring more pattern to the space in a contrasting dark hue. Pillows are the perfect opportunity to add pops of color.
Speaking of wallpaper: How is it best used in a home?
Erica: "One of the best things about wallpaper is that it creates more depth and warmth in a space, leaving it more finished. I'm a big advocate of wallpaper and it is one of the signature design elements we love to use on every project."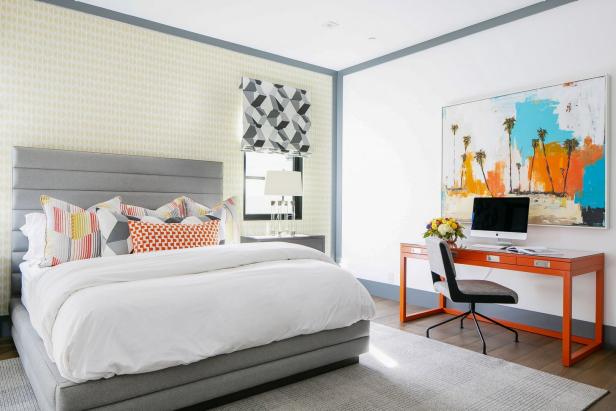 Modern Guest Bedroom with Bold Orange Desk
A bold orange desk topped by a brightly hued modern landscape creates a focal wall in this modern and inviting guest bedroom. Wallpaper on one wall brings dimension to the bed, which features an upholstered headboard with a sleek horizontal channel design. A Roman shade draws down for privacy and light reduction.
How did you select the eye-catching tile in the baths?
Erica: "I am a person that loves pops of color so when I saw the bright yellow tiles, I designed around them. As for the powder bath, I picked the floor tile first from Kelly Wearstler, that I love so much, then I picked the hex tiles to complement the floors."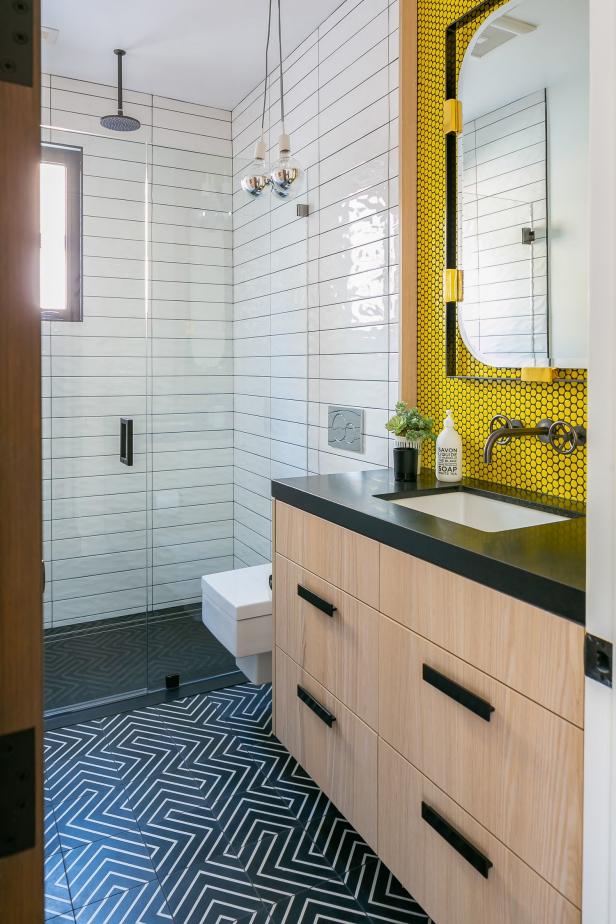 Modern Guest Bath with Bold Yellow Backsplash
This petite guest bathroom is high on style, with a playful mix of tile that defines different elements of the space. From the geometric black-and-white floor to the horizontal lines of the white-tile shower to the bold pop of yellow penny round on the backsplash, the combination is whimsical and fun.
What makes this project uniquely representative of your style?
Erica: "I would say that my style is modern eclectic; I like the modern clean look with straight lines but I also like to mix in lots of funky patterns and I am not afraid to use color so I put pops of color into every project I work on."
Modern, Open Plan Kitchen, Living Room and Dining Room
A partial wall sheathed in calacatta marble forms a dramatic divide in this modern, open plan kitchen, living and dining space. Mid-century Eames dining chairs surround a modern table with a sleek, minimal profile. A dark accent wall in the living room connects to dark kitchen cabinetry, bridging the two spaces. Meanwhile, modern art above the sideboard provides a hit of bold color.
What are the 'hidden gems' that really made a big difference in the overall design?
Erica: "This entire project is a 'hidden gem.' A huge factor in that is that our client had a very high budget so that made for a really amazing design. They let us do our job and that meant we had no boundaries. No expense was cut when designing this home, even down to every tile."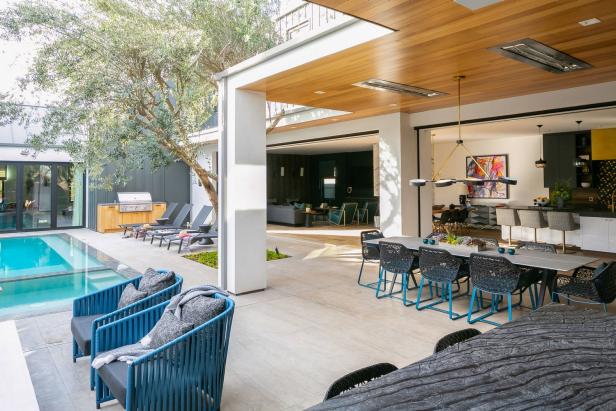 Modern Home and Patio with Retractable Walls
Retractable walls open the indoor spaces of this modern home to its luxurious backyard pool and outdoor dining room. Wood accents on the ceiling bring visual warmth to the dining area, while flush-mounted infrared heaters add literal warmth, making the space functional all year round.
Bold color choices, thoughtful space-planning and big doses of geometric tile and graphic wallpaper make this California home a style standout.