New Chip and Jo Spinoff Series 'Fixer Upper: Behind the Design' Comes to HGTV
It's a wrap for Fixer Upper's fifth season, but Tuesday-night appointment TV with Chip and Jo lives on in a new series that offers viewers an in-depth look inside Joanna's creativity and designs.
We're sorry, there seems to be an issue playing this video. Please refresh the page or try again in a moment. If you continue to have issues, please contact us here.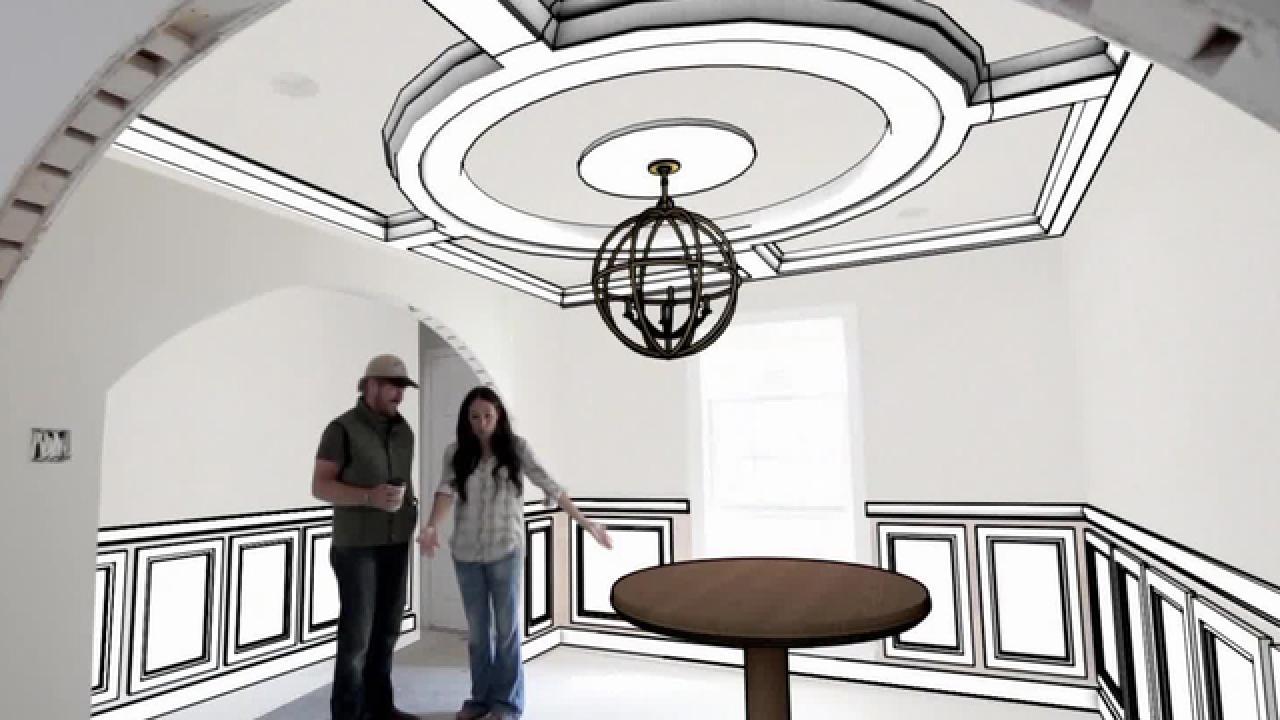 Cheer up, Fixer Upper fans. Millions (and millions) of you tuned in on April 3 to see the much-publicized final episode of Fixer Upper's fifth season. Given the backstory on this special but bittersweet night, we suspect it's not hyperbole to imagine that a few of you may have shed some actual tears. You're not alone. But stay strong, super-fans. If you had fears that your Tuesday evenings going forward would be bereft of Chip and Joanna Gaines, here's some good news. Beginning April 10, your favorite Waco home-improvement couple are back on Tuesday nights in a brand-new series. How's that for a quick turnaround?
Okay, to be technically accurate, this is news that's been around for a while. We touted it on HGTV's blog way back at the end of Season 4. And Joanna posted about it around that time on her Instagram. (More on that below.) Nevertheless, no better time than the present, it occurred to us, to offer a timely reminder that this exciting new series is headed your way. So what, exactly, is Fixer Upper: Behind the Design? Here are a few insights.
The original Fixer Upper series, without question, offered up a near-magical blend of engaging narrative, Joanna's inspired and distinctive designs and, at its core, the inimitable interplay between its two stars Chip and Jo. Intersperse that with heartwarming glimpses into home and family life, intriguing recurring "characters" like Clint Harp and Jimmy Don, then throw in some goats, chickens and puppies, and what you've got there is the recipe for one of the most endearing surprises to come along on TV in quite some time. We're not bragging. (Well, maybe we are just a little.)
But, as Joanna has pointed out, there's only so much you can fit into the 46 minutes or so that make up a Fixer Upper episode. Many viewers, particularly the more design-centric among the show's enthusiast following, are left wanting to know more. Give us more details about the details, please, Ms. Gaines. Where did you find that handmade tile? Why, exactly, did you go with that exact color palette? And what about those "other" rooms that aren't featured in the final reveal? The answer to such questions is where Behind the Design comes in.
Jennifer Boomer/Verbatim Photo A
This highly stylized hall bathroom was part of the renovation at the Scrivano house, but didn't make it into the final cut of the Fixer Upper episode.
In what's essentially a companion series to the original show, Joanna shares insider insights on the design strategies, decorating and staging of the individual home-makeovers seen in episodes of the main series. Each half-hour episode focuses on Joanna's design process from one particular Fixer Upper renovation. She reveals never-before-seen design elements and shows how she, Chip and her design assistants worked to meet clients' needs and style preferences while overcoming challenges that pop up along the way.
"We get a lot of questions about the designs, and how we get from point A to point Z when it comes to these houses and projects from a design standpoint," Joanna said in a post on Instagram. "So we have a new series which focuses on each project and you get more inside scoop on how we came up with a lot of the design decisions and elements we got to incorporate."
Episode titles for the new series will be super-basic, based simply on the client names for the specific projects — e.g., The Ivy House, The Scrivano House and The Baker House. Another bonus for die-hard fans will be the opportunity to get to know members of Joanna's design team, seen only briefly and in passing in the original series.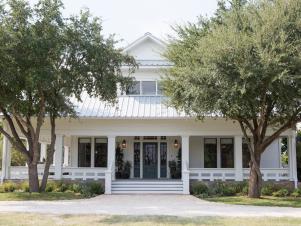 Jennifer Boomer/Verbatim Photo Agency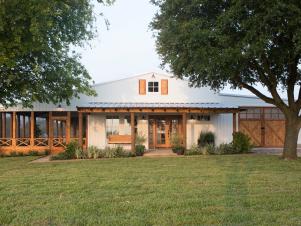 Jennifer Boomer/Verbatim Photo Agency
White Farmhouse Exterior with Brown Brick Skirt
The exterior gets a fresh coat of white paint, new landscaping and skirt made using antique brick.
White Farmhouse Exterior with Neutral Screened Porch and Garage
The exterior of the remodeled Brooks home, as seen on Fixer Upper.
So, do you love Fixer Upper, but want more info about the spaces and Joanna's motivating design ideas? Want to see more of what goes on behind the scenes before the final reveals? Just basically want more Chip and Jo? We've got your show.
If the basic concept here sounds vaguely familiar, there's a reason for that. And congratulations on being observant and for being one of those dedicated fans who explores Fixer Upper across platforms. Those who frequent the Fixer Upper show page on HGTV.com will likely have come across clips from our original digital series under the title "Design on Her Mind." It was those short clips, three minutes or so in length and featuring Joanna offering details on a particular renovation, that eventually germinated into the full half-hour show, Fixer Upper: Behind the Design. Think of it as more of a good thing. Below is one example of those early digital shorts. And we've got plenty more of them where that came from.
We're sorry, there seems to be an issue playing this video. Please refresh the page or try again in a moment. If you continue to have issues, please contact us here.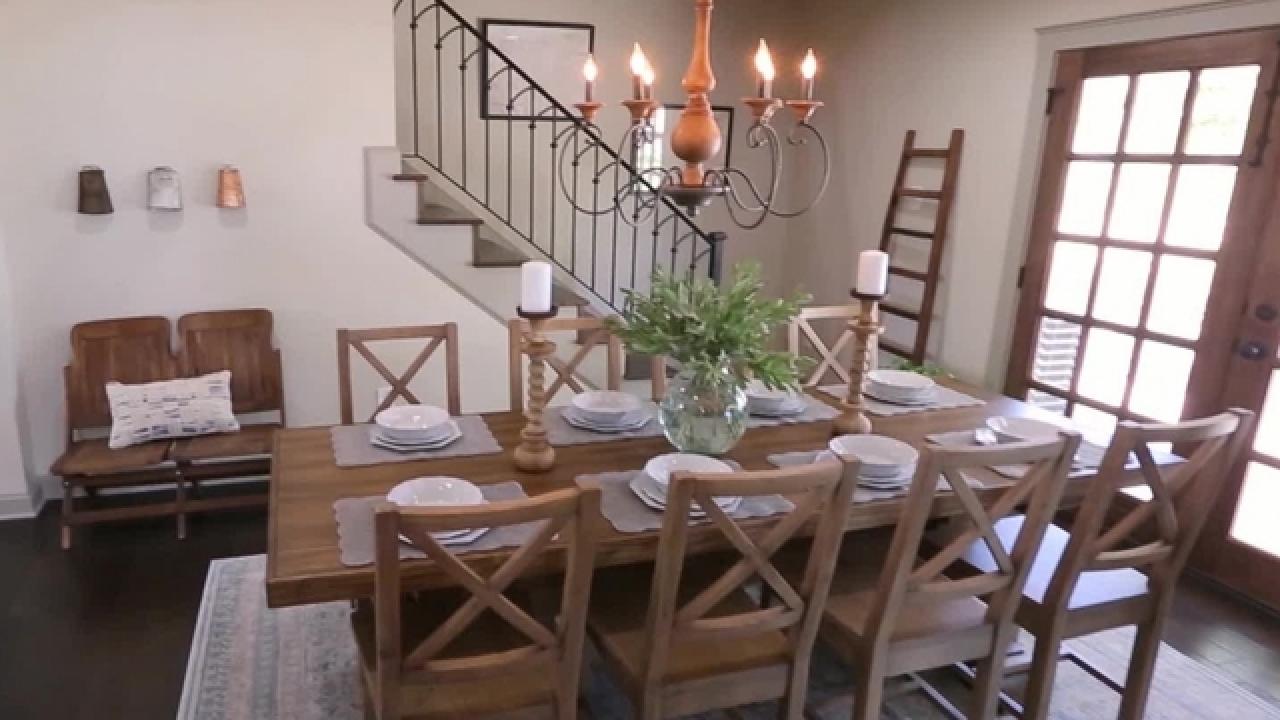 The concept for the expanded version was put fully to the test with an episode from Fixer Upper's fourth season in an episode titled (appropriately in Chip Gaines parlance) "Little Shack on the Prairie" which premiered in March 2017. Astute viewers will note that the pilot episode for the spinoff series was drawn from the renovation featured in the regular Fixer Upper episode, "The Colossal Crawford Reno" in which Chip and Jo's clients were, in fact, one of Fixer Upper's show producers Michael Matsumoto and his wife Jessie.
From "Little Shack on the Prairie"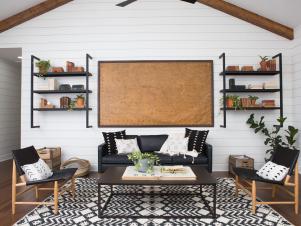 Jennifer Boomer/Getty Images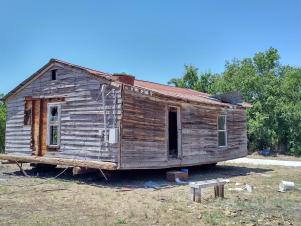 Industrial Farmhouse Living Room With Slingback Lounge Chairs
The home's interior has an industrial farm feel with floating metal shelves, exposed wood beams, dark stained wood floors, a high-contrast palette and — of course — lots and lots of shiplap. This is, after all, Fixer Upper.
And though we've all seen Joanna and crew pull off some serious makeover magic, this was one job with some rather extraordinary challenges, so an in-depth look inside Joanna's design mind was especially revealing in this case.
New episodes of Fixer Upper: Behind the Designs air Tuesday nights at 8p|7c.