Red, White and Blue Sangria Recipe
This deliciously festive red white and blue sangria is the perfect patriotic cocktail for your summer get-together.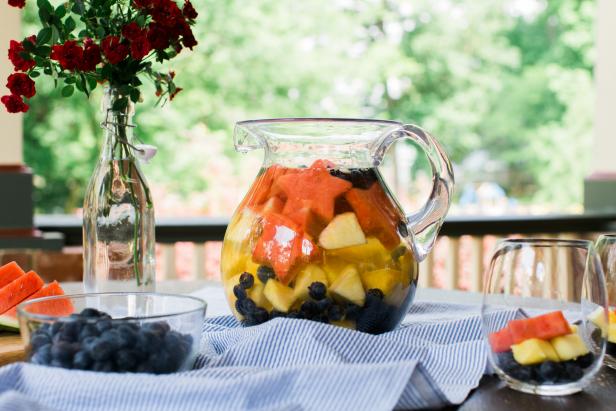 Red, White & Blue Sangria
This deliciously festive Red, White & Blue Sangria is the perfect colorful cocktail for your upcoming 4th of July get together!
Flynnside Out Productions
2 bottles dry white wine
half of a small watermelon
1-1/2 cups pineapple chunks
2 cups blueberries
star-shaped cookie cutter
Cut large slices of watermelon, then cut out star shapes using the cookie cutter (Image 1). Cut pineapple into several long wedges, then cut the wedges into 3/4-inch slices (Image 2).
Combine the watermelon stars and pineapple wedges with blueberries in a tall, clear pitcher.
Pour dry white wine over the fruit (Image 1). Place cocktail in the refrigerator for a couple of hours to allow the flavors to blend, then serve chilled (Image 2).