Open-Concept Silicon Valley House With Sweeping Views
This modern house offers prime views of the San Francisco Bay thanks to walls of windows, which also fill the open-concept house with natural light. A neutral palette and subtle textures work with the natural surroundings to create an organic feel to the home.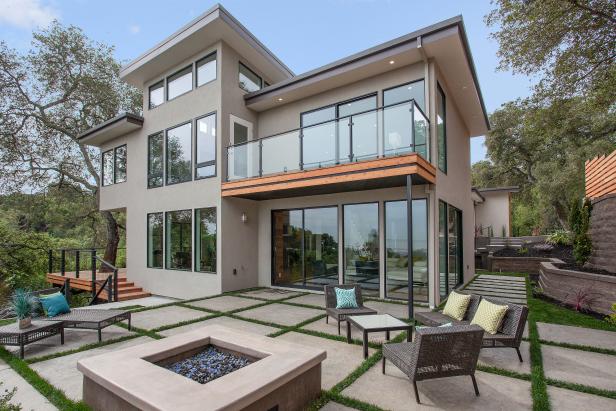 Contemporary Home Features Concrete and Grass Backyard
This home's gray concrete exterior blends into the concrete slabs that make up the backyard sitting area. Brown wicker furniture creates areas to relax and enjoy the fire pit. Strips of grass add a soft texture and rich color between the concrete slabs.
What did your client want?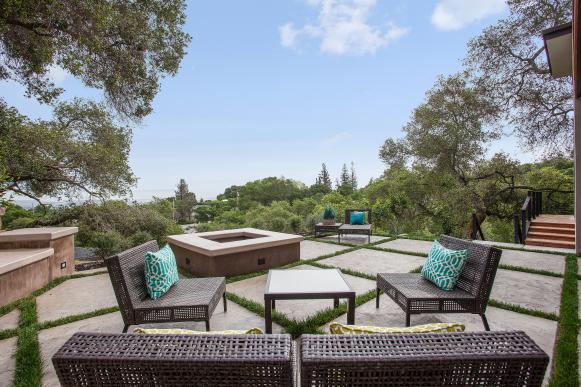 Concrete Grid Patio With Square Fire Pit & Brown Wicker Seating
Concrete pavers create a grid-like look to this patio. Strips of grass between the concrete sections add color and softness. Brown wicker chairs are decorated with turquoise and green graphic throw pillows. A raised fire pit blends nicely with the casual design.
Our home was built for the Silicon Valley spec market. The goal was to "appeal to the masses." We had a great San Francisco Bay view and built on a property studded with oak trees.
What was your biggest obstacle during this project?
We had a very tight budget. The only light fixtures used were in the bathrooms. We built our own backlit LED mirrors. We also built our own water features, fire pit, etc. Finish materials were budget friendly and we did our own landscape design.
How did you work natural light and the surroundings into your design?
We incorporated as many windows and glass doors that we were allowed. All of the interior doors were one-panel white laminated glass doors and the stair-rail system was all glass.
Why did you work the tree into the deck?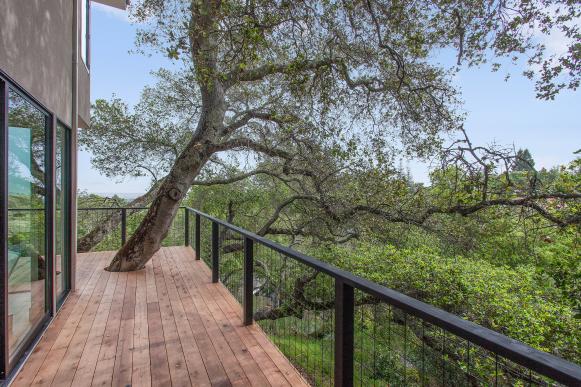 Upper-Story Balcony With Ingrown Tree
The house is truly connected to nature — a tree grows up through the wood flooring of this upper-story balcony. A black railing surrounds the edge of the balcony for safety.
This is a very large heritage oak tree. We feel very strongly about preserving the landscape.
What inspired the style of this home?
The inspiration for this home was the amazing building site that offered both an amazing San Francisco Bay view and oak trees galore.
How did you add color and texture to this neutral space?
Color and texture were added with tile and a wire-brushed floor.
Why did you use waterfall countertops in the kitchen?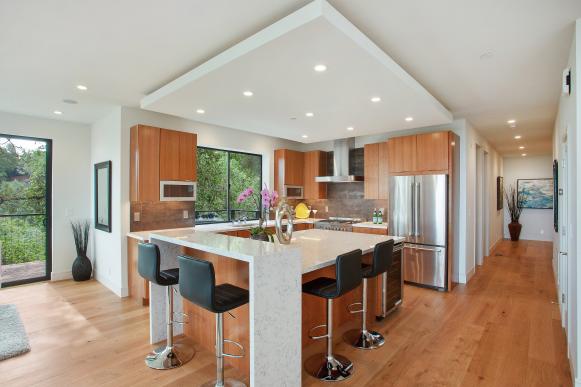 Black Leather Barstools at Large Island in Open Kitchen
A large kitchen island with a white countertop provides ample work space as well as an eat-in area with black leather barstools. Stainless steel appliances are framed by woodgrain cabinetry matching the hardwood floor. A lowered ceiling panel with recessed lighting helps define the room in the open floor plan.
We wanted to replicate the reverse ceiling soffit that was above the counter. It just seemed to make sense and seemed to give it a finished, polished look.
What makes this project uniquely yours?
My personal style has always been more contemporary, even 15 years ago while working on traditional homes. I use a lot of white tile and keep other finishes more natural, relying on texture.
What elements were essential to the exterior design?
The exterior essentials were our concrete water and fire features. The water draws you in to the house. Once inside you see right out back and see the amazing view and inviting built-in fire pit.
What "hidden gems" are in your design?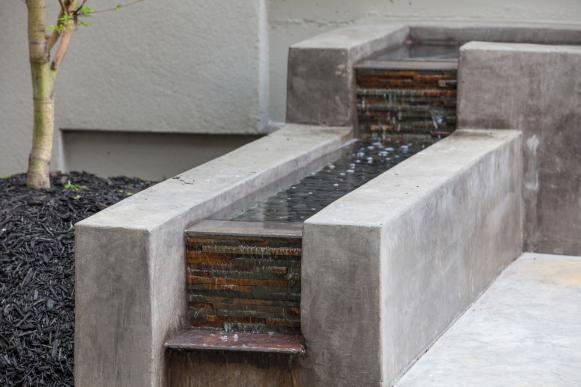 Cascading Concrete Water Feature With Stone Waterfall Sections
This water feature uses a series of small waterfalls to move around a corner and down in a stair step style. The look of the concrete walls is softened by the flowing water and given color from the natural hues of the interior stone.
The water features were the gems. Both interior and exterior waterfalls featured a great split-face mosaic tile. It just really worked incorporating a touch of this tile both inside and outside.