Funny Tweets That 'House Hunters' Fans Will Find Super Relatable (and Hilarious)
Oh, you're really looking for more of an open concept? How original.
Whether you love to hate it or just love it, House Hunters has certain repeated tropes that make it a target for some Twitter jokes. If you have watched even a few episodes, you'll recognize these motifs right away.
When Budget Expectations and Reality Do NOT Match
It's OK to admit that you get a rush when the homeowners find out there's absolutely no way to get everything on their wishlist within their budget.
When You Get a Little *Too* Invested in the House Choices
Planning an imaginary life for the people on the show in your top-choice house, only for them to choose some other, inferior home? Devastating.
When You Feel Bad for the Realtors
In case you haven't heard John Mulaney's famous bit, he starts out by saying "Real estate agents have to deal with the dumbest people in the world making the biggest decision of their lives." Hear more quips from Mulaney and other comedians in our upcoming special House Hunters: Comedians on Couches, premiering on June 11 with back-to-back episodes starting at 10|9c and continuing June 16 through June 18.
When You Feel Bad for the Clients
Do the realtors on the show ENJOY making homebuyers feel bad about their budget?
When You Tune In Just to See the Drama
The homebuyers on the show are known to have *interesting* personalities and preferences.
When You Watch A Few Too Many Episodes
You will never be able to look at homes casually again.
And Finally, the Joke We KNOW You've Heard Before
In fact, this joke format has its very own dedicated Twitter account.
It may be our own show, but we aren't afraid to crack a few jokes about the common themes of House Hunters. If you want to laugh right along with us, don't miss the three-night special where comedians are giving us their no-filter commentary on episodes. Tune-in June 11 with back-to-back episodes starting at 10|9c and continue watching June 16 through June 18. for jokes from comedians Dan Levy, Natasha Leggero, John Mulaney, Whitney Cummings, Eliot Glazer, Chris Redd and J.B. Smoove.
Comedians Dan Levy, John Mulaney, Whitney Cummings, J.B. Smoove and more turn their comic gaze and rapier wit to one of HGTV's most popular -- and popularly satirized -- shows, 'House Hunters.'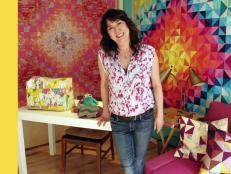 Just who is Andromeda Dunker, and why does her voice sound so familiar? Find out the answer, then check out her funky and fascinating LA digs.