1850s Row House Reimagined With Modern Color Palette
Tasked with renovating and furnishing an 1850s home in Savannah, Joel and Erika Snayd used a mixed-period style to breathe new life into the historic structure. The result is a stunning, eclectic design rich with color.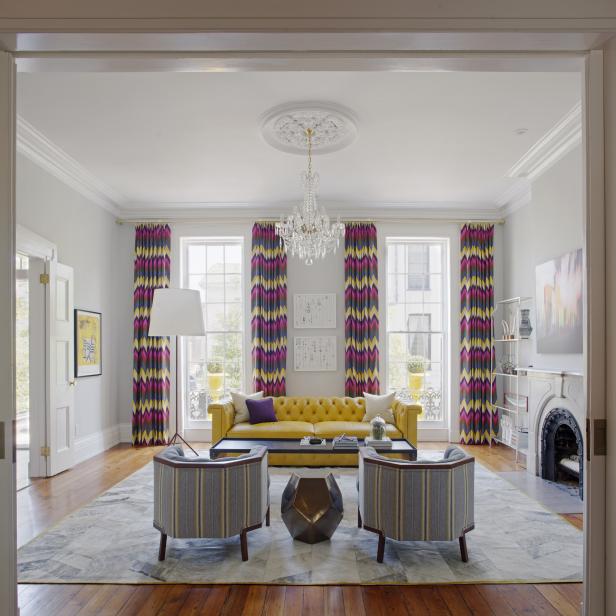 White Living Room With Yellow Sofa
A buttery yellow sofa and gorgeous striped curtains take this living room from sedate to smashing. Large windows brighten the space with natural light and a crystal chandelier gives luxurious panache overhead.
Drawn to a four-story row house in downtown Savannah, Ga., a couple turned to Joel and Erika Snayd of Rethink Design Studio with a hefty task: infuse the historic structure with new color while preserving key details from its past.
"We were renovating a great 1850s row house," says Joel. "That in itself offered plaster crown molding, original fireplaces and hardwood floors. It was a great fabric to work with."
It was also a welcome change for the owners, who then lived in a modern home just outside of Savannah with their two daughters. Where their former residence featured a sleek design, the couple wanted to showcase the traditional elements of their new home.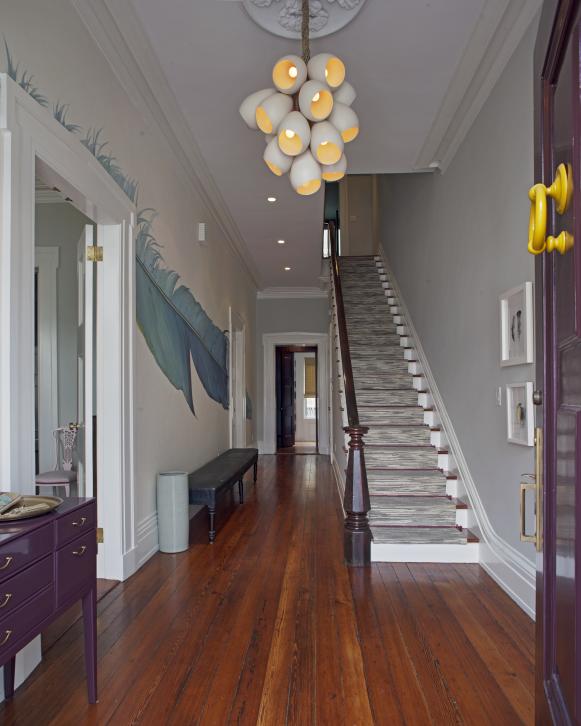 Colorful, Welcoming Foyer
An eggplant purple door and console table welcomes guests into this bright foyer. A blue feather mural brightens up the wall over a wooden bench.
Working with assistant designer Sarah Jennings, the Snayds' first task was to create a seamless transition from room to room. They found inspiration in a vintage watercolor painting, which they used to design a mural of a feather in the foyer. As it shifts from pastels to saturated hues, the feather blends the home's different colors and encourages flow between spaces.
Though seemingly effortless, Joel admits that this custom design required great attention to detail.
We wanted to make sure that it erred on the side of quality and timelessness. It was important to find the right balance of color so everything wasn't too contemporary or too trendy.
Joel Snayd, Rethink Design Studio
Their thorough process shines in the parlor. By pairing a custom-made, curry-colored couch with floor-to-ceiling windows and striped curtains, the Rethink Design team infused the room with color and warmth. At the same time, soft gray walls and a crystal chandelier ensure that the parlor is balanced and retains its sense of period.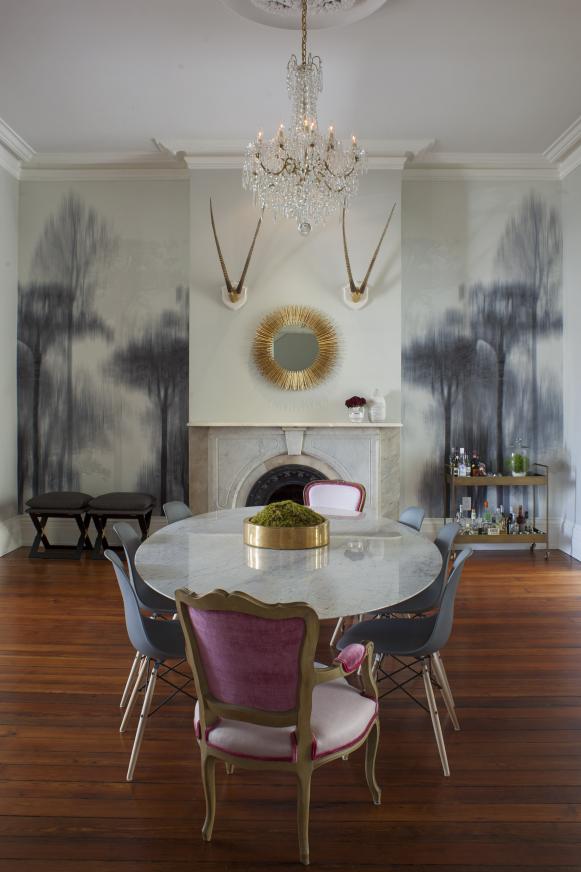 White Eclectic Dining Room With Tree Wallpaper
The designers used the traditional architectural bones of this stately dining room as a jumping off point for layering in a creative mix of eclectic details. A white marble oval dining table sits center stage with a dramatic backdrop of tree-covered wallpaper.
To further highlight the history of the home, the Rethink Design team introduced wallpaper with a ghostly tree design in the dining room. As a backdrop for the Herman Miller chairs and modern cabinets, the graphic creates visual interest and alludes to Savannah's rich folklore and enthusiasm for the supernatural.
In the kitchen, the Rethink Design team used contemporary features to bring the row house into the present. From the marble wall to the sleek countertops, the space was made streamlined, thus achieving a beautiful contrast with the rest of the floor.
For the second and third floors, though, the Rethink Design team wanted to get more personal with their approach.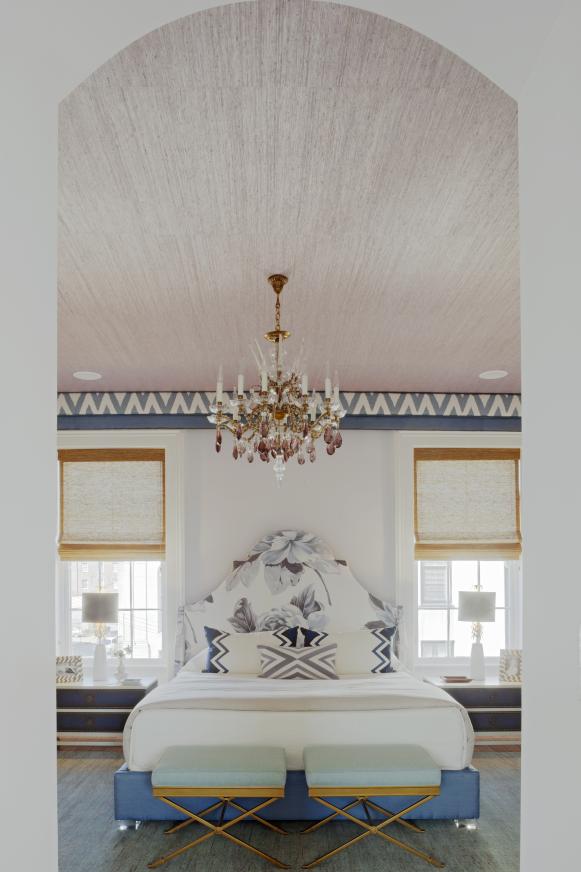 Blue and White Bedroom With Chandelier
This beautiful bedroom makes a fun mix of elegant and whimsical details. A crystal chandelier presides overhead, while an imaginative mix of patterns brings the space to life.
Ascending the traditional brass staircase to the second level, the watercolor wall dissipates and gives way to a master suite seeped in lavender — so designed to evoke a sense of tranquility for the owners.
As their client's wife battled cancer in the midst of the project, the Rethink Design team wanted to provide the couple with an escape, a space of their own where they could find comfort and peace. For this reason, the English-modern bedroom is simple but elegant, with cool white and blues tones layered across the room to create a spa-like feeling.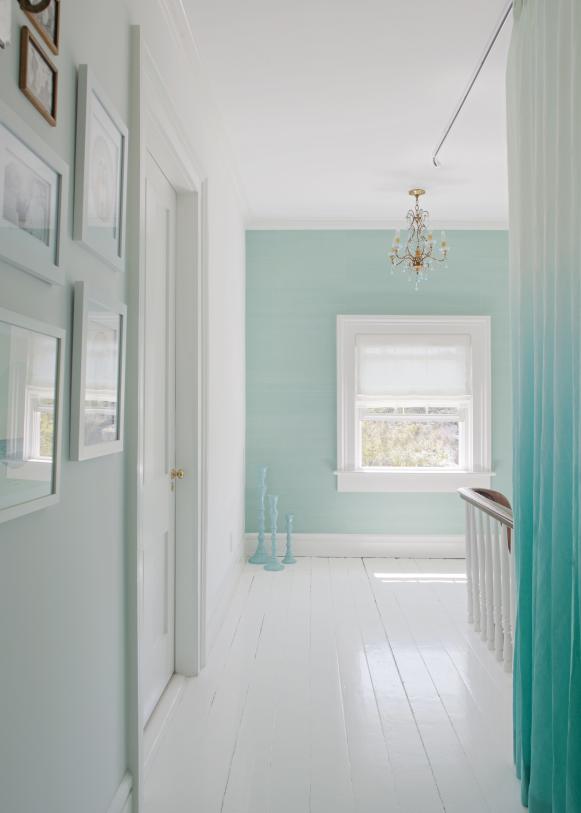 Blue Hall With White Wood Floors
White painted wood floors and pale blue walls transform this hallway into a light, airy space, like stepping into clouds.
For the teenage girls, the team focused on creating a youthful third floor. They achieved this with a wash of white-painted floors and pale blue walls, which transform the hallway into a heavenly space that leads into each girl's bedroom.
For Joel, personal touches like this were perhaps the most important part of the project.
"We wanted to make sure that each room had a distinct personality that reflected our clients," he says. "A lot of the time, that's lost in the design. You don't normally get the personality of each person."