Harlem Townhouse Revitalized By New Color, Streamlined Features
Designer Joe Human updated this historic 1800s townhouse in Harlem with a subtle blue and yellow palette, strategically placed light fixtures and unique accents. The result is a stylish space that's apt for modern living.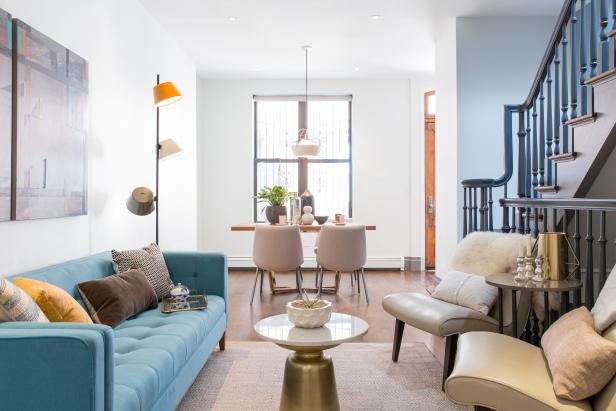 Midcentury Living Room With Blue Sofa
To create a welcoming space in this townhouse, designers used a base palette of white and serene blue, layered with yellow and gray accents. Accessories like the lamp and abstract painting add fun personality. A marble top was a simple way to customize the store-bought coffee table. Lamp: Marset floor lamp
What did your clients want for the remodeling/redesign of their townhome?
This townhome was built in the late 1800s and still has its original front façade and front door. It's located in a cul-de-sac in Harlem. The inside had been stripped of all its original detail in the '90s, which left it very contractor-grade. Due to budget constraints we were not able to restore all the original details, but we wanted to have hints of it throughout while still keeping it modern, masculine and elegant.
Our clients really wanted a modern space that felt homey but was also masculine. They were scared of color, so we went primarily neutral so the furniture would stand out.
What was your biggest obstacle in redesigning the townhome?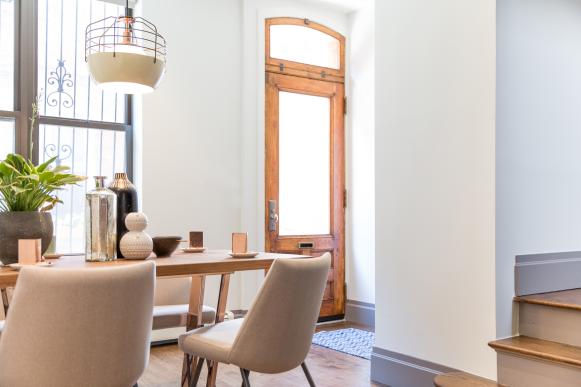 Open Contemporary Dining Space and Front Door
In this smaller New York City home, space was at a premium and the dining area was very close to the entryway. The table and pendant help define it and keep it separate but harmonious as people come into the house. The dining table was customized by adding copper table legs to a wood tabletop. The designers picked up the copper accents in the lighting and place settings.
This was an interesting project from start to finish. Our clients were really amazing, and I thoroughly enjoyed working with them. During the reno, we had to come up with temporary arrangements where they were able to live with certain layouts for days at a time. To help them out, we taped off areas where the furniture would be and moved similar-scaled objects to those areas to mock up the new spaces.
One of our biggest obstacles, though, was the width of the home. It is a 13-foot-wide townhome built in the late 1800s, so creating proper traffic flow with furniture inside was a bit of a challenge.
Did the home's smaller footprint affect room transitions?
The smaller footprint created a challenge. Our clients originally wanted a more open floor plan, like maybe opening up the kitchen, but that left a lot of items out and we were restricted by the budget. We wanted to step back and think creatively on how to achieve that look and feel without knocking down all the walls.
How did you choose a neutral palette with blue and yellow accents?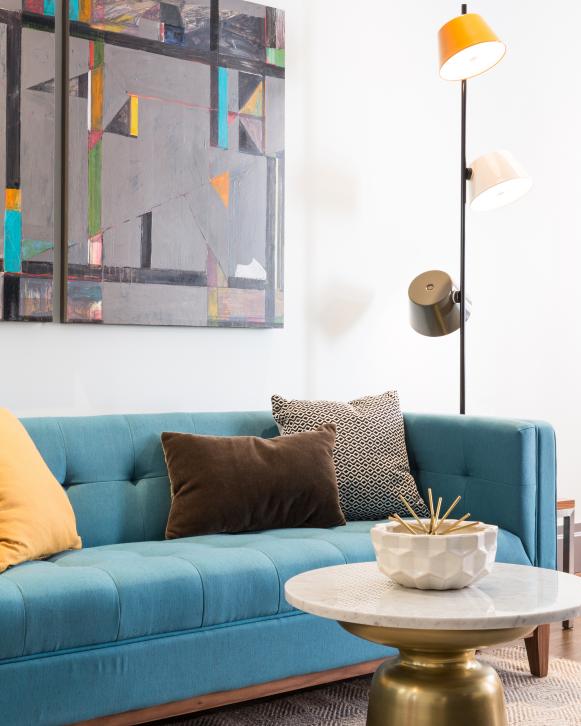 Midcentury Living Room With Yellow Lamp
Pops of sunshine yellow add vibrant color to this living room without being overly bold. The neutral wall, rug and coffee table allow the blue sofa to stand out.
The color palette was a challenge, too! When being interviewed for the project, I walked into this home where almost every surface had a different swatch of gray or beige as the homeowners were trying to see what worked. We suggested blues.
I personally love blues, because, to me, they tend to read more neutral, so pairing artwork, accessories and furniture is easier with blue.
What was your favorite room to design in this home?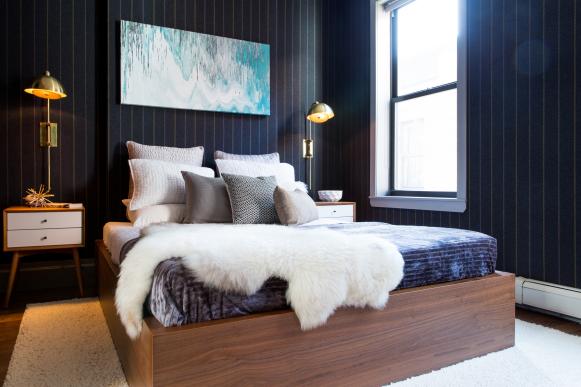 Blue Contemporary Bedroom With Striped Wallpaper
Dark, masculine suit-stitch textile wallpaper creates a dashing look in this bedroom. For added luxury, the designers mixed light and dark tones and soft textiles for the bedding. Gold accents finish the space off. Wallpaper: Maya Romanoff wallcovering
My favorite space is the master bedroom. I absolutely love this room — it's so cozy, warm and masculine. I had to convince the clients that a dark color would not make the room feel dungeon-like; they trusted me and it turned out great.
The suit-stitching wool wall covering looks so unique and luxurious, I could stare at it all day. We custom-designed the wall sconces, area rug, and the modern, soft-close barn-style doors that increase available floor space.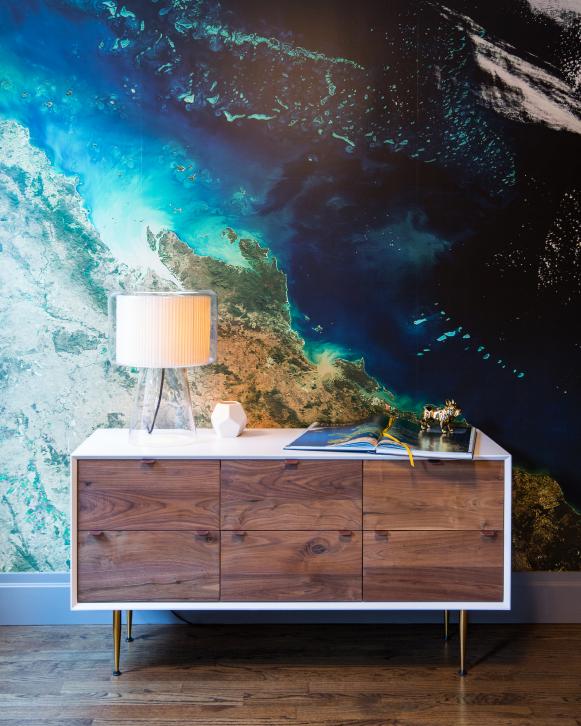 Master Bedroom Dresser and Mural
For homeowners who enjoy travel and geography, a mural of the Earth is an inspired choice for the master bedroom. Because of the wall-sized mural, furniture needed to be simple, so the designers added a midcentury modern dresser, a glass lamp and just a few accessories. Lamp: Marset table lamp
Our clients wanted to wake up and have some sort of interesting map on the wall, so instead of choosing a place that everyone would recognize, like NYC or Italy, we chose a place they liked, the Great Barrier Reef. We took several satellite images and lined them up exactly how we wanted the mural to hang and then made the custom wallcovering for it. With the dresser in front it creates such an amazing look. I like every corner of this room.
Was there a particular element that tied the design together?
There were several small elements throughout. One uniting element was the flooring. I convinced our clients to go dark and give the home a nice, grounded look as the walls were going to be dark.
I also wanted to have continuity throughout with the trim, so we replaced the baseboards with a simple yet detailed molding and painted all the new doors and baseboards a rich gray with hues of browns. These two main elements make the entire home feel unified and allow the other smaller elements and rooms to stand on their own, but still feel like the same house.
What do you think is the best thing about this house?
It's hard to choose just one thing. I've done a lot of projects, but this one is unique to me in that I love everything about it as one unified space. I will say the master bedroom is my single favorite room. It is such a high-style and on-point room that I'm a little jealous it's not mine.
How did you select the barn door for the master bedroom?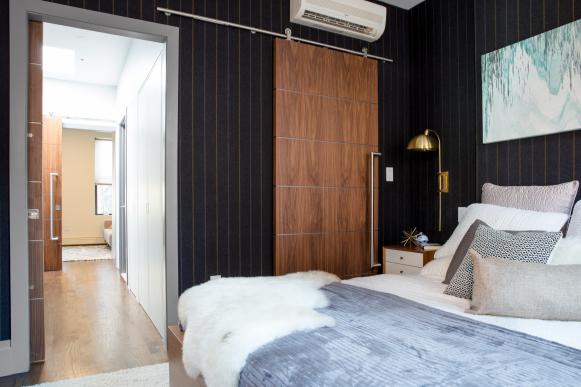 Gray Contemporary Master Bedroom With Barn Door
Custom barn doors are a unique pairing with this master bedroom's pinstripe walls. The cinnamon-colored wood is a rich and handsome contrast to the wallcovering's dark gray.
The barn doors were added to eliminate the swinging doors upstairs. Between the office, bedroom and hallway, we had 10 doors that all swung awkwardly into spaces. I came up with a way to streamline the entire floor while still leaving it functional.
I wanted to incorporate a modern take on a barn door with clean, sophisticated lines to coordinate with the masculine style of the spaces. I designed the doors with walnut and stainless steel stips. By adding these doors and custom locksets so that each room can be locked for privacy (unusual for barn doors), it made the spaces feel so much more open and added unique custom details to the space.
What "hidden gems" are in your design?
One of the many details I like are the ones you can't see. As mentioned before, we cleaned up some of the wall planes that were bumped out, and even though we lost a small amount of square footage, we gained it back ten times visually. We had to convince the clients on using color for the baseboards; adding them in added that needed extra detail.
One of my favorite details that doesn't get mentioned but makes such a statement is the stairs and railings. Due to budget, we cut out the new staircase/railing and I told them to paint it a dark, bold color, which made it more masculine and turned it into an amazing feature.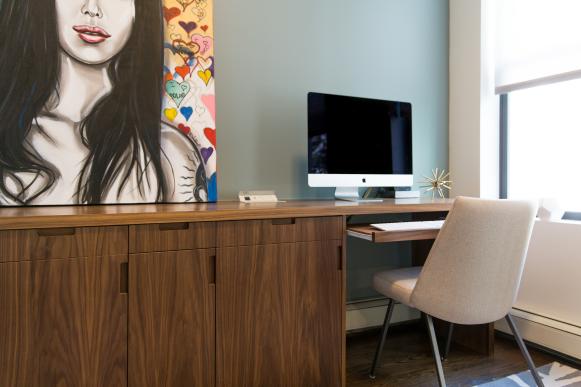 Blue Home Office With Painting
A large, bright painting is an unexpected touch to this calm, neutral home office.
The custom desk upstairs in the office is another hidden detail. I spent a lot of time designing it to fit all their modern equipment needs. We incorporated USB and desktop plugs that hide away when not in use, and all the equipment is hidden inside so it keeps the items available and the room uncluttered.