An empty-nest couple asks designer Orren Pickell to transform their existing kitchen into an inviting spot for cooking with a dedicated area for dining.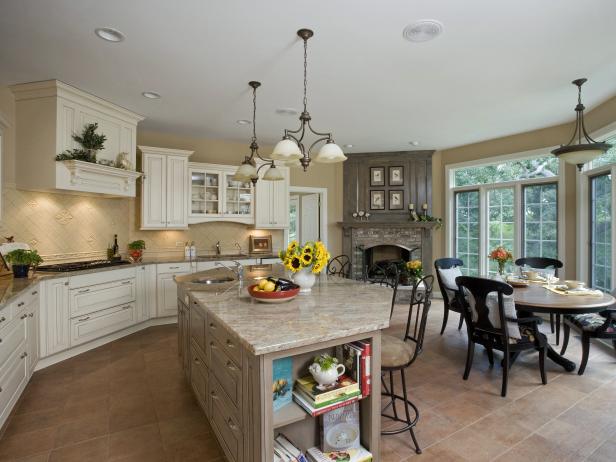 Spacious Kitchen with Fireplace
This bright and inviting kitchen features plenty of light, using under cabinet lighting, recessed lights in the ceiling, and decorative pendants over the island and dining table.
Designer Orren Pickell transforms an outdated kitchen into a warm and inviting space where the owners can cook and eat with extra dining space.
Pickell shares goals and design challenges associated with this kitchen remodel.
What did the couple want most from this remodel?
Since their children have grown up and moved away, they wanted an updated kitchen with more space for dining as well as ample space for cooking.
How did you address design obstacles?
Since it was an addition rather than total overhaul, we had the challenge of blending the new with the old. The hardwood floor, which transitions into the kitchen from the adjoining room, proved to be challenging in that we had to make it match the new addition. We found as close a match as possible to the old wood flooring and then stained and sanded it until it was a perfect match.
What were the "hidden gems" in this remodel?
Wood-Mode's Brookhaven Custom Cabinetry gives the kitchen a clean and classic look with abundant storage throughout the space. Built-in shelving on the island allows for additional storage of cookbooks which reduces clutter on the countertops. The cozy fireplace was part of the original space and now serves as an anchor for the newly added dining area.