Kitchen: Ho-Hum to Hallelujah
Designer Amanda Swaringen tells how she transformed an OK kitchen into a gorgeous workhorse of a space.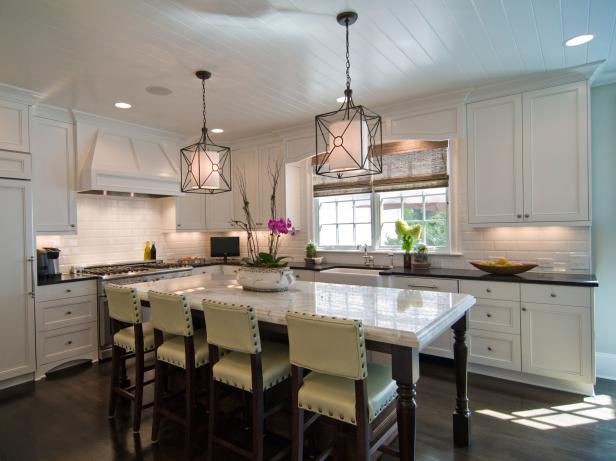 White Family Kitchen with Laminate Worktable
Designer Amanda Swaringen took the clients' love of streamlined traditional and translated it into white subway tile, a laminate-topped worktable and tons of hands-on counter space.
Interior designer Amanda Swaringen of Carolina Design Associates took an under-functioning kitchen and created a space that's truly the heart of the home, with ample storage and tons of workspace — including a gorgeous trestle table that takes center stage.
Describe the homeowners' wish list.
This family had a decent-enough kitchen but it had some real issues, like limited counter space and a tiny, unwelcoming center island.
They wanted to push this large room to its limits and include a pantry, bar, extended work space and even a breakfast nook — all with clean lines with a traditional feel.
What was the single largest issue you wanted to address?
Workspace! We wanted to max out the work areas, which didn't leave room for the all-fridge/all-freezer unit the homeowners requested. So we found a great workaround: We installed a standalone all-fridge and separate freezer drawers on the island.
What was your biggest obstacle?
This is a large room, but we wanted to do a lot with it. To incorporate everything — dining area, workspaces, storage, bar and dining nook — we had to get creative. For example, the high-functioning pantry is built into the cabinets next to the fridge, instead of as a standalone space. And we were able to incorporate the breakfast nook table by designing a custom bench and table, sized perfectly for the room.
What's one design tip you'd offer our readers?
One of the hardest details to get right is lighting. Double- and triple-check the layout to make sure you're on target with the layout before installation starts. We did that on this project and everything was perfect.
What were your favorite pieces from this design?
I have a whole list: the Calcutta gold countertops on the island (can you believe they're laminate?), the custom door design on the glass cabinets and the contrasting backsplashes in the kitchen and bar areas (the one in the bar area is Ashbury Mosaic by Walker Zanger).