See how designer Kerrie Kelly remodeled a basic closet into a stunning dressing area.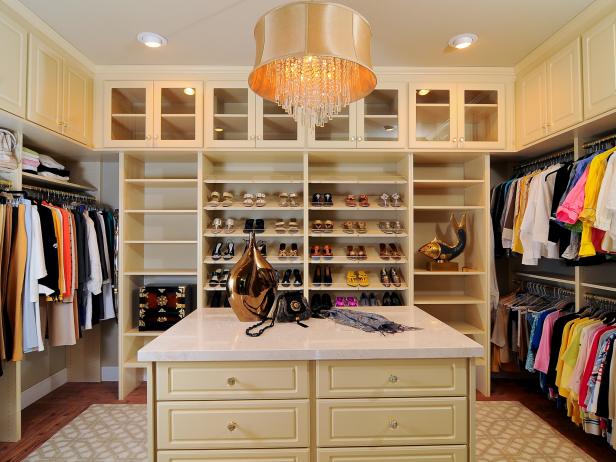 Glamorous Walk-In Closet With Island
Cream-colored custom cabinets look classic and make the closet feel more spacious. An island with multiple drawers can store jewelry, socks or other accessories.
For this Gold River, Calif., project, designer Kerrie Kelly worked with a $40,000 budget to completely transform a master closet.
With shoe racks, jewelry drawers and an elegant chandelier, it's truly a girl's closet dream.
In this interview, Kelly shares how she conquered design challenges and achieved her goals in this remodel.
Describe the homeowner's wish list.
This homeowner's husband passed away. The most difficult part in dealing with a death is giving away clothing and passing on personal items. We were asked to handle that process and to create a glamour closet at the same time, which turned into a whole house refresh.
What was your biggest obstacle in this space?
Our biggest obstacle in this home was keeping track of adding on more design elements. This homeowner liked the transformation she was seeing in the closet, which led to additional changes throughout the home.
What were the homeowner's design problems?
We wanted to be sensitive to the homeowner's loss while creating a new space of her own. In other words, we needed to respect and acknowledge the past while creating enthusiasm and a fresh look for the future.
How does the end result match up with your original vision?
The results turned out better than we even imagined. This homeowner has a love for gold finishes. While this isn't a finish we typically specify, we have taken on a new appreciation for it.
What was your design objective?
We have always designed for our clients' aesthetic and needs. We really stuck to that in this process and the end result was truly glamorous — what girl wouldn't want a closet like this?
What are the "hidden gems"?
The crystal knobs in the closet really create added bling as they catch light and give an unexpected element to the space.