Designer Anisa Darnell discusses how she transformed a dated kitchen into a light and airy space that's truly the heart of the home.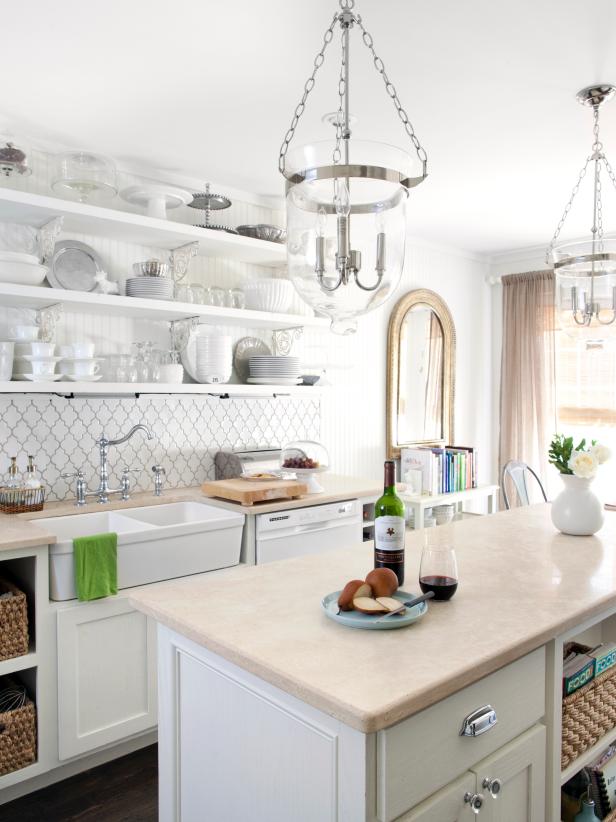 All-White Kitchen With Island
The upper cabinets are replaced with open shelving, which provide storage for all the homeowners' pretty dishes. A pair of pendants hang above the island, which features extra cabinets and open niches. Woven baskets underneath the counters allow for easy-access storage.
Designer Anisa Darnell does a complete kitchen remodel on a budget of $23,000 in Roswell, Ga.
We caught up with the designer to find out about her process during the remodel.
Describe the homeowners' wish list.
The homeowners wanted to make the kitchen brighter by adding more lighting and opening it up to the family room. Plus, they wanted the space to have more character.
What were the homeowners' design problems?
The kitchen was closed off from the rest of the home, which made the space very dark and also made it hard to entertain. We wanted to open it up to the family room.
What was your biggest obstacle in this space?
The budget. We just kept the existing cabinetry and repainted it, did open shelving and used nice appliances, but they're not commercial grade.
How does the end result match up with your original vision?
The space turned out more beautiful than we envisioned. However, we did go over budget and the project took two weeks longer than anticipated.
What lessons did you learn?
Use a good contractor and project manager. It's worth it to take care of all the time frames and details.
What are the "hidden gems"?
The tile from Walker Zanger was our favorite. Also, the open shelving displaying all the pretty dishes.