Colorful Colonial-Style Home
Designer Alan Metcalfe turned a Colonial-style family home into a colorful showplace through custom light fixtures and art installations, including ones that feature personal collectibles and artifacts.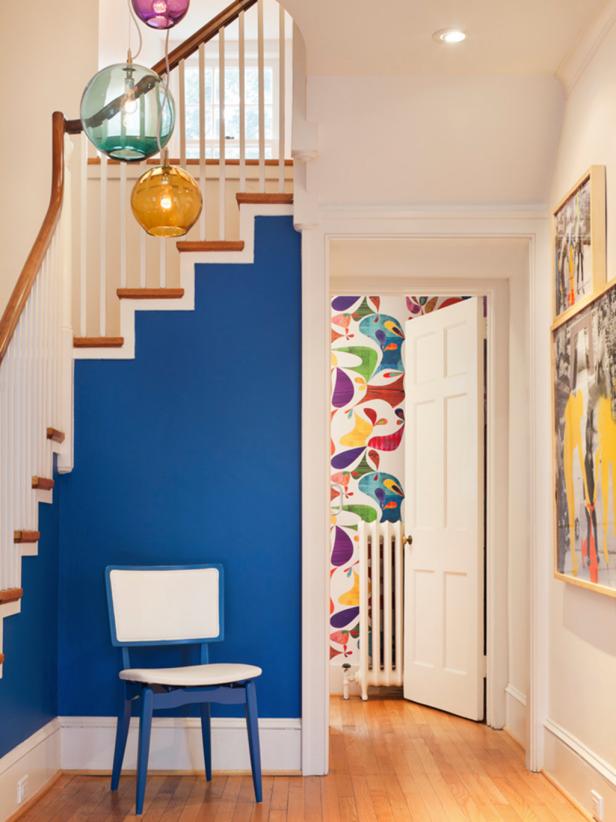 Classic Foyer Features Fun Splashes of Vibrant Color
Colorful custom wallpaper pairs with a custom chandelier to make a striking first impression in this home's foyer. The vivid colors enliven the space and offset the home's traditional architecture.
What did your clients want?
They wanted a larger house so that they could better accommodate their extended families. They also wanted a strong palette reflecting their love of bright color and a flexible floorplan that allowed for easy entertaining. They wanted bedrooms for their two teenage girls that reflected each girl's personality and felt removed from their parents' world. They also wanted a new entry reorienting the focus to the back of the house and garage; the front door is now ceremonial leftover.
What inspired this home's style?
Travel and history: the mother is a geography teacher who has travelled extensively. She has a collection of globes and artifacts from the countries she has visited, including brightly colored African artifacts. Our design used her collection as a focus. Our plans worked in concert with her collection, providing boldly colored backgrounds for the displays throughout the house. We worked with interior designer Val Nehez to create a personal color palette and a series of altered photographs using the same palette that spoke to the family's histories and stories.
How did you work bold colors into the design?
The base background colors are whites. Punches of color attract attention without dominating the experience. One of the keys to selecting appropriate bold colors is to avoid the primary colors found in a crayon box. We chose a strong palette, which you can see in the chandelier's subtle yellow, purple and aqua glass globes.
What colors did you focus on?
Reds and yellows, which create a warmth that can accommodate less-dominant foreground colors.
What was your favorite room to design?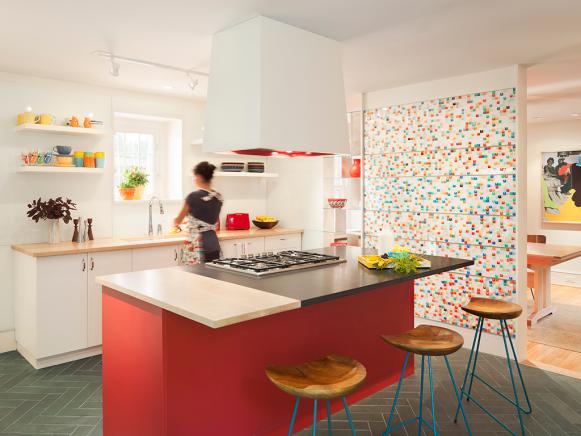 Contemporary Kitchen Boasts Bold Shots of Color
A fire engine red island pairs with a colorful 3-D artwork installation to bring this contemporary kitchen to life. White walls, shelves, cabinets and a white range hood keep the space feeling bright and open.
Our favorite was the kitchen and dining room area. We created a new kitchen entry at the rear of the house to lead people through the kitchen, making it a vibrant social space. The brightly colored kitchen is separated from the dining room by a visually permeable partition, allowing the cooks to socialize.
The terrace was my other favorite space to design. We created a new, tiny entry to the kitchen and cut a 10-foot-wide French door into the living room. They both open onto the sunny backyard and terrace and provide a focal point from the interior living space.
The staircase was the most difficult space to design. We designed a custom chandelier that spans three stories and attracts your attention to visually pull you into the rest of the house. Creating a series of vignettes, like an art display and the multicolored globe display, along the staircase in conjunction with this custom-fabricated light fixture proved complex.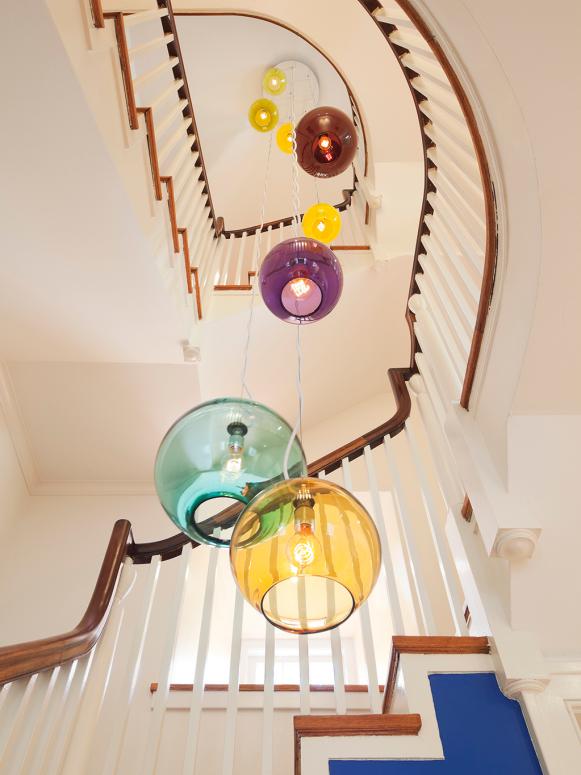 Colorful Chandelier Illuminates Traditional Stairway
A stunning tiered chandelier illuminates this open staircase from top to bottom. The custom light fixture features glass pendants in bold, vivid colors, lending spunk and pizzazz to the classic stairway.
Why did you paint the stairway bookcase cubbies?
The strong individual colors of the cubbies work in concert with the more subtle colors of the hanging lights.
What's your favorite part of this design?
The best thing is that it can accommodate many people when entertaining. I also like how personal the design is to the family. Val Nehez spent lots of time looking at family photos, enlarging them, coloring them and turning them into art pieces. The rugs and ceramic fireplace surround were based on the husband's fourth-grade artwork. This kind of attention to detail makes a home special.
My favorite element is the "surprise" splash of red under the kitchen hood. You only see it from a low angle, and it makes me smile every time I come across it.
Why did you choose the chandelier for the entryway?
We saw it as a mysterious punch of color that pulled your eye up. We designed it and had it fabricated by a local craftsperson.
How did you get the idea to use bread tags in the kitchen?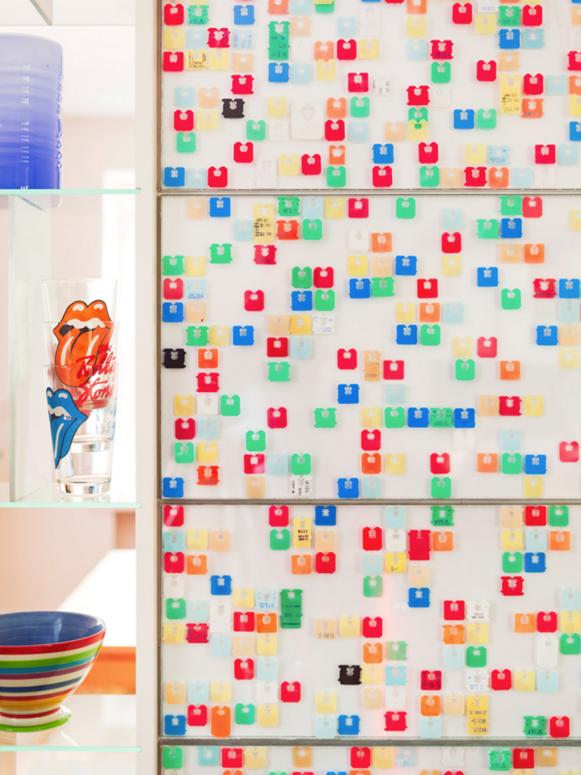 Colorful Bread Tag Art Piece Wows in Funky Kitchen
This funky kitchen features a unique 3-D installation of colorful bread tags. The installation, called Celebrate the Uncelebrated and designed by Paul Schultz, adds a bold splash of whimsy to the space.
The homeowner found artist Paul Schultz's work at her children's school and loved it. Schultz is interested in the identities and lives of anonymous people. He created "Celebrate the Uncelebrated," an assembly of bread bag tags that are sandwiched between layers of Lexan. Each colorful tag is different and has an expiration date (just like humans), yet their sum is a captivating whole.
What makes this project uniquely yours?
Most of our projects have strong colors. We are contemporary designers, so we favor a sleek style. Many of our staff started as carpenters and woodworkers, so our work tends to focus on natural materials and practical solutions to problems. The wood counters and slate floors reflect this ethos.
What tips do you have for using color?
I like more subdued colors in rooms. I also prefer less fad-driven, short-lived choices except where the materials can be changed out after you tire of them. For example, bold colors and pattern should be applied to paint and wallpaper, not tile and toilets.
What "hidden gems" are in your design?
The hidden gem for me was the dialogue that went on between my clients about the design of this house. They really worked together beautifully.