1845 Southern Estate Is Modernized While Maintaining Its Original Character
Interior designer James Farmer updated this classic southern estate to include 21st century amenities while giving nod to the home's original style and architecture.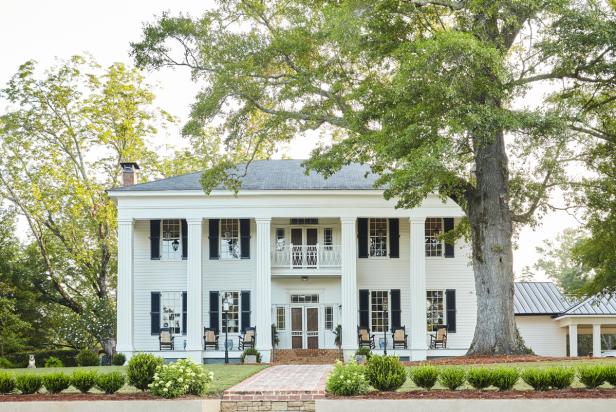 Restored Historic Home in Eastern Alabama
When this handsome home (which has Greek Revival features but was planned as a Federal-style building) was built, its brand-new community was undergoing a period of rapid growth — a period that ended when a planned railroad route ended up swooping south. The pace of local life slowed, and the property remained somewhat preserved in time...until designer James Farmer's clients (and Farmer himself) came along.
James Farmer modernized this historic 1845 estate in Oak Bowery, Alabama, while paying homage to its original architecture and intended design style. Designing for a family with two children meant much of the home needed to be updated to suit today's needs. James worked with architect Norman Askins to bring this home up-to-date and create a seamless design that blends the old with the new.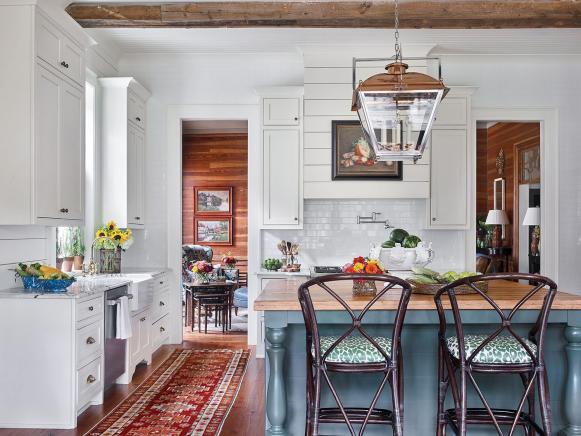 Kitchen
Gleaming white subway tile offers a modern counterpoint to the traditional cabinetry in the functional kitchen Atlanta architect Norman Askins added to the space. Designer James Farmer added subtly cheeky leopard-print fabric on the caned chairs' upholstery to contribute a playful note. A warm traditional runner, in turn, carries the eye beyond the farmhouse sink and the stove into the heart-pine-paneled sitting room beyond them.
When James set out to design this home, maintaining its history was the inspiration and driving force behind the exterior and interior design. He decided to leave the original architecture intact and built an addition for the more contemporary rooms, including the bathrooms and kitchen. The interior incorporates bold colors and patterns, creating a look that is 21st century traditional. "Older homes were full of color and pattern," James explains. "We let the roots of the home shine through, while giving it an updated feel for this young family."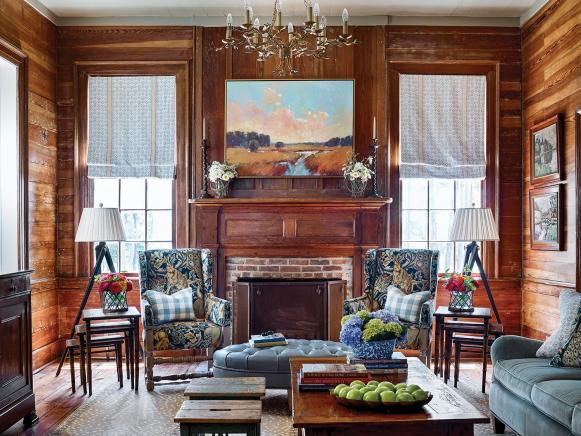 Sitting Room
After undoing decade upon decade of questionable treatments, southern designer James Farmer made it back to this home's original walls and flooring — which, to his delight, were floor-to-ceiling heart pine (a material that's as practical as it is beautiful). "I always tell my clients that there is a reason why heart pine has been used since floors were created," he says. "Used in homes, warehouses, factories, barns and any structure requiring a floor, it's a solid material that requires more upkeep upon installation than [it ever will] day to day. It's a great choice any time."
Restoring the home to its original grandeur meant scraping back years' worth of plaster and paint, which uncovered the beautiful pine paneling seen in the family room. James decided to accent this hue with aqua and green patinas, and incorporate a landscape painting by Millie Gosch over the fireplace. This former parlor space has now been reimagined to fit the needs of a modern family and James says, "we were able to rewrite a story that can be told hopefully for the next century."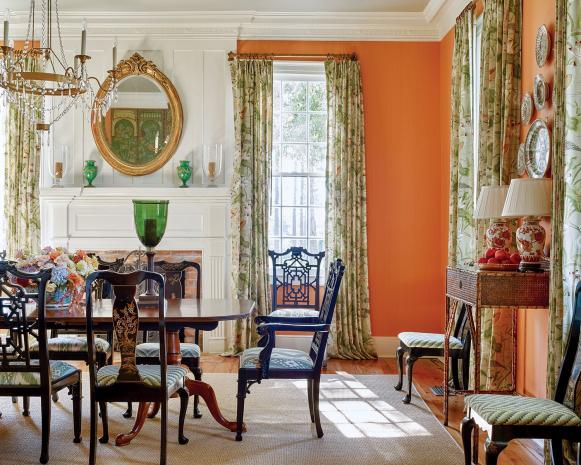 Formal Dining Room
Designer James Farmer reached for Farrow & Ball's dragged wallpaper to swathe this dining room in summery and beautifully textured apricot. Created when a brush is used to pull water-based paint slowly across the paper's surface, the striated result "creates depth that paint alone cannot create," Farmer says. "[Farrow & Ball use] ink pigments, and their colors have that wonderful aesthetic, especially when applied in the striated fashion. Paint simply applied to sheet rock loses its luster."
James is able to combine patterns and textures in a way that doesn't feel overwhelming, but instead perfectly curated. To execute this look in your own home, he says, "start from the floor up." If you are working with a neutral base, like hardwood floors or a rug, you already have the beginnings of pattern and texture. "Layers, colors and textures don't always have to be bold and vibrant! It can be like a painting: subtle layers upon layers create the effect," he explains.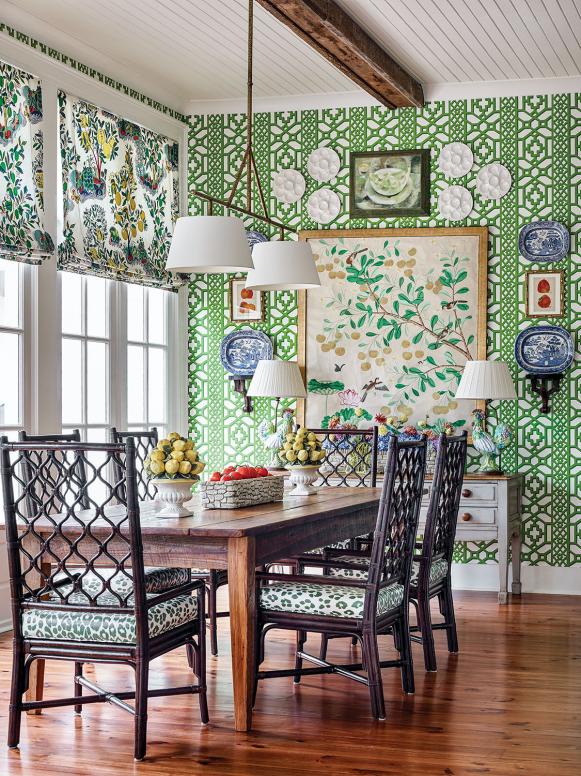 Southern Breakfast Room with Green Wallpaper
Cheerful fabric accents windows in this breakfast room, where it shares the spotlight with a bold paper (Schumacher's Zanzibar Trellis). The collections on display are both eclectic and organized, thanks to their symmetrical arrangement. The panel at their center has a special place in designer James Farmer's heart: "I found it at Scott Antique Market [in Atlanta] and there was a sister piece — probably from a scenic mural. They were not the same size or scene, but similar. I had them framed and one was perfect for this breakfast room — and the other found its way home with me!"
While he advises starting your design from the floor, he also says not to forget the ceiling. "So much emphasis is put on floors and walls, but a ceiling can really be a detail that makes or breaks a room. Whether it's color, texture or architectural detail, be sure to keep the ceiling in mind."
Each space in this home feels cheerful and inviting, and is a beautiful example of traditional style. It feels like there is something new to see each time you enter a room, creating an astonishing, well-executed design that leaves us wanting more.
Designer James Farmer reimagined his friends' historic eastern Alabama home to suit their modern needs and stay true to the property's beautiful bones.