A Minimalist Master Bathroom
Designer Chris Johnson of Design Tec Inc. incorporates a built-in bathtub and functional bathroom design in this spa-like bath retreat.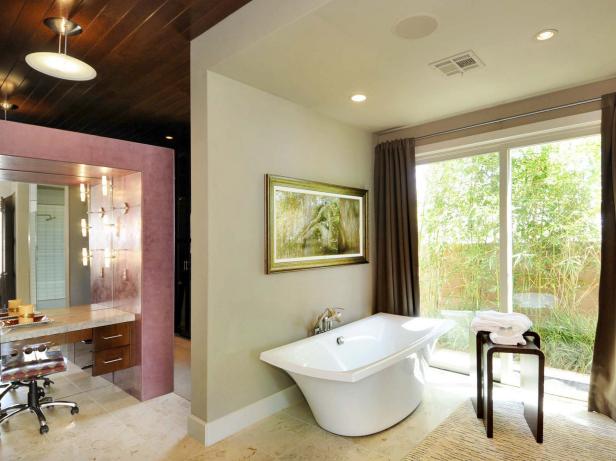 Neutral Contemporary Spa Bathroom with Bathtub
A pop of pink around the bathroom vanity warms up the space and adds color into the neutral space. To bring in natural light, a sliding glass door was added on the outside wall.
After designer Chris Johnson of Design Tec Inc. received the floor plan for a typical, two-vanity bathroom with a built-in bathtub, she knew there was much to be desired in a space with no sizzle. For the designer and her team the goal was to create a luxurious spa-like bath retreat.
How were the design problems solved?
The original, built-in tub acted as a very large barrier in the bathroom. Chris opened up the space by adding a contemporary, freestanding tub. This feature provided an indoor and outdoor relationship in the room.
"The vanity was a floating structure that created an element of impact and separated the closets from the master bath," explains Chris. To produce drama the design team embellished the vanity with specialty lighting.
Describe the homeowner's wish list for their bathroom remodel.
To give the bath a Zen-like feel, natural materials were utilized throughout. "The continuation of the neutral limestone floors that encroached on the outdoor bamboo garden visually expanded the space of the spa environment we envisioned," says Chris.
One of the biggest challenges was to create intimacy in spite of the high ceilings and large floor space. "By embellishing the ceiling with wood paneling it joined the spaces with a very warm element," says Chris. "The configuration of the sink cabinetry and vanity lacked interest, so our relocation of the elements created a stronger architectural statement."
The result is a bathroom that is exciting and interesting, yet maintains a common thread to blend the whole house together.