Traditional, Luxurious Bathroom
Discover how designer Katheryn Cowles transformed a boring, outdated bathroom into a classic space full of elegant touches.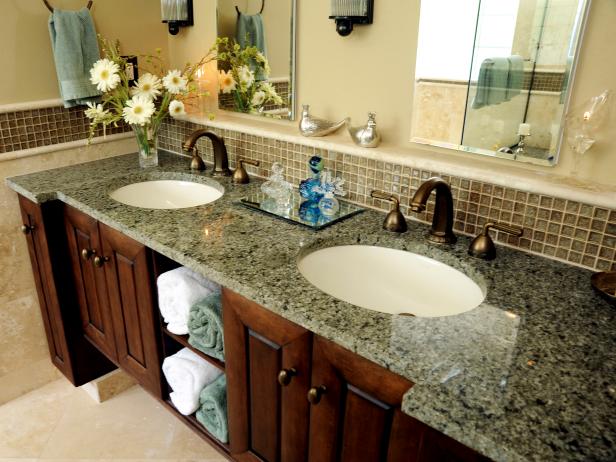 Custom Double Vanity
This charming bathroom was designed with a marble countertop and double vanity, custom hardwood cabinetry with open storage and glass tiling throughout.
For this $30,000 bathroom remodel, designer Katheryn Cowles created a beautiful retreat with walk-in shower, large tub and glass accent tiles.
We caught up with Cowles to find out how she accomplished the simple, luxurious design.
Describe the homeowners' wish list.
My clients had been planning this renovation for years and finally, following our initial meeting, decided to proceed as planned.
After getting a feel for the clients' lifestyle and their wish list, which included more light in the shower, storage for incidentals and a natural color palette, the design began.
What were the homeowners' design problems?
The homeowners never used the tub, but for resale they wanted a tub in the space. With this in mind, we decided to keep the existing tub, remove the tub skirt and backsplashes and replace them with stone tile. This was a major budget saver and looks fabulous in the space.
What was your biggest obstacle in this space?
Removing the wall between the tub and shower opened the space, allowing the light from the window to flood the previously very dark area.
How does the end result match up with your original vision?
The crackle-glass accent tile had to be modified at the vanity because of the lowering of the mirrored cabinets. The backsplash shelf was dropped three inches to allow the cabinets to be lowered by the same three inches. It looks like an intentional design feature.
What are the "hidden gems"?
The clear-glass shower surround, the floating vanity and the reflective quality of the granite all contribute to the room's feeling larger and make the biggest impact in the area.