Rusted Metal Outdoor Decor
Designer Eric Spry blended modern elements, such as rusted metal panels, with Southwestern style and drought-tolerant landscaping in the entryway and pool area of this home.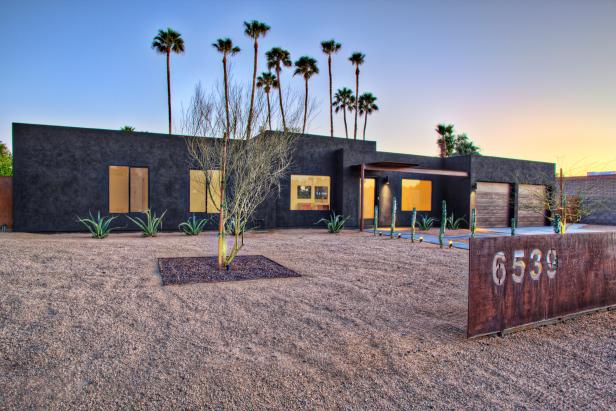 Southwestern-Style Home Exterior
A flat roof and gray stucco exterior create an eye-catching house design rooted in Southwestern style. Desert landscaping consisting of native Arizona plants create curb appeal that complements the overall home design.
What did your clients want?
The original space was something of a "pink box." The homeowner wanted to open up the interior and renovate the space into a modern home.
How did you choose the tall, slender cacti along the walkway of the home?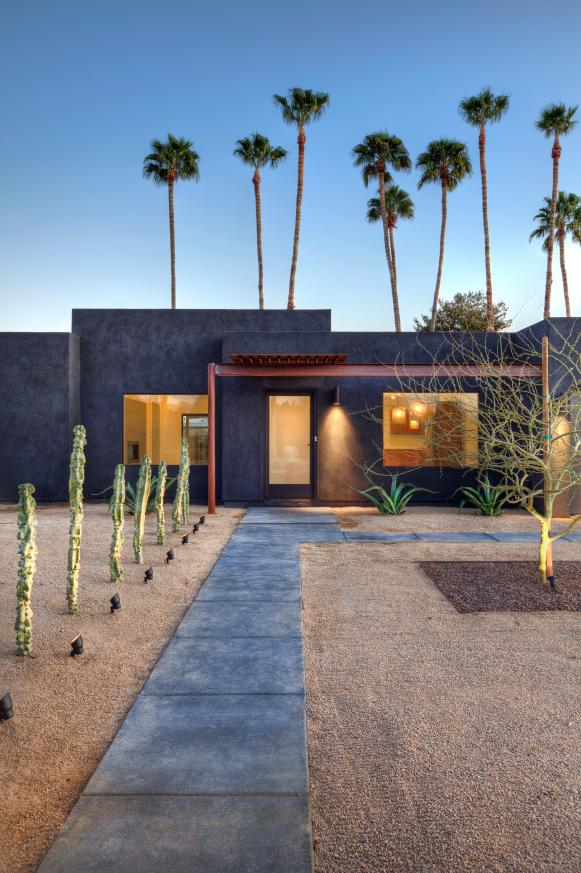 Walkway to Southwestern-Style House Entry
The entry of this home was designed with a charcoal-gray concrete walk lined with Mexican fencepost cactus plants along one side and a Palo Verde canopy tree on the other.
The "Mexican fencepost" cacti align with the paved areas and help to define the procession to the home's entry.
How does the landscaping work with the overall look of the home?
The landscaping is a visual extension of the architecture. It creates a sort of rhythm to the entryway and provides a layered look to the front of the home.
Why did you use the industrial metal screen in the backyard?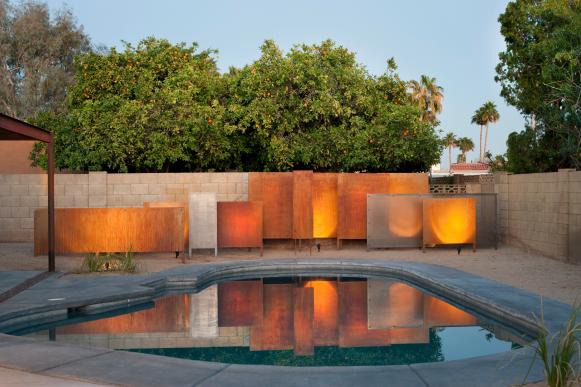 Rusted Metal Wall Screen Near Backyard Pool
A rusted metal screen conceals pool equipment, enhances privacy, and adds character and texture to this Southwestern backyard.
We needed to screen the pool equipment, as well as an unattractive section of the concrete privacy wall. Our use of the screen was inspired by a 3D Mondrian design.
What were the main objectives and goals?
The client wanted to "clear the dance floor" by removing walls and creating an open interior. In addition, they wanted to renovate the exterior using modern materials such as steel and glass.
What was your biggest challenge, and how did you solve it?
Our biggest challenge was the interior structural problem that was created when we removed load-bearing walls. To solve it, we hid a column in an art wall.
What was the inspiration for this project?
This renovation was largely inspired by minimalist midcentury modern ranch architecture.
What is your favorite feature, and why?
I'm most proud of the minimalist nature of the home, which is reminiscent of a minimalist painting.
How did you choose the rock for the front of the home?
We chose to use a rust-colored rock under the rusted metal overhang in order to mask the drip. We used quarter-inch minus rock everywhere else because it's in keeping with the natural look of the surrounding desert.
What are the "hidden gems" in your design?
The materials—rusty metal, stucco, decomposed granite—tend to merge together or touch each other. We focused on the simplicity of the design elements and adhered to Da Vinci's maxim that "simplicity is the ultimate sophistication."