Backyard Stuns With Mediterranean-style Pool
Designer Steve Chepurny turned this basic backyard into a Mediterranean paradise, complete with a pool, outdoor living space, and total privacy.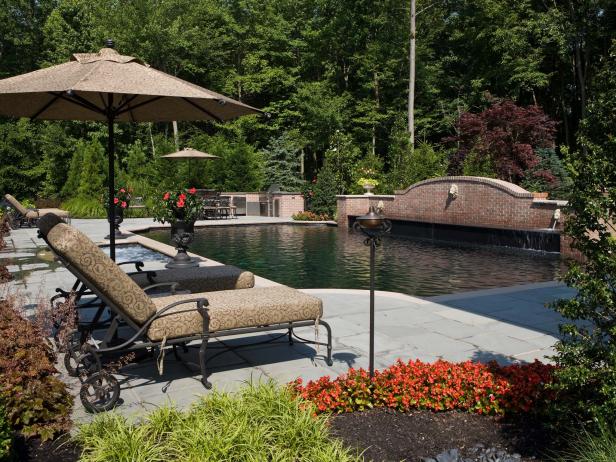 Pool With Classic Waterfall
This Mediterranean pool features a dark bottom that gives the illusion of depth. A brick wall on one side houses a low waterfall, adding to the elegance.
John Martinelli, John Martinelli
When the owners decided they wanted a backyard pool with total privacy and all the amenities, designer Steve Chepurny accepted the challenge, creating a stunning Mediterranean escape for rest and relaxation.
Describe the homeowner's wish list.
The owners wanted a pool with a dark bottom, covered roof structure, shower and bathroom facilities, exterior changing room, outdoor kitchen, and complete privacy.
What was the biggest issue the design addressed?
Drainage and circulation were major issues. The property all drained front to back as an intentional design to recharge the adjoining wetlands. Creating a cohesive space with preservation of the wooded area was critical to the design. The space needed to flow.
Mediterranean Makeover With Pool and Outdoor Living Space
See All Photos
Describe an obstacle in the space.
The exterior pool pavilion was engineered on top of a 12" corrugated drain pipe. Without this space and engineering, the rear yard would have been greatly diminished. We worked closely with engineers and the township to address all drainage and structural concerns.
How did the end result match your original vision?
The owners were very adamant about complete privacy. It required outsourcing trees and evergreens at a size large enough to buffer neighboring first floor windows and second story neighboring views. We needed to reenergize ourselves and introduce a few carefully placed trees in excess of 20' to accomplish our goal.
What lessons did you learn from this project?
The space works completely as one. The pool is designed with a bench on all four sides and can easily seat 40 to 50 people. I try to focus all my designs to have the spaces interact as one.
What are the hidden gems that make a big difference?
A hidden gem is the night lighting! The space takes on a completely new dimension, feel and look in the evening.