How This Interior Designer Decorated Her Own Home
When designer Darla Bankston May set out to redesign her own home, an open concept space perfect for entertaining was at the top of her list of must-haves. She also wanted to display pieces she had collected while traveling, giving the space an eclectic and personal vibe.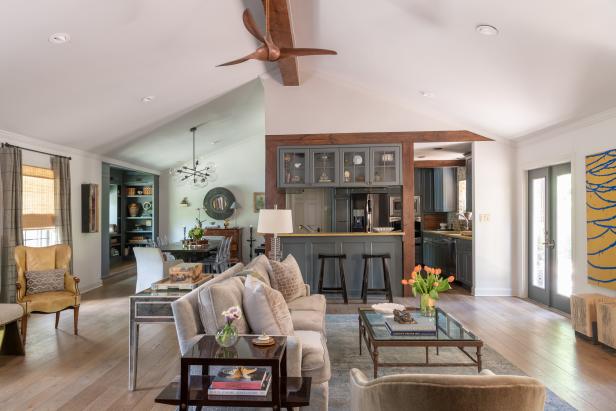 Eclectic Living Room With Vaulted Ceiling
Furniture doesn't always have to tuck up against a wall. This large living area is a wonderful example of how you can float a seating arrangement out in the center of the room.
When she began designing her home, designer Darla Bankston May knew she needed to create a space where she and her husband could entertain guests. She started by looking for a way to enlarge the small galley kitchen to accommodate both cooking and gatherings. To accomplish this, walls were removed to create additional seating around the kitchen island.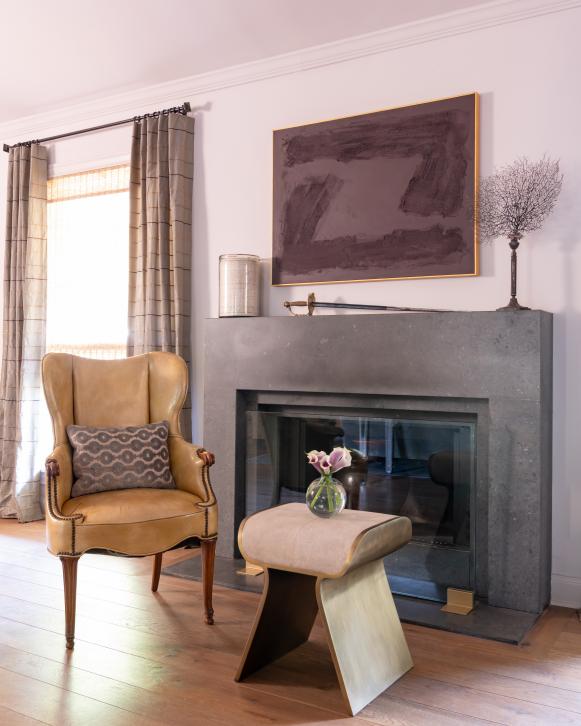 Leather Armchair and Gray Fireplace
Leather armchair, sculptural table, gray matte fireplace...texture and shape turn this sitting arrangement into a work of art.
Bankston May also knew furniture placement would be key for a successful design to work well for small or large groups. She placed the living room furnishings in a way that creates an intimate environment, while still leaving ample room for movement throughout the space.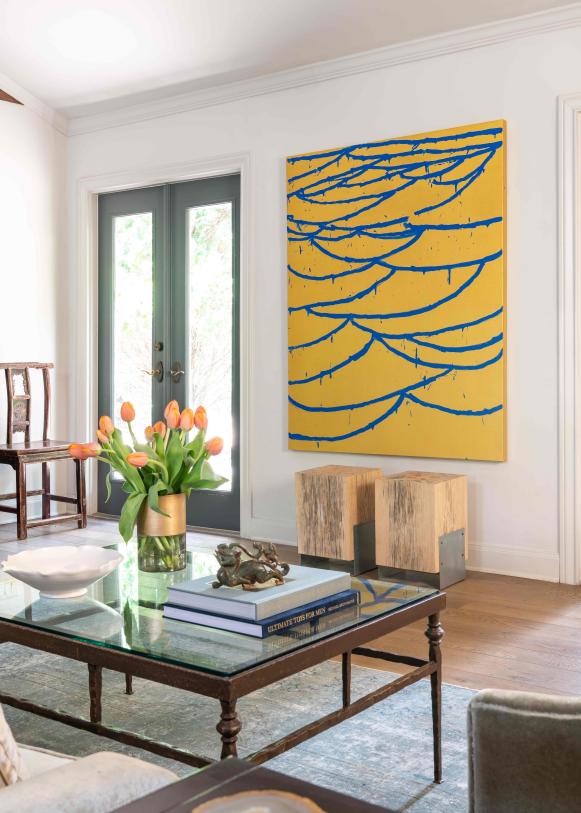 Yellow Art and Coffee Table
A bold yellow painting becomes the star of this living room's show, brightening up the whole space.
Not only was space planning a large part of this home redesign, Bankston May also worked to curate the perfect color palette to further enhance the design. Taking cues from nature, she worked to have the interior and exterior spaces complement one another.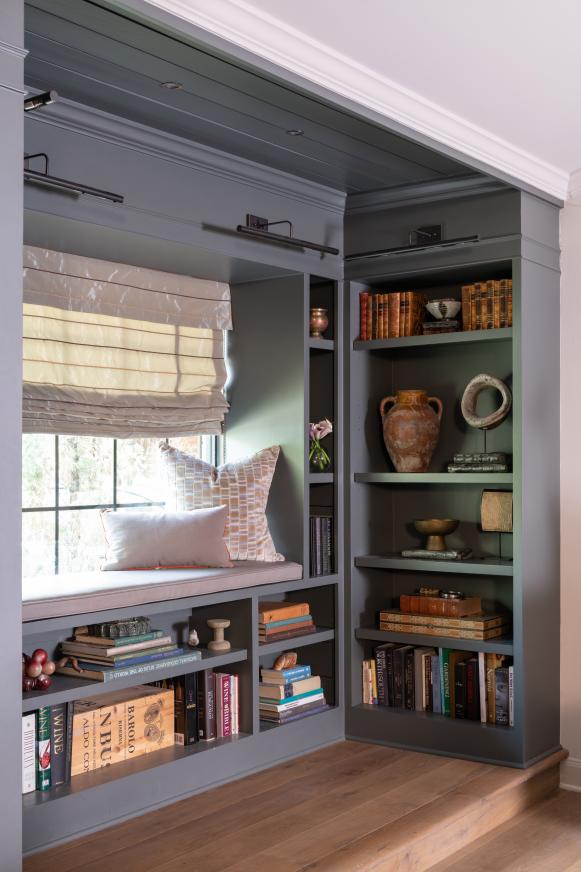 Gray Window Seat and Bookshelves
Gray paint, lots of books and a window seat turns this niche into the coziest possible spot to curl up.
Painting the walls white gave her a neutral base that can be added to through the decor. For example, the striking yellow and blue painting adds elegant simplicity to the living space, while also making a bold statement for the design of the room. Bankston May explains that placing the piece of art between the French doors highlights the painting and helps the art blend with the outside views.
One design element that Bankston May is most proud of is the reading nook located next to the dining room table. This nook gives the dining area an intimate feel, and provides a place to display her collection of books and items of interest. "The placement of eclectic items and pieces we have collected throughout the years tells a story of our travels and inspires conversation in every corner of the room," Bankston May explains.
While designing a home for clients can be difficult, an interior designer is particularly challenged when they become the client. Darla Bankston May creatively curated her own home to be a space perfect for entertaining and a thoughtful expression of her personality.