Los Angeles Apartment Marries Feminine, Masculine Styles
Wanting a home that she and her husband both adored, designer Jessica McClendon outfitted her 1950s unit with a mix of elegantly vintage and boldly modern pieces. The result is an eclectic design that's easy on the eyes.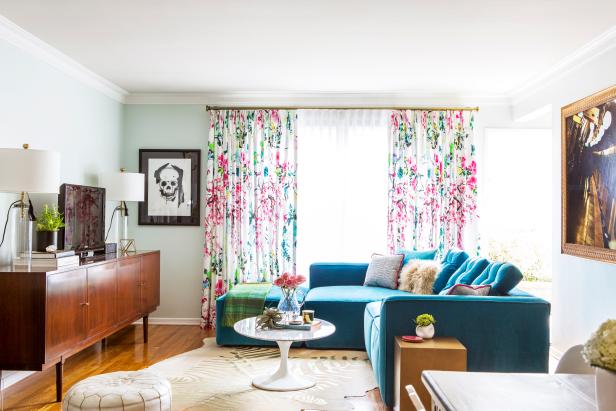 Blue Eclectic Living Room With Floral Curtains
Dramatic artwork and a long wood cabinet keep the colorful style of this eclectic living room from feeling precious. The floral curtains deliver the biggest hit of pattern; a solid blue sofa and aqua walls temper the small, busy print.
Designer Jessica McClendon knew she had a project on her hands when she and her husband leased a 1950s apartment outside of Los Angeles. In just 1,000-square-feet, she needed to refresh the dated interior and blend the couple's unique styles together.
"When we first saw the place, it was a very drab beige," says McClendon, founder of Glamour Nest Interior Design in Sherman Oaks, Calif. "But, I could see the potential. With the original wood floors and wedding cake molding, I knew it could be great for us both."
A fresh coat of paint worked wonders. By reviving the walls with a light blue shade, McClendon and her husband then had a bright backdrop on which to layer new furniture and accents.
Because McClendon and her husband love to host casual gatherings, the couple wanted furniture that could withstand a little wear and tear while still speaking to their individual styles.

A blue velvet sectional was the perfect compromise for their living room. Spacious and plush, the piece allows the couple to stretch out on lazy Saturday mornings and seat several friends in the evening. At the same time, its modern shape suits their collection of edgy, contemporary art, while its aqua hue gives the room a fun feminine flourish.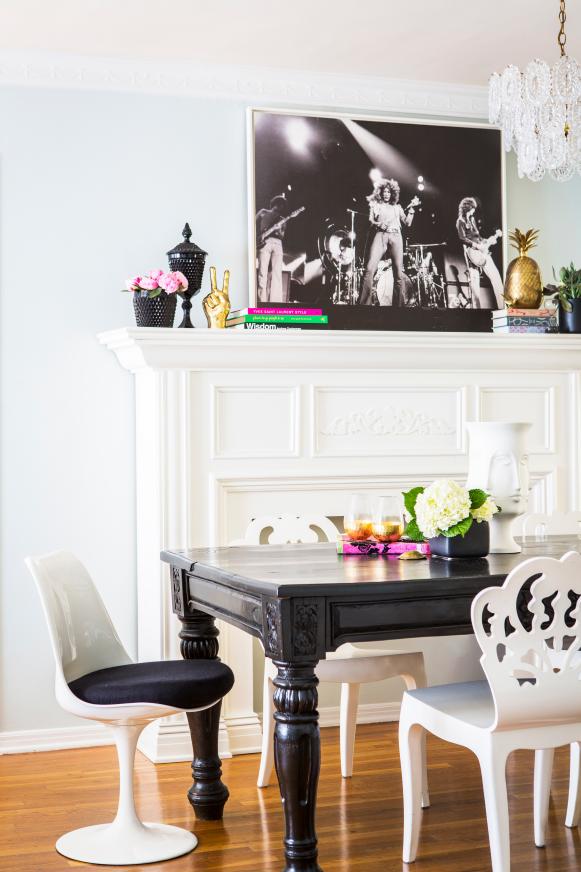 Black and White Eclectic Dining Area With Photo
This eclectic dining area keeps the look fun instead of busy by letting a black-and-white color scheme anchor the palette.
McClendon found that a balanced design added just as much interest to her dining room. Rather than opt for only traditional or modern chairs, she chose both and used a chic black and white color palette to bring the opposing styles together.
A thrifted table centers the space, hand-picked, the designer admits, for its worn finish.

"I didn't want to worry about friends and family scratching or staining it," she says. "So, I knew if I wanted to have everyone over but also not worry about the small stuff that I needed something that was rustic or a little beaten up."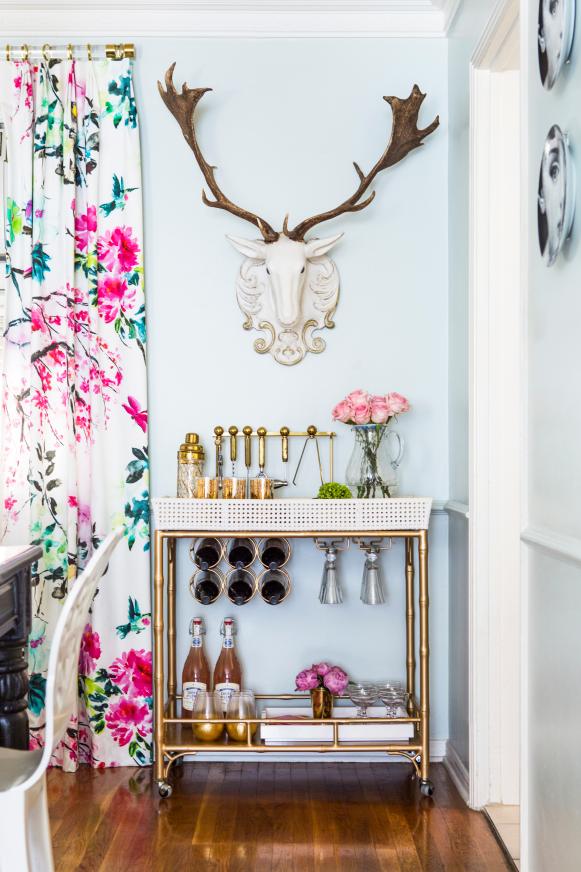 Bar Cart and Stag's Head
An antique bar car is the star of the party paired with a playful stag's head and so much color. Impeccable organization means the open shelving looks anything but cluttered.
With the couple's initials carved proudly into its surface, the table encourages friends to grab a drink from the bar cart and relax, without worrying about rings or scratches.
The designer's eye for diamonds in the rough led to another savvy purchase: the vintage mantel poised behind the dining set. Thanks to its ornate design, the piece easily complements the room's crown molding, as though the two were made for each other. Together, they spruce up the walls with elegant charm and character.
For her husband's sake, McClendon decided to offset those prim and proper details with a bold snapshot of Led Zeppelin. Flashy gold and neon accents flank the band on either side of the mantel, meeting the chandelier and Audrey Hepburn collector plates with a punk rock edge.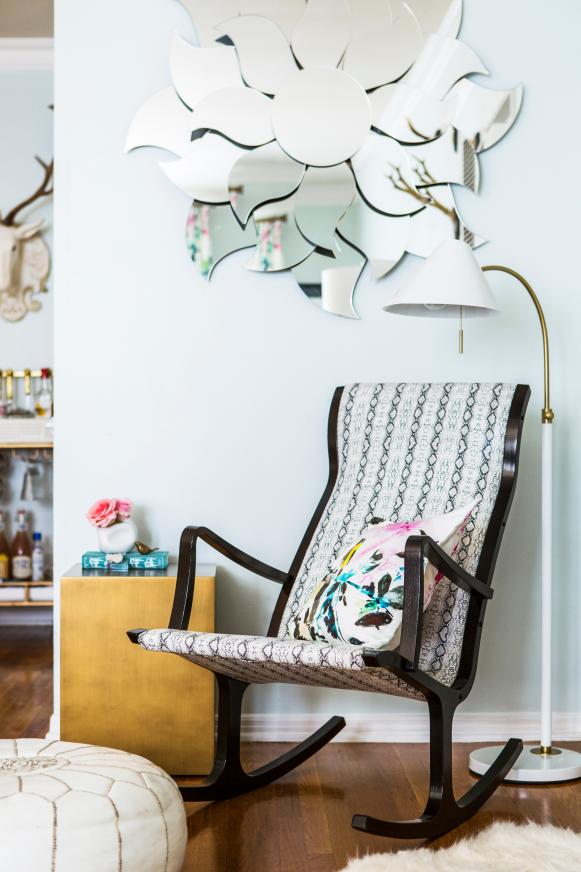 Black and White Rocking Chair and Mirror
A rocking chair is anything but frumpy upholstered in a graphic black-and-white print and paired with a bright pillow.
"I love the result!" McClendon says. "There's something so fun about mixing a Zeppelin photo with more traditional pieces."
For the couple's bedroom, though, the designer envisioned something much softer. Needing a quiet space where she could reflect and pray, McClendon added a reupholstered rocking chair to the corner of the room, with a modern table and lamp to store her Bible and journal.
Since she loves playing with opposites, the designer dressed the cobalt-blue bed with pale pink and cream linens. Overhead, a 1930s light fixture from France adds a romantic touch to the setting, with its blush glow softening the dark walnut nightstands.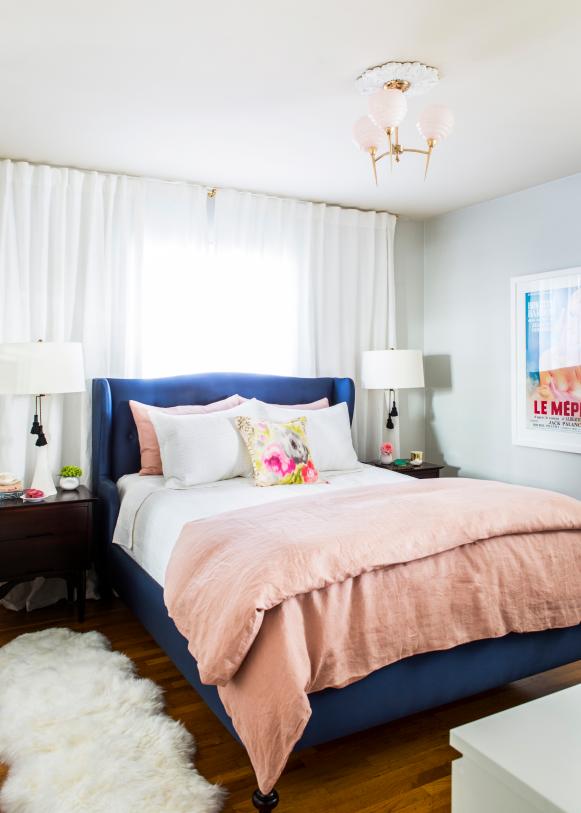 White Eclectic Bedroom With Blue Bed
Peach accents soften the deep blue of the bed in this pretty bedroom. Luxurious textures like the sheepskin rug and unique details like the lighting complete the romantic, bohemian picture.
The result is a room that's beautifully balanced, where masculine and feminine energies meet and provoke thought and visual interest. McClendon insists that this approach gives her home more depth and dimension.
"Having a house that's only feminine or masculine, or only a certain period or style just feels so uninteresting to me," she says. "I think we as humans are faceted. I'm not just one thing or the other, so it makes sense that my home isn't either."