Home Designed to Incorporate Owners' Travel Photography
Abbe Fenimore designed this home for newlyweds and made sure to incorporate their travel photography into many of the design elements.
Modern Open Plan Kitchen with Cozy Breakfast Banquette
This open concept kitchen, dining and living space allows for inclusive cooking and dining thanks to a cozy banquette nestled into one corner. Wood cabinets extend to the ceiling to maximize storage, while a pair of slatted wood pendant lights provide task lighting above the island. Pops of teal and yellow continue from the kitchen into the wide-open living area.
What were the main items on your client's wish list for the redesign of their home?
Our clients wanted to purchase a move-in ready home, but still be able to personalize the backyard and interiors. Since this was the newlyweds first home together, they wanted it to be a reflection of their new life together. They love to travel and have amazing photographs that they wanted to use throughout the home. We were able to recover quite a few things from his home since I worked with him on the design and interiors. He had great neutral pieces that she loved and wanted to keep as well as a few things of her own that she wanted to include.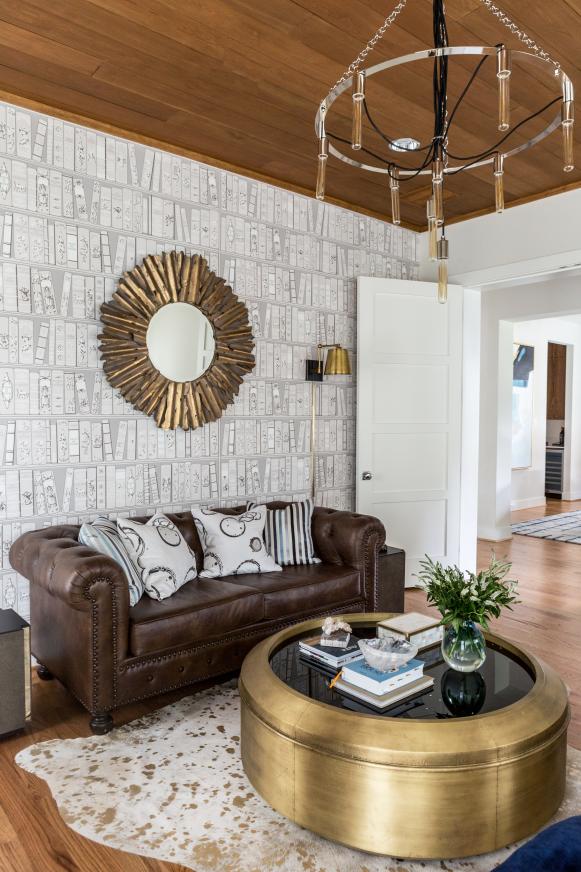 Artful Living Space with Fun, Eclectic Wallpaper
The curves of a gold drum-style coffee table are repeated in the artful mirror and modern chandelier, bringing design distinction to all sides of this eclectic living space. The room is designed to be modern with hints of Art Deco. Gold accents bring glamour, while the wallpaper gives a playful nod to old-school library style.
They wanted the home to be comfortable and modern, and be able to easily entertain on a regular basis. Since the builder provided finishes and lighting that we all loved, it was easy to design around the existing elements in the home. We selected fabrics that were durable enough to withstand lots of use and could be easily cleaned. The backyard was the biggest change to the house. They added a resort style pool, and we designed the back porch to feel like it was part of the living space since glass doors open to create one large area for entertaining.
Eclectic Home Office with Bold Color, Fun Accessories
Fashion accessories from the homeowner's own wardrobe and framed playbills from her favorite shows create cool artwork in this fun and eclectic home office. Meanwhile, a fuchsia chaise creates a great spot for perching with a cup of coffee, glass of wine or a great book. Modern lighting is the jewelry of the space.
Compromise was easy. We created an office space for her that reflects her love of New York theatre. We framed her favorite playbills, and used bold wallpaper and drapery panels to create the NYC theatre vibe that she wanted. He also has an office that displays his favorite personal items. It's a soothing navy and ivory space that allows him to easily work from home.
What was the inspiration for the color palette seen in this home?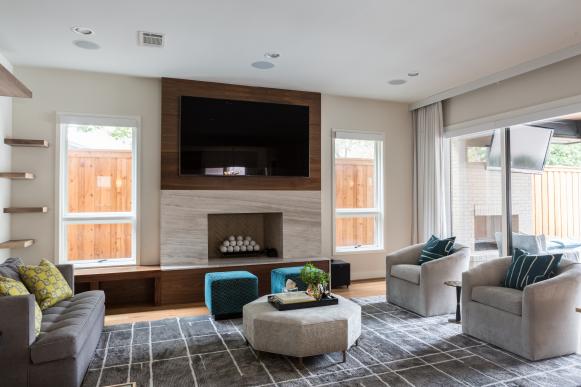 Bold, Yet Refined Modern Living Space
This living area is both modern and bold with carefully placed accents that liven up the otherwise neutral space. Yellow and teal fabrics provide contrast, popping against the gray furnishings and rug to give the space an overall bold, yet refined look.
The color palette was inspired by the photography from their travels. The vibrant color and texture from the images gave us the inspiration we needed to pull it all together. The teal came directly from the photographs in their collection. It looked amazing with the rich wood tones in the house, and they loved the casual feel the color brought to the space. We decided to add the rich mustard yellow, acrylic accents, and brass details for a little bit of chic.
What was your favorite room to design in this home?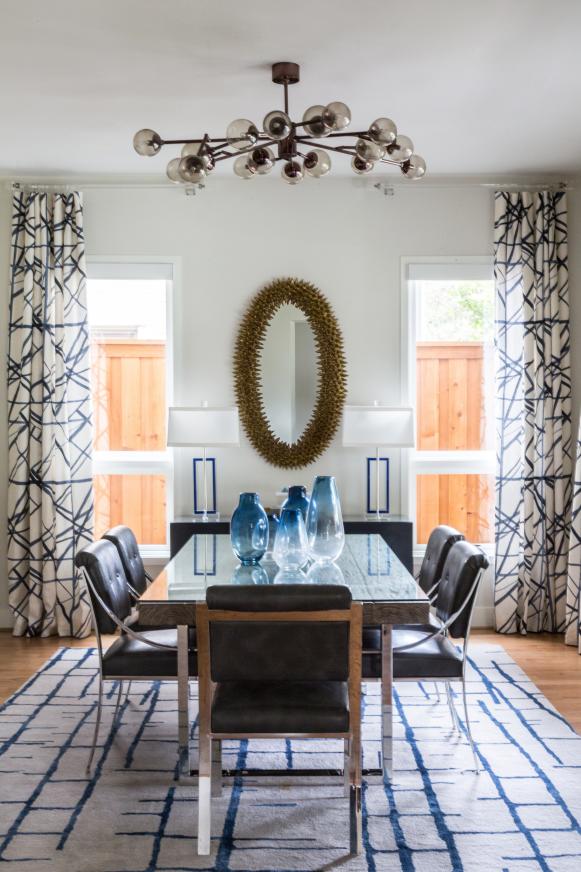 Modern Dining Room with Blue and White Accents
Bold, graphic textiles rule the day in this modern dining room, where every element lends interest and adds design distinction. From the area rug to the draperies to the modern chandelier, use of line draws the eye throughout the space. An ornate mirror is flanked by modern lamps that continue the room's blue and white color scheme.
It's a tie between the formal dining room and the front sitting room. I love the Kelly Wearstler Channels drapery panels in the dining room as they wanted to incorporate something bold. All of the dining furniture is from his condo, so I love that we were able to utilize the pieces and only have to add a few accents to pull the room together.
The front sitting room is also at the top of my favorites list. The Hermes wallpaper, leather chesterfield sofa, and rich velvet chairs created the perfect spot for them to grab a drink after work and listen to her Father's old records. They wanted a lounge like vibe where they could escape and enjoy time with each other.
There are several interesting light fixtures seen in this home. What do they bring to the overall design of the space?
Lighting is often a design element that is overlooked. It can make or break the overall design of your home or room and change the mood quickly if it doesn't provide the right amount of light.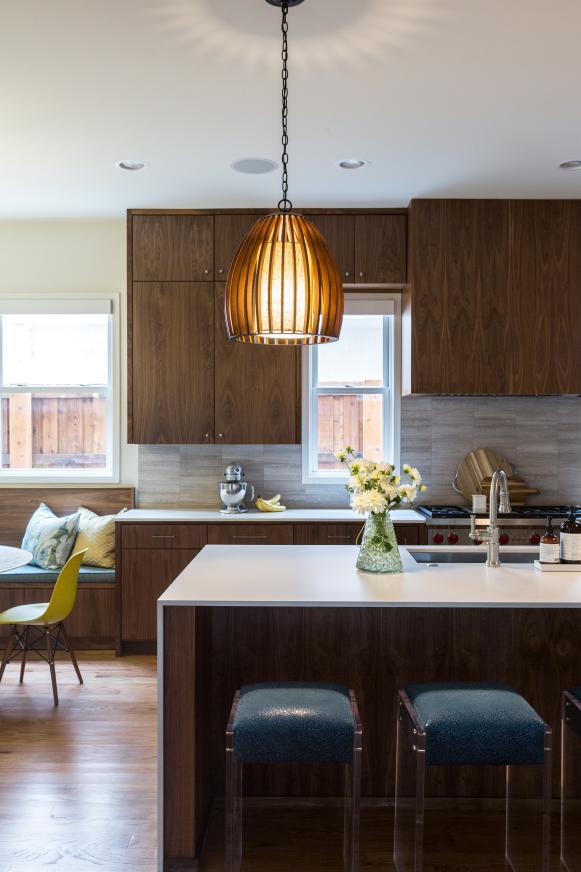 Modern Open Plan Kitchen with Clean-Lined Island
A contemporary waterfall edge on the island is crisp and clean, setting the tone for this modern, yet homey space. Slatted wood pendants provide task lighting and complement the warm wood tones of the cabinetry. Bold blue barstools provide an accent color that's repeated throughout the open plan living area.
I love the unique wood pendants over the kitchen island. Even though they almost match the kitchen cabinets, the open design brings in a much-needed visual texture. We also incorporated a few unique pieces with quartz accents to bring in some of the glitzy elements she loves.
What are the "hidden gems" in your design?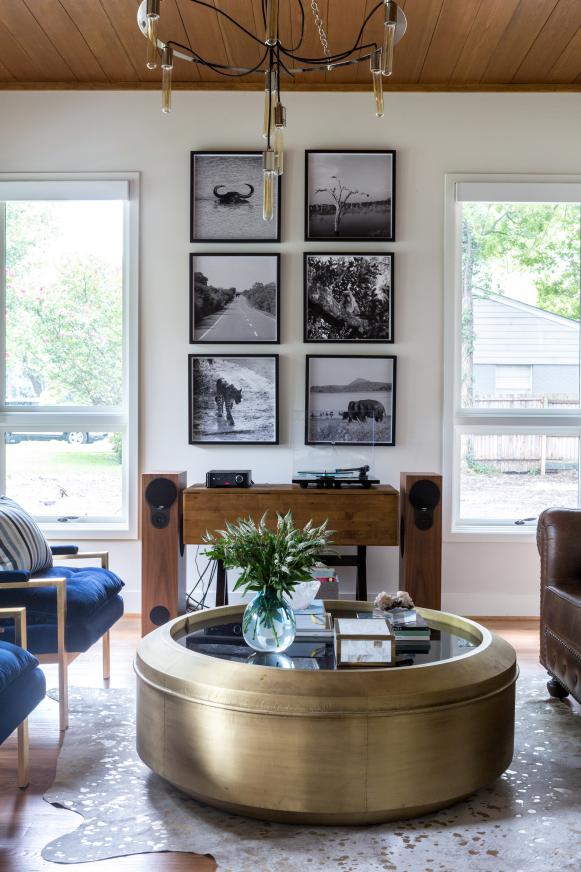 White, Modern Sitting Room with Eclectic Accents
A vinyl record player brings a throwback touch to this sitting room, which is artfully designed to be modern with a hint of Art Deco. Gold accents, including the round coffee table, chair legs and even the speckled animal hide rug, add a touch of glamour. Black and white photography is playful, yet sophisticated.
This home is one of the most personal that I have worked on. My clients were very open about what they loved and were able to narrow down their favorite elements. Their travel photography was a major bonus and something we based the entire scheme around. We framed them differently in each room in order to highlight the prints in the best way possible. We also framed handmade scarves they collected during their travels in custom acrylic frames to modernize them.