Budget-Friendly Living Room
Designer Shelley Rodner kept this family's budget intact by mixing new design elements to already-owned pieces to give the space an upgrade.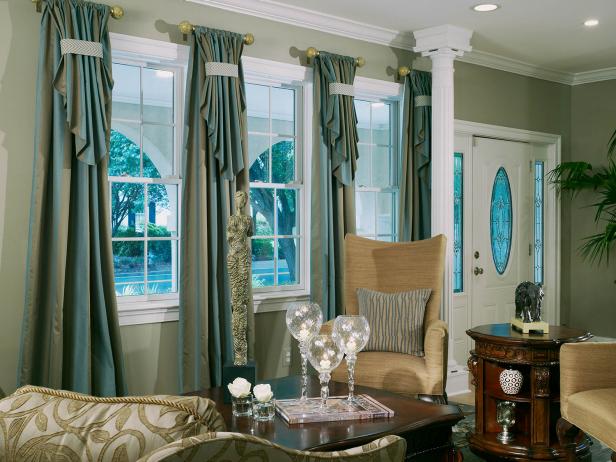 Elegant Beige and Green Living Room
This living room is filled with gorgeous greens and neutral tones that gives the space an elegant look and feel. The green painted walls and draperies stand out about because of the neutral colors in existing furniture.
By using some of their existing furnishings but adding draperies, painting, accessorizing and laying a new rug designer Shelley Rodner kept to a $9,000 budget.
What were the main items on this family's wish list?
To repurpose' the clients' oversized furniture that was brought from their former residence, which was considerably larger than their current new home.
What was the single largest issue you wanted to address?
To create an effective way to define the entry area from the actual living room space.
What was your biggest obstacle in this space?
The client's oversized furniture was a challenge to incorporate into this space without taking over the room.
How does the end result match up with your original vision?
Several pieces of furniture were edited out because they simply were too large and out of scale for this room. Our final floor plan still used most of their furniture and the clients were extremely pleased.
What surprised you the most about this project?
A great deal of editing was necessary to make these pieces work. My philosophy these days is definitely less is more.
What are the hidden gems?
The mirrors that were placed on the wall behind the sofa are absolutely striking and added a playful touch to this space. The floor covering in a beautiful color palette of soft blues, taupes, and creams also helped pull everything together.