Designer Diego Rincon creates a contemporary living space in a New York City loft with streamlined furniture and richly colored accessories.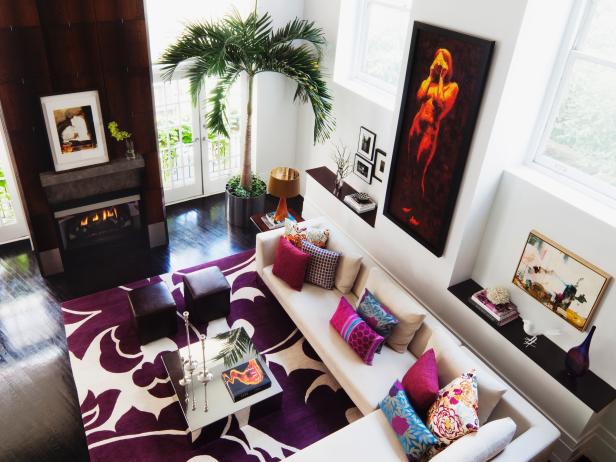 Modern White Living Room With Purple Rug
A large floral-inspired area rug defines the living area in this open concept loft. Designer Diego Rincon keeps the main furniture neutral, but adds vibrancy to the space with rich fuschias, purples, blues and pinks in the area rug and pillows. The palm tree complements the vast height of the ceiling, while also drawing the eye into the seating area.
The open concept loft needed a defined living room, so designer Diego Rincon of Diego Alejandro Design uses a bold, graphic area rug and oversized sectional to outline the living space.
Rincon shares with us how he tackled challenges and incorporated his client's goals into this design.
Describe the homeowner's wishlist.
As the founder of an advertising agency with a deep appreciation for creativity in design, the homeowner wanted his main living area to reflect that appreciation for design through its creativity and uniqueness, while at the same time maintain a modern feeling of and sophistication.
What were the homeowner's design problems?
The most impressive features of this loft space — the vast openness and over 22-foot-high ceilings — were also what required the most creativity. There was no traditional living area with physical walls. Creating a defined area within the vastness of the space that felt welcoming and invited conversation was a tremendous challenge.
What was your biggest obstacle in this space?
To create an inviting living room without traditional walls, I used design elements like the bold purple and white carpet to define the space. The very unusual touch of a palm tree in New York City was also a critical element in complementing the vast height of the ceiling, yet drawing the eye into the seating area.
How does the end result match up with your original vision?
In this case, I was fortunate that the end result was close to my original vision. All along, both the client and I felt a space that was so architecturally dramatic needed a design approach that was bold and vibrant, yet very sophisticated and modern.
What lessons did you learn?
The importance of mixing textures is a lesson that I apply to all of my designs. In this case, the range of textures include natural wood and stone on the fireplace panels, the mirrored steel of the coffee table cube, natural leather on the two pull-up ottomans, silks, cottons and textured weaves on the pillows, and the large encaustic (also known as hot wax) painting.
What are the "hidden gems"?
Not being afraid to mix bold colors, diverse textures and pattern on pattern is what made this design successful. While I kept the main upholstered piece neutral, the non-traditional choices I made for the artwork, carpet and custom-made cushions give the room a strong energy and vibrancy.