Contemporary Stone Guest Bathroom
Designer Andrea Wachs combines natural stones and metals for an industrial yet earthy look in this bathroom design.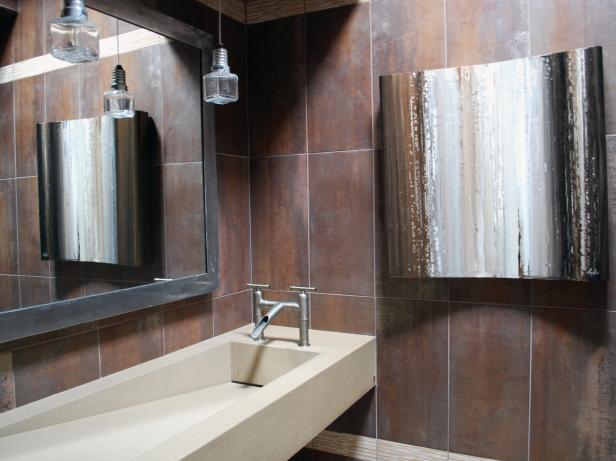 A Take-Notice Guest Bath
The homeowner wanted a bathroom that would wow his frequent guests, so designer Andrea Wachs combines beautiful natural stones and industrial metals to create a contemporary, showstopping bathroom.
For this Tucson, Ariz., project, designer Andrea Wachs creates a fabulous modern powder room for a bachelor who wanted to wow his guests.
Working with a budget of $60,000, she brings an industrial yet earthy feel to the space with a concrete ramp sink, bridge faucet and square light bulb pendants. We caught up with Andrea to find out about the goals and challenges she faced during this bathroom remodel.
Describe the homeowner's wish list.
The homeowner's only wish was to have a funky urban yet functional powder room to wow his frequent guests. I was given full creative control and my mind started spinning with ideas — a designer's dream!
What were the homeowner's design problems?
Since this beautiful custom home was built in the late 1990s, there were not any issues with the space.
What was your biggest obstacle in this space?
The biggest obstacle during this renovation was the weight of the concrete ramp sink. We needed more support inside the wall. This was discovered after the vanity wall had already been drywalled and prepped for tile. We had to open up the wall and beef up the supports, so this set us back a few days, which was not ideal since we were on a deadline.
How does the end result match up with your original vision?
In the original tile design drawings, I had not included tiling the soffits above the sink and toilet. As I stood in the space while the tile installation progressed, I decided with the owner to proceed with tiling them. I'm so glad I did because it really completed the overall look.
What lessons did you learn?
I love how utilizing and mixing natural and industrial materials can really transform and ground a space. This project inspired me to incorporate them into many of my successful designs.
What are the "hidden gems"?
I have fun and enjoy the process of bringing a space together. I always work toward a balanced aesthetic with a few surprises. I love the geometry of the sink in conjunction with the tile, pendant lights and artwork. They all lend to the drama of the bathroom, especially the artwork, which looks like it was made for the space.