Rustic Stone Kitchen With Country Appeal
Designer Heather Guss incorporated wood trim and decorative stone accents to give this transitional kitchen area country appeal.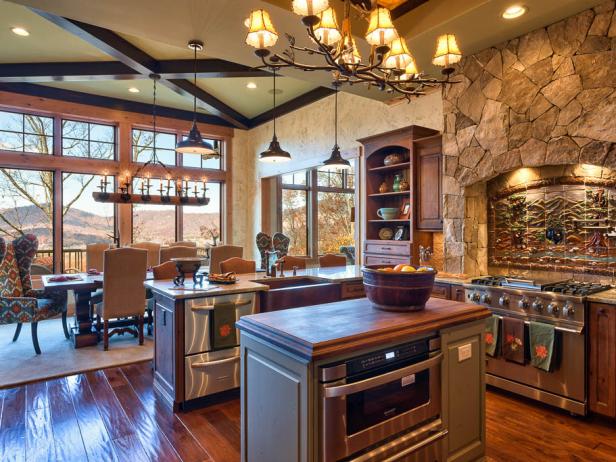 Brown Rustic Open-Plan Kitchen and Dining Areas
An open, transitional design creates easy flow between these kitchen and dining areas.
What were the main items on the homeowners' wish list for this space?
The homeowners and designer wanted this kitchen to bring the outside in. We used a combination of natural products to make that happen: the stone surround on the cooktop, the wood top on the island and wood floors.
What was the single-largest issue you wanted to address for the owner?
The stone surround on the range. We needed to get extra support into the floor and behind the cabinet for this design to work. We also needed to make sure we were able to give some weight to the cabinets on either side of the range.
What was your biggest obstacle in this space and how did you overcome it?
My largest obstacle was the door to the pantry. The door size and shape changed several times, and the cabinets needed to be ordered to keep the project moving. We ended up ordering extra material to be safe, and everything worked out better than planned. How does the end result match up with your original vision for the space? Everything fell into place wonderfully on this kitchen. I think with the groundwork laid for the stone surround (around the stove) we just made the customer and designer aware of everything up front and it paid off in the end.
What surprised you the most about this project?
It's important to be upfront with customers when they have a vision. For example, we used real stone and not artificial material for the stove, so the homeowners ended up making sacrifices in storage space because of it. Since they were fully aware of this from the start, everything worked out well.
What are the hidden gems in your plan?
The arched design is very consistent throughout the kitchen: the bookcases, stone and even over the top of the pantry door. It's subtle, but we took every chance to make this the same throughout so the homeowner didn't have a mix of some straight and some arched frames. There are also handy spice pullouts to the left and right of the range.