Urban Loft Outfitted for Business and Pleasure
A Denver attorney with an urban loft needed a space where he could comfortably work and entertain. Designer Colin Griffith delivered a made-to-measure home inspired by menswear that easily transitioned from focused workspace to hip bachelor pad.
Open Plan Loft Living Space With Industrial Exposed Ceiling
This urban living space includes an open floor plan, allowing for easy transition between the living and dining rooms. Gray and orange plaid throw pillows are paired with gray and white striped pillows on the gray sofa, while a yellow and white modern artwork hangs at the head of the farmhouse style dining table.

From:
Griffith Interior Design LLC
Emily Redfield Photography
Tasked with outfitting an urban loft, Denver-based designer Colin Griffith found easy inspiration in his client's wardrobe. Drawing on a collection of cashmere, leather welts and wool, he created an interior that seamlessly transitioned from business to pleasure.
"He works a lot," Griffith says of his client, an attorney for a nonprofit firm. "He was living in a temporary residence at the time, and I wanted to help him move into his new place as soon as possible."
Light and Bright Loft Living Room With a City View
This loft living room blends an industrial exposed ceiling with modern touches, like the gray L-shaped sofa and a metal sculpture that nearly touches the ceiling. A square brown leather chair offers the perfect view through the room's large windows, allowing a peek at the balcony area and city skyline.

From:
Griffith Interior Design LLC
Emily Redfield Photography
To ensure a comfortable arrival, Griffith layered the space with elegant, multifunctional accents that fit the bachelor's style. He introduced large area rugs to soften the hardwood floors and help with acoustics, as well as used colorful artwork to enliven and maximize the walls.
Even the plaid pillows on the sofa are a custom touch, designed to mimic the classic look of a suit. The attorney loved the finished product more than he ever anticipated.
I promised it would be worth it. He was so thrilled with them that he called me for a seasonal collection.
Colin Griffith, Griffith Interior Design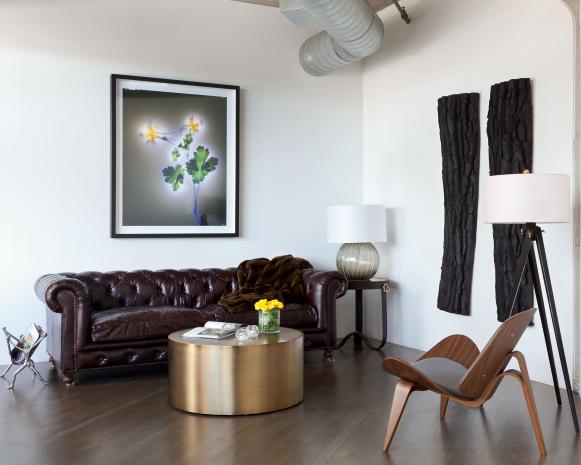 Eclectic Sitting Room With a Brown Leather Tufted Sofa
This white sitting room features a round gold coffee table positioned in front of a gorgeous brown leather tufted sofa. A midcentury modern wooden chair provides another spot for kicking back, while two black curtains are hung on the wall to create the effect of a window.

From:
Griffith Interior Design LLC
Emily Redfield Photography
The bachelor's career influenced other elements of the loft as well. Wanting to create an office where the attorney could work well into the evening, Griffith designed a den just off the dining area. Here, a brown leather couch offers a serene space for drafting reports and writing emails.
For the dining room, though, Griffith decided to balance elements of work and play. Knowing that his client used the wooden table as a desk, it seemed fitting to outfit the space with other dual-purpose pieces. Thus, two beautifully understated, leather-wrapped cabinets create storage for office supplies and a surface for entertaining.
"I had a piece of thick tinted glass set on top of the cabinets," Griffith explains. "This provided plenty of work space, but it was also great for use at dinner parties."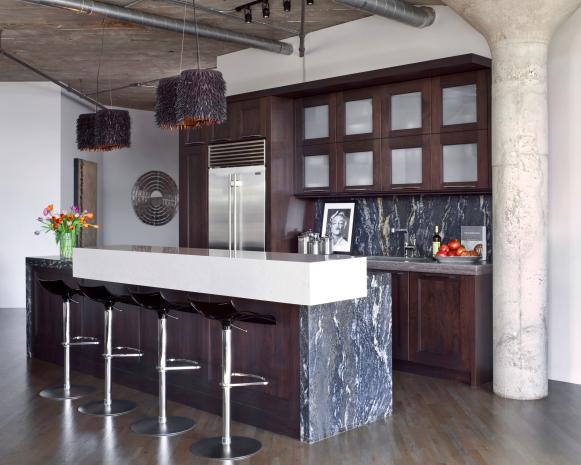 Eclectic Kitchen With Coconut Shell Pendant Lights
This spacious kitchen blends industrial ceiling exposure with contemporary touches, like the gray and white marble countertops and sleek brown cabinets. Funky coconut shell pendant lights hang above the white marble kitchen island, which includes glossy black black stools that allow for casual dining.

From:
Griffith Interior Design LLC
Emily Redfield Photography
His resourcefulness extends into the kitchen. Where contemporary barstools and silver appliances keep the space sleek and clean, leathered marble creates an aged contrast. To complete the look, Griffith added a slab of cantilevered polished marble to the bar, thereby enhancing its architectural detail.
Of all the home's notable spaces, though, Griffith admits that his favorite is the master bedroom.
"I'm all about the bedroom," he says. "I went directly to his favorite tailor and used all the same luxury fabrics and materials to dress his bed."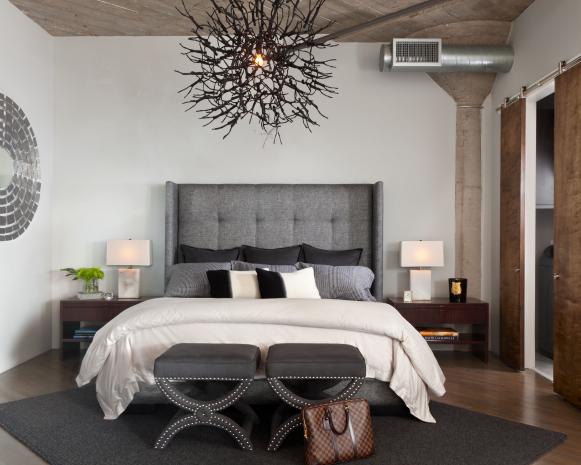 Modern Master Bedroom With Artistic Metal Light Fixture
Gray, white and neutral hues come together to create this serene master bedroom. Two black ottomans with nailhead trim are positioned at the foot of the wool upholstered bed, while a metal sculpted chandelier is featured above. White marble lamps are placed on top of the pair of brown wooden nightstands.

From:
Griffith Interior Design LLC
Emily Redfield Photography
Featuring a silk duvet, cashmere blanket and boiled wool, the bed is truly a made-to-measure piece. Here the client can unwind at the end of a long day, nestled in the comfort of soothing blankets and sheets.
Such thoughtful details easily reflect Griffith's commitment to craft.
"I have everything professional laundered and make the bed myself when I install each client's home," he says. "I even leave fresh flowers at the bedside with a candle so they can lavish in the luxury of their new home from the very first night."