Designer Brian Patrick Flynn maximized space and style in this 700-square-foot apartment.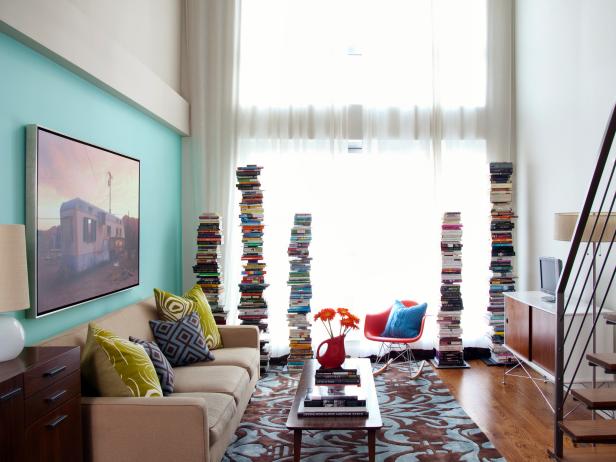 Loft With Stacking Bookshelves
Floor-to-ceiling windows provide lots of light for this chic living room.
Online editor Briana and mobile developer Buzz live in a small loft in Brooklyn. They worked hand-in-hand with decorator Brian Patrick Flynn to create an apartment that feels spacious and airy, with hard-working storage and designer touches.
What was at the top of the clients' wish list?

The most important things to Briana and Buzz were (a) adding color and (b) bringing personality to their modern loft. Function was definitely key, but as fun-loving creative professionals, they wanted each room to truly feel like they LIVE there, and not come across as a rental where they work on their laptops and keep their clothes.
Their to-do list included the following: adding concentrated bursts of color on accent walls with paint, adding a custom workstation underneath their staircase and grounding their long and narrow living room with a custom area rug.
What was your single biggest obstacle in this makeover?
Believe it or not, the biggest obstacle with designing spaces in cities like New York is dealing with deliveries and contractors' schedules. There are so many rules to abide by, especially noise ordinances prohibiting work after 5pm, and this can totally kill a timeline and drive labor costs up, since most tradespeople work on day rates. Keeping this in mind from the get-go, I stuck mostly with projects that didn't involve loud tools. Almost everything was done with a drill.
Were there any surprises?
I would say that pretty much everything went according to plan with the exception of the custom workstation. We learned that while using MDF has its advantages — such as the fact that once painted, it offers a perfectly smooth finish — it actually absorbs paint much more rapidly than wood, leading to a much lengthier project timeline. In fact, we decided to keep the exterior painted and the interior raw simply because of the amount of time it would have taken to paint the interior.