Natural Colors, Textures Bring Peace and Balance to Boston Bachelor Pad
Tasked with outfitting an industrial loft for a doctor with a rare medical condition, interior designer Barbara Vail drew on earthy elements for inspiration. See how she created a serene retreat where her client can rest and recharge, as well as express his creativity.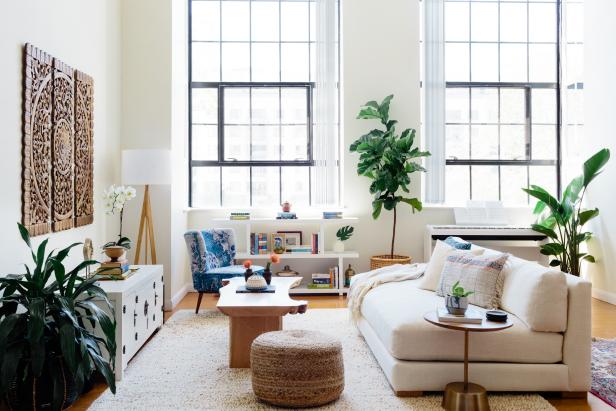 Natural Light and White Color Palette Crates a Clean, Bright Space
Designers wanted to take advantage of the abundant natural light that spills into the space from the floor to ceiling windows. To highlight this aspect of the space and create a clean, bright space, the walls were painted white to reflect the light, and white furniture was set up in the space. To add warmth, designers hung an Asian inspired wall hanging and brought in a blue and white chair to give the space a bit of personality.
Long overdue for a soothing space to call his own, a neurologist with a rare medical condition asked Barbara Vail to transform his industrial loft into a retreat that promoted peace and positive energy.
"It was a sensitive time for him," says Vail, principal of Boston design studio Galyean Vail. "He was transitioning from grad school to this demanding field, and wanted a home that felt really calm and zen."
The bachelor's neurological condition, called mirror-touch synesthesia, guided that design as well. Acutely attuned to the physical experiences of others, the doctor only has to see someone receive an IV to feel that same sensation on his own body.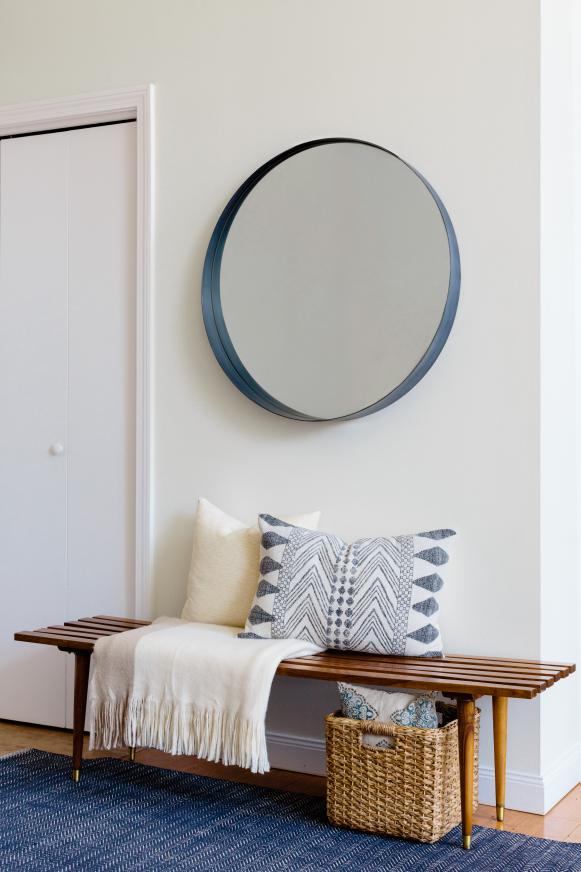 Elegant Geometric Entryway with Blue Details
To create a stunning entryway, designers paired a slatted wood bench and a circular mirror to create an elegant, geometric design. A blue rug and blue and white pillows add color to the white space.
In turn, a long day at work becomes more draining — and a calming home even more necessary.
To help her client feel at ease, Vail looked to organic colors and textures that would naturally soften the industrial interior. For the foyer, she chose a flat wooden bench and paired this with a crescent mirror.
With blue trim encircling the glass, the mirror reminded Vail of a crescent moon, which symbolizes growth and creativity. Placed in the entryway, the two pieces reflect the tranquility of the outdoors and encourage the bachelor's creative pursuits, like painting and playing the piano.
"The space is welcoming and comfortable, but it's also practical," the designer says. "Everything has a purpose."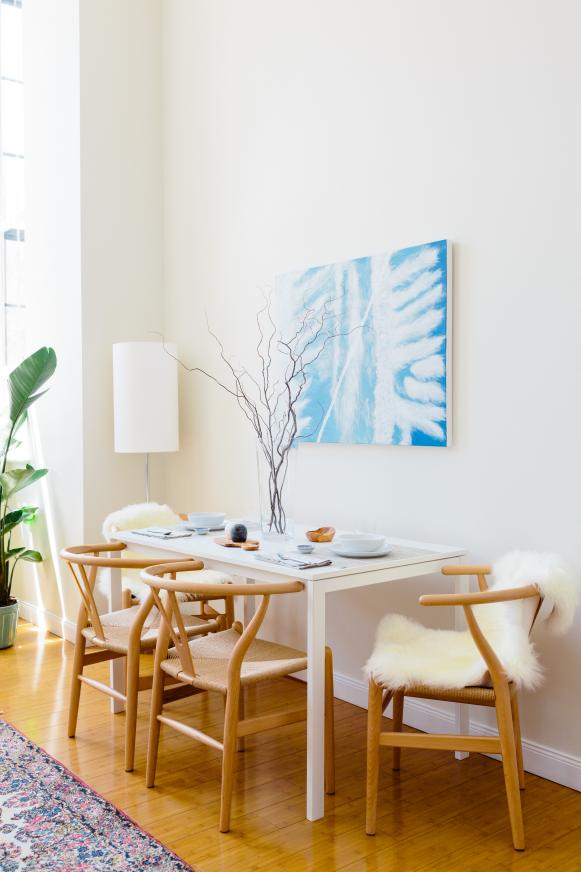 Bold Blue Painting Adds Color to Kitchen Area in Loft Aparement
Above the table in the dining area of this loft apartment, a unique, blue painting brings bold color to the space, while natural tones, such as the wood chairs and serving ware and fur chair cushions blend with the modern table and lamp to complement the rest of the apartment.
That intentional philosophy holds true in the dining room around the corner. Here, a modern table and wishbone-style chairs create an intimate space for gathering with friends, while a willow centerpiece flexes and accentuates the soaring ceilings overhead.
Sage-colored placemats and linens, too, uplift the setting. Because the hue is often associated with spiritual cleansing, the tablescape feels pure and keenly earthy – and so strikes a beautiful balance with its industrial surroundings.
That harmony flows into the living room, where a low sofa and wood accents create a cozy space against the floor-to-ceiling factory windows. Soft throws and a wool-and-jute area rug below invite the neurologist to rest during his off-hours as well.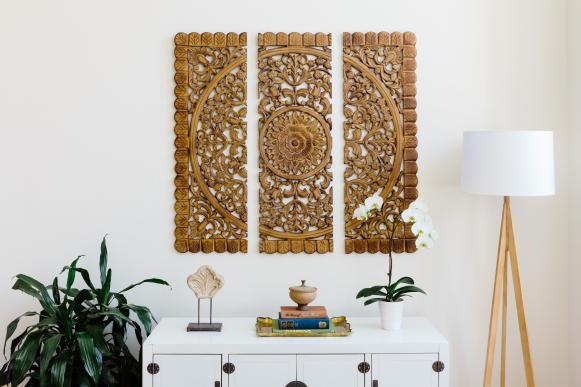 Asian Inspired Wall Hanging Brings Warmth to Clean, Bright Living Room
The intricate, Asian inspired wall hangings add warmth and personality to the white color palette that creates a clean, bright space.
Because the bachelor is so sensitive to the physical experiences of other people, even leisurely activities like watching television can induce severe stress and anxiety. For this reason, Vail substituted a TV with a wooden tryptic that represents the Circle of Life.
Set against the white walls, the art installation adds warmth and texture often missed in a sterile hospital environment, and so helps to keep the doctor grounded.
Vail finds the crown jewel of the room to be the live-edge coffee table, which was carved from a slab of willow tree. With bark known to carry salicin — a chemical used to relieve headaches — willow becomes a fitting medium for a neurologist who dedicates his life's work to easing others' pain.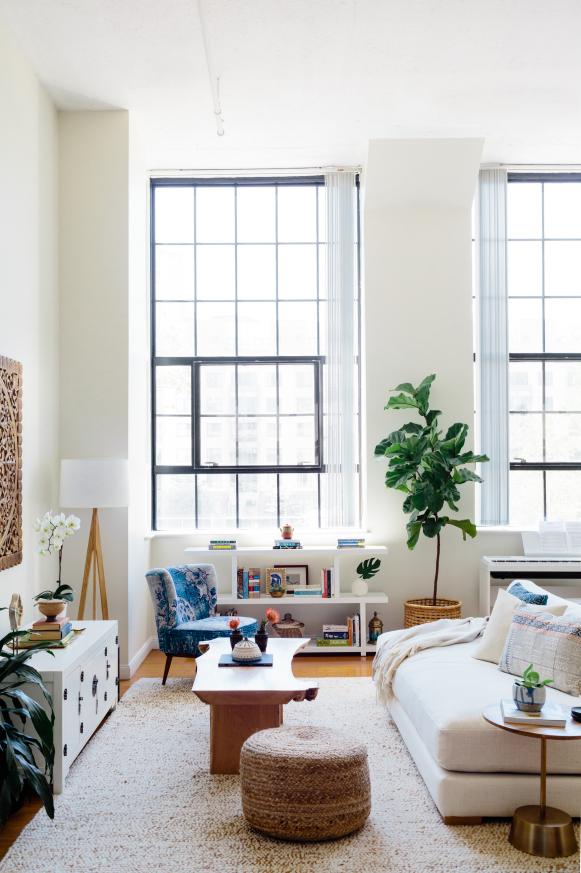 Cozy, Contemporary Loft Living Room
This white, loft living room pulls in natural elements as well as modern elements to create the perfect contemporary space. The white sofa, dresser and bookshelf bring in modern elements to support the clean, bright design, while a live edge wood coffee table and woven ottoman add warmth and color to the space. These details blend to create a comfortable, contemporary space.
"It's totally unique," she says. "That's the only table in the world that was made to look like that. I think it really helps tell his story."
Having evoked a soothing energy, Vail then focused on inspiring her client's creative side. To that end, she paired a slipper chair and bookshelf to create a reading nook in the corner. Though the chair's blue hues challenged his neutral color palette, the bachelor couldn't resist how the piece stood out in his apartment.
"He definitely got more adventurous as we went though," Vail says. "I thought the patterned dhurrie side chair would be a hard sell, but he loved the idea of a blue gem in the middle of the space."
With her client's blessing, Vail coaxed those cool sapphire tones in other accents, like the throw pillows, books and the bachelor's original painting above the dining table. Fig trees and potted plants further the heavenly aesthetic, and uplift the client's mood along with it.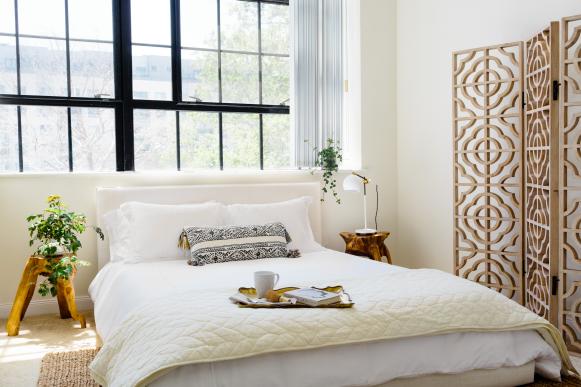 White Loft Bedroom with Asian Inspired Shade
The white color palette from the living room space continues into the bedroom space of this loft apartment. Soft, white linens adorn the bed, reflecting the light from the ceiling high windows. Curtains control the light that enters the space and create privacy, while live edge nightstands and an Asian inspired screen complement the ones that are housed in the living room area.
In the bedroom, minimal decor keeps the home's most intimate zone serene and free of distraction. Nightstands carved from sturdy teak trees anchor the bed, while a workspace to the side allows the young doctor to create or conduct research as he pleases.
Knowing how diligently her client cares for his patients, Vail was thrilled to finally give the neurologist a home that would help him care for himself.
"He called it his nest," she says. "I think the space really did embody that calming, serene and organic feeling that he was hoping for."
A Denver attorney with an urban loft needed a space where he could comfortably work and entertain. Designer Colin Griffith delivered a made-to-measure home inspired by menswear that easily transitioned from focused workspace to hip bachelor pad.