Standout Downtown LA Loft That Marries Pattern + Texture
This midcentury modern loft designed by Lindye Galloway Interiors is a beautiful culmination of colors and textures that blend together seamlessly.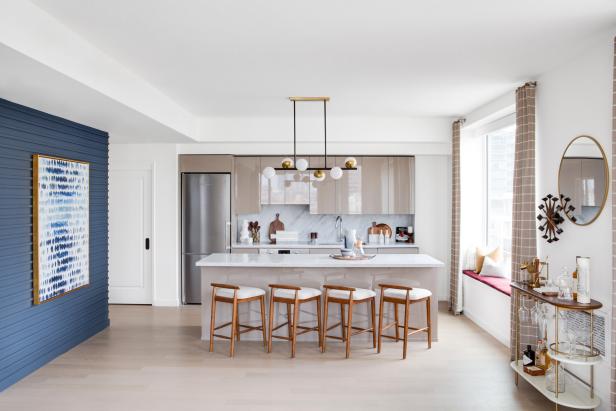 Full View of Midcentury-Modern Kitchen
An eye-catching light fixture embodies this eat-in kitchen's midcentury-modern style. An oversized island acts as a casual dining spot as well as extra meal-prep space.
Interior designer Lindye Galloway set out with a goal to add style and personality to this new construction loft in the heart of Los Angeles -- and that she did. The homeowners planned to use this loft for entertaining and vacationing with family, and requested a contemporary, colorful space. Lindye set out to strike the perfect balance between these two elements using patterns and textures that make this loft really standout.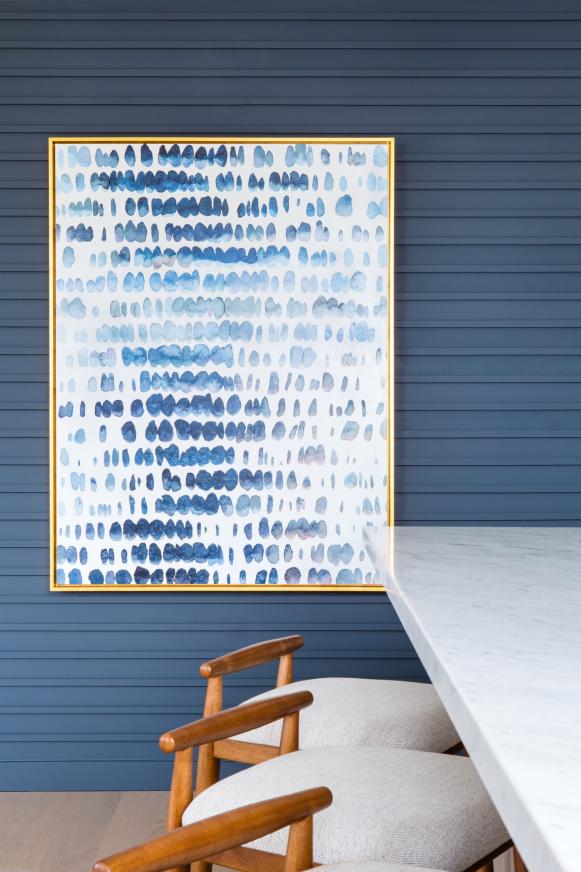 Blue Accent Wall Complemented by Blue-and-White Artwork
Blue-and-white abstract art serves as a focal point on this blue accent wall.
Since the loft is not an everyday residence, Lindye chose to push the envelope with edgier design choices that she might not choose for everyday living quarters. In the living space she created a blue accent wall that complements the taupe kitchen, while offering a three-dimensional element with added texture.
"Blue is still a safe neutral while also being a color ... it didn't take away from anything else going on in the space," Lindye explains.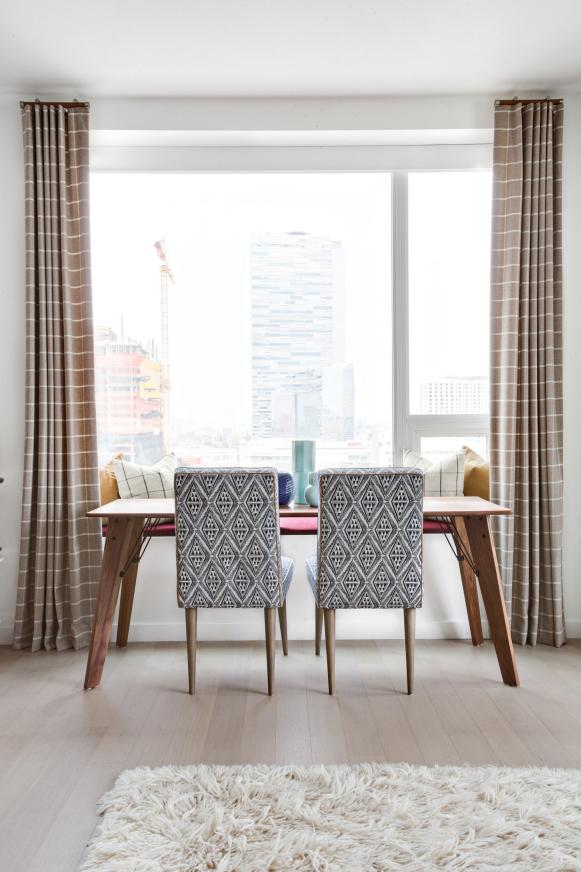 Small Midcentury-Modern Dining Nook
Making the most of this loft's small size, a dining nook is a valuable addition to the living space. A window seat was turned into a banquette, while a pair of upholstered chairs round out the dining area's seating options.
The small layout of the living area posed a challenge since the clients needed space for entertaining, so Lindye got creative. To make room for a dining area, she placed a compact table along a window with a window seat that could be used as bench seating. She extended the colorful hues and pattern mixing into this space, which can be seen in the pink bench seeting, patterned dining chairs and striped curtains.
Throughout the loft Lindye added touches to create interest without overpowering each space, such as the stone pulls on the nightstands in the green bedroom and the buffalo check curtains in the master bedroom.
Midcentury-Modern Bedroom Has Green Accent Wall
The light-wood headboard and nightstand in this midcentury-modern bedroom stand out against a green accent wall.
"If you're going to be mixing a lot of different patterns, I think it's important to keep the color scheme similar and have no more than two different color tones going," she says, adding that highly contrasting patterns shouldn't be placed too close to one another.
The patterns and the textural touches help "each room feel really unique and feel like it has its own statement" Lindye says.