Contemporary New York Loft
Designer Tara Benet brings cool modern style to an open apartment with a combination of antiques and new pieces.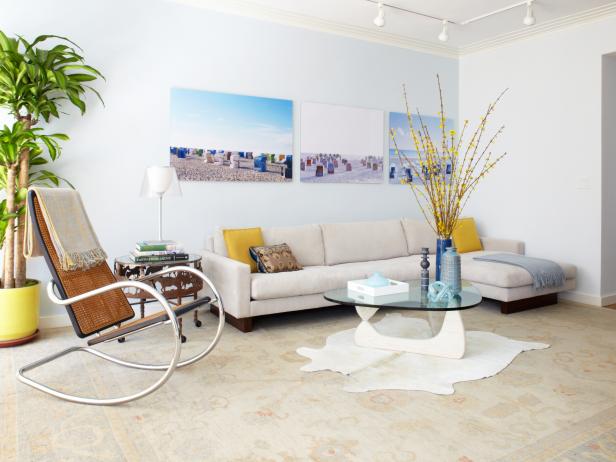 White Living Room With Rocking Chair
This airy, spacious living room keeps furnishings and decor to a minimum, enhancing the open, uncluttered feel. Classic midcentury modern pieces like the curvy wicker rocking chair and white Noguchi table add a bit of history.
For this New York City apartment, designer Tara Benet creates a bright and airy space on Madison Avenue. Contemporary furnishings are combined with vintage items for a lived-in, eclectic look.
Describe the homeowners' wishlist.
My client bought an apartment in a Madison Avenue pre-war Bahaus building that was in need of a major update. We heightened all the doors, took out some walls, updated the kitchen and added molding and fine details that stayed true to the building's rich history.

What were the homeowners' design problems?
My client and I were on the same page throughout the project. We both really wanted a fresh open space that was still rich in antiques and collectibles. A large Oushak vintage rug in soft blues was a great anchor for the mix of old and new pieces. We also painted the living room two shades of blue for depth.
What was your biggest obstacle in this space?
The biggest obstacle was adding height to the space. We did this by heightening doors and taking out some walls that were unnecessary. We used pieces with clean lines and soft colors to keep everything looking lofty.
How does the end result match up with your original vision?
We ended up with blues and white ash tones, as well as plexi-mounted beachy art when we were originally going to stay neutral and deco. I love the way it turned out.
What lessons did you learn?
Lots of paperwork, permits and approvals are needed when working with New York City Coops. I am constantly learning about navigating these rules.