Classically Modern Living Room
Modernism gracefully collides with elegance in the formal living room of this historic Georgian Revival designed by J Allen.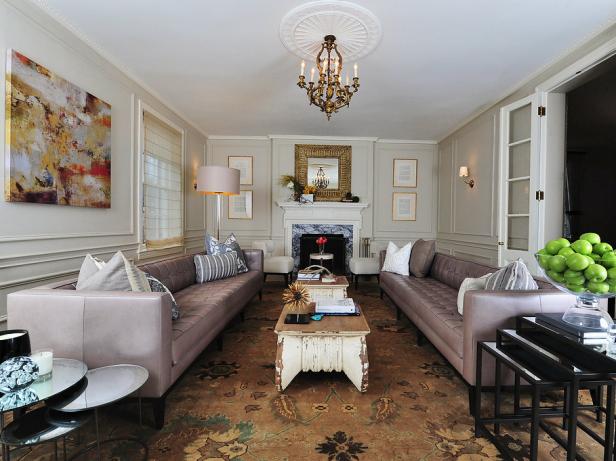 White Living Room With Purple Sofas
The homeowners needed tons of seating for entertaining large groups. Designer J Allen provides plenty of seating with long, streamlined couches that don't clutter the space. Two sets of nesting tables add extra surface area for parties, but can also be stored away when not needed.
For this Washington, D.C., project, J. Allen combines modern furnishings with traditional architectural details to create a formal living room. We caught up with Allen to find out how she mixed the two styles and created the entertaining space that the homeowners desired.
Describe the homeowners' wishlist.
The homeowners of the 1923 Georgian Revival wanted to highlight the character of the home and incorporate more modern elements. They required multiple areas for conversation and entertaining.
What were the homeowners' design problems?
The largest issue in this space was creating a sense of balance. Balancing the blend of antiques with modern furnishings to create an interesting yet harmonious flow; as well as creating a functional floor plan that was balanced around the original architectural details.
What was your biggest obstacle in this space?
The biggest obstacle in this space was scale, incorporating multiple seating areas to accommodate a maximum number of people without the space feeling crowded with furniture. This was accomplished by selecting and customizing very large streamlined pieces that do not add a great deal of visual weight to the space.
How does the end result match up with your original vision?
I love this space, the end result is pretty identical to my original vision. However, there is one thing that was changed from my original vision. I really pushed for grander window treatments. I think full panels of silk would have put the space over the top, but the large original moldings are a highlight the homeowners couldn't bare to cover.
What lessons did you learn?
Old homes equal plaster walls and ceilings, which add to the timeline, budget and mess. Minor construction projects resulted in a dust factor that was outrageous. The homeowners were occupying the property and what was supposed to be a clean, simple and contained project, ultimately affected the entire 6,000-square-foot home. In the future, I'll recommend a hotel.
What are the "hidden gems"?
The addition of the blue via the dogwood paintings and antique-style benches really add a energetic pop to the monochromatic palette. The collection of artifacts on the fifth century Greek distressed wood tables represent the homeowners travels: natural unformed malachite from Ivory Coast, decorative beads from Uganda and a hammered metal bowl from India.