Clean, Contemporary Master Bedroom
Designer Benjamin Cruz embraced the modern style of the Fort Lauderdale, Fla., high-rise, while giving the homeowner a comfortable weekend getaway.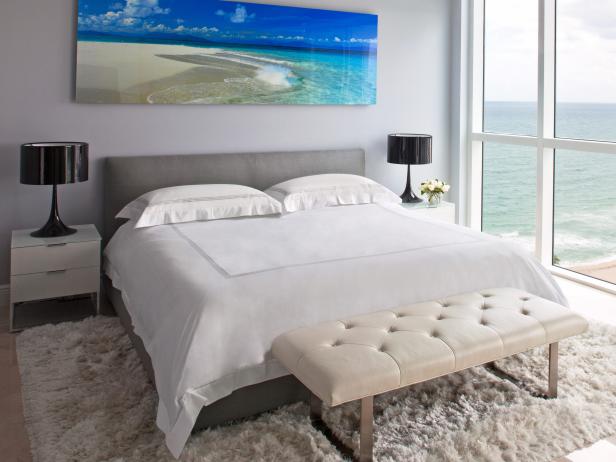 Contemporary Bedroom With Vast Ocean Views
This relaxing coastal bedroom features contemporary furniture, including a gray upholstered bed and white leather bench. Modern nightstands complement the look, while the beach scene hanging above the bed and the wall of windows with an ocean view achieve the overall coastal design.
Designer Benjamin Cruz infused a cool, contemporary style into this weekend getaway for a New York City executive.
Benjamin shares the design complications that popped up, including how to handle designing a project from afar, and how his vision came together.
Describe the homeowner's wish list.
The client wanted a serene space for the master bedroom since this was his weekend getaway space.
What were the homeowner's design problems?
The client wanted a large, long dresser on one wall. Since the bedroom has a large walk-in closet, I felt this was unnecessary and would clutter the space. We settled on a smaller dresser for another part of the room and instead purchased a large floor mirror to fill the wall and provide a reflection of the amazing view.
What was your biggest obstacle in this space?
The client did not want any drapes, which I would normally use to soften a space like this. However, given the large windows and this being in Florida, there needed to be some sort of solar screen for heat and glare, as well as to black out the room for sleeping. Since we needed to build a soffit for lighting, this created a perfect pocket to install hidden motorized blinds.
How does the end result match up with your original vision?
I had originally planned on having an occasional chair placed in the room. However, the room has an angled wall which made the placement of a chair awkward in the room. Instead, I purchased a bench for the end of the bed. This provided the necessary seating, but was compact and balanced the room properly.
What lessons did you learn?
This was a long-distance project so my site visits were limited. I communicated constantly with the contractor and asked for regular updates and photos. I continually laid out my swatches and finishes to make certain the design remained cohesive since I was not able to try things out in the space as on local projects.
What are the "hidden gems"?
Texture and warmth. In the bedroom, given the modern building design and marble floors, I needed to warm things up. Therefore, I chose an upholstered bed to offset the white lacquered nightstands and dresser. I added a micro-shag carpet, used leather on the bench and chose the floor mirror in a rich walnut with a smoked glass.