After a gut job, designer Patrice Flashner Fitzgerald transforms an oceanfront master bedroom into an ethereal and dreamy retreat.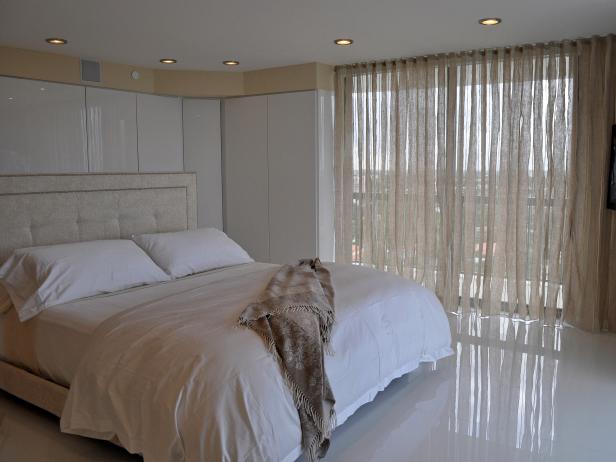 Earthy and Luxurious Bedroom
Designer Patrice Flashner Fitzgerald modernizes a master bedroom by using white glass floor tile, flowing linen curtains, white lacquered cabinets and clean-lined furnishings.
Remodeling a condominium always presents challenges, but inventive and tenacious designer Patrice Flashner Fitzgerald has yet to meet a restriction she can't remedy creatively.
In a beachfront condo with low ceilings, Patrice counterbalanced the 8'-high space with gauzy floor-to-ceiling draperies and also created the illusion of space by choosing reflective finishes like glass, lacquer and semigloss ceiling paint that appear to give the room more depth. This minimally furnished sleep center requires little maintenance and offers great style, comfort and a spectacular view.
What was high priority on the clients' wish list?
My clients were in desperate need of a style update in their master suite. They wanted a more modern, light and airy bedroom and wanted to definitely incorporate a sense of place in the design. That place would, of course, be the beach!
What was the largest issue you contended with?
The biggest issue we dealt with was low ceilings. I had to figure out how to make the 8'-high ceilinged room feel roomy. I also had to figure out a lighting plan within the confines. I wanted to keep the ceiling as high as possible and still be able to use recessed fixtures.
How did you tackle the challenge?
With regards to the lighting, my G.C. and I found marine lights which enabled us to only lower the ceiling 1 ¾". Those lights also worked perfectly with the sliding-glass doors. As for the feeling of spaciousness, the solution finally came to me one night. We would have to tear out the walk-in closet, create a uniform bank of storage and then float the couple's bed in the room.
How do the results match your original vision?
They are in sync. I had a modern beach vision and was totally able to execute it. What surprised me the most is the bank of closets. I knew the high-gloss doors were going to reflect the ocean and sand, but was beyond happy at how gorgeous and open they made the room look.
Any lessons learned from this remodel?
The most important lesson learned was to trust my design gut.
What is one of your favorite design details?
I love the natural birch wood on the inside of the closets. It's a burst of warmth among all the slick surfaces.