Modern Budget-Friendly Kitchen
Designer Matthew Coates creates an open concept kitchen at the heart of a new home.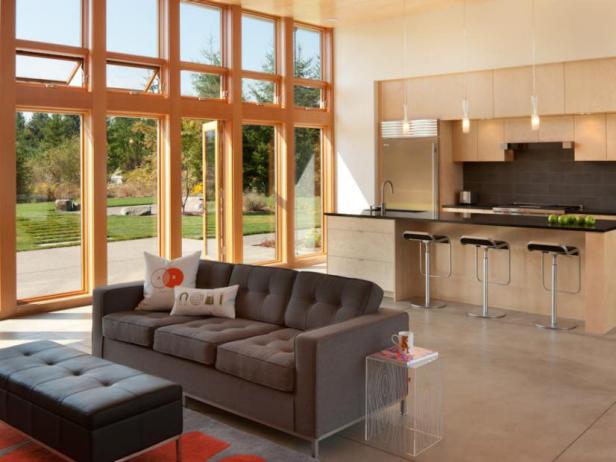 Neutral Modern Open Plan Kitchen and Living Room
In this open-plan space, the transition from kitchen to living room is seamless while the gray tile backsplash and gray couch tie the two spaces together.
When designer Matthew Coates was contacted to design an open concept kitchen on a tight budget, he didn't let the numbers fool him. He included stylish but budget-friendly materials to create a spacious, modern kitchen perfect for gathering.
Coates shares how he didn't break the bank to achieve the polished end result.
What was on the homeowner's wish list?
The owner's goals were quality design and clean detailing while being conscious of the budget. They also wanted the kitchen to be the primary component to an open living concept.
What issue did the design address?
The biggest issue that we wanted to address for the owner was a sense of cohesiveness with the remainder of the house. If the kitchen is too open, it will not define the overall living space and on the contrary, if it is too closed off, it will not provide a dynamic connection.
How did you overcome obstacles?
We accomplished the challenge of balancing openness with privacy by creating a mid-height masonry wall outdoors that created a private garden and courtyard while protecting the opening kitchen and living area from the street side view.
How did the end result match the original vision?
When the house was designed the owner thought the kitchen was slightly small for their needs, so we actually increased the linear dimension of the kitchen by two feet.
What are the hidden gems of the design?
We ended up finding that birch cabinets could be built on a budget and give the modern look they wanted without the huge price tag of other woods.