Minty-Fresh Bathroom Redo
Designer Amanda Swaringen made a bathtub a focal point without sacrificing comfort or storage.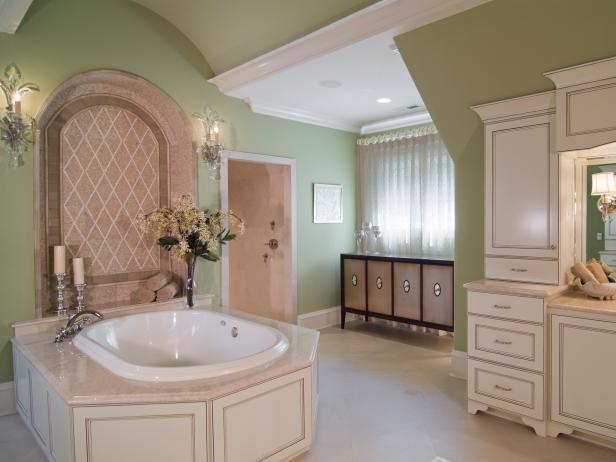 Mint Green Shabby Chic Master Bathroom With Soaking Tub
This mint green bathroom offers pampering fit for a queen. Draw a bubble bath in the luxurious tub lit by delicate crystal sconces and candles.
Interior designer Amanda Swaringen of Carolina Design Associates unveils a master bathroom that'll make you stand up and take notice — or want to climb in the tub and soak.
With ample storage, a to-die-for bathtub and a shower the size of a small car, you'll love browsing these makeover pictures.
Describe the homeowners' wish list.
The family wanted the bathtub to be the focal point of this bathroom — but they also wanted it to have plenty of storage.
What was the single largest issue you wanted to address?
The clipped ceilings can result in squatty vanities, so to balance the design I installed custom cabinet towers and adjusted the counter heights to allow for more mirror space.
What ideas changed during the design process?
We thought we were going to add a built-in cabinet under the window, but we decided to do a furniture piece, instead. This added a dash of contemporary style to an otherwise traditional space.
What's one design tip you'd offer our readers?
Make sure each trade subcontractor understands your exact design. This takes being on-site more often, but it's worth it.
What were your favorite pieces from this design?
The cabinets, the lighting, the tiles and that amazing niche.